The not so great white hunter

Laurens Van der Post, Willard Price and Wilbur Smith have a lot to answer for. As a small boy I read with great excitement about African adventures, and most of all about how tribal Africans - particularly the San (or bushmen) - could live at one with nature moving effortlessly through the bush only with what they needed...

25 years later I was living out those dreams on a hunting trip with four San grandfathers in the Kalahari Desert in Eastern Namibia. The San carryied just a bow and arrows, a short digging stick, a much longer flexible stick for hooking spring hares from their burrows, and pipes made from cartridges.
Being pretty clued up on storybook San, I also worked hard to take just what I needed - a backpack, large water bottle, wide brimmed hat, long sleeved shirt to protect me from the sun, sun block, camera, spare film, binoculars and lip seal.
I felt like a giant lumbering, anaemic packhorse (at 6ft 2ins I was over a foot taller than my guides) as we set off in the burning sun. Everything we saw, heard or smelled told a story to the San of what had the happened the hour or night before. For them this was a serious hunting trip and they shared information by silently jabbing and sweeping their hands to show the movement and direction that the animals had taken.

Pinching myself at my good fortune and with Laurens Van der Post in my head, I too tried to move quietly and effortlessly through the bush. However not all was going to plan. Firstly it was hot, really hot. I found that I needed to drink almost continuously. Also, despite my best efforts I got stuck in thorn bushes that the San seemed to melt through, and my size twelves made twigs snap with a seemingly deafening noise (not a problem that you have with child size feet in soft leather sandals).

From time to time we stopped to eat some berries, to examine tracks or chew seeds. Once they dug up tubers containing a refreshing milky fluid from areas of sand that to my eye showed no trace of what resources might be below. I felt helpless and disappointed as I realised that I lacked the survival skills and physiological adaptations that they had acquired over centuries of life in the desert and felt I was a burden rather than a part of the hunting group. However, to my delight, I was about to score a very small victory…

At one stop I noticed that a digging stick had been left behind. Rather than hand it back immediately I carried it quietly behind my back for the next 20 minutes or so. When you only have a handful of possessions I figured that losing one that you depended on for hunting might be important. Eventually one of the San looked back sharply in the direction where the stick had been left. From behind my back I slowly brought out his stick. Nothing was said - he simply gave me a gentle nod and a dignified and quiet smile - but it meant the world to me!
Later that day we found fresh Kudu tracks, and leaving me hidden in a bush 50m behind they closed in for a shot. To keep their profile to a minimum they walked in a line very close together, with just the top of the head of the second hunter showing above the crouching form of the first, and the head of the third appearing over the top of the second like a scene from a 'Laurel and Hardy' movie. About 25 minutes later, we heard the bark of the Kudu as it avoided the poisoned arrow and bounded off into the bush.

That night I was invited back to the village for a traditional hunting dance. After asking more about their lives I thought that they might like to ask me about life in the UK - I figured that aeroplanes, the Queen or even football might interest them. However, the question - 'what do you hunt?' - completely floored me. As it dawned on me that my newfound friends rated a man principally on his hunting ability, I struggled for an answer. When I explained that I was quite keen on fishing my stock plummeted to new depths. Fishing is not overly popular in the Kalahari Desert.

Trying to pick up what was left of the conversation I asked the San, and the local tourism entrepreneur who brought tourists to see them, about tourism and its benefits and pitfalls. I learnt that the income from tourism - the San are paid for each walk and for dancing in the evening - is very welcome for several reasons. Firstly, my guides' grandchildren, who had previously shown little interest in learning traditional skills, were keen to build up their knowledge and return to more traditional ways of life as tourism guiding pays better than the menial jobs they are able to get in the towns.

With the income from tourism the San supplement the meat from hunting with some from a local butcher. As a result they are putting less pressure on the local wildlife, which is returning closer to their village - thus considerably reducing the distances that the San need to walk to hunt.
Our top Namibia Vacation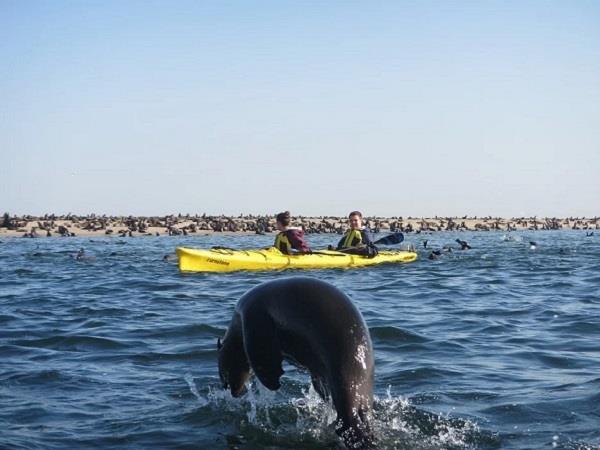 Self drive trip taking in Namibia's highlights
From
£

2650

to

£

4900
14 days
ex flights
Tailor made:
This trip can be tailormade throughout the year and can be adapted to suit your interests, budget and requirements as necessary
If you'd like to chat about Namibia or need help finding a vacation to suit you we're very happy to help.

The San are permitted to hunt (using traditional methods) on the land because it is a conservancy owned by the local community. A big game hunter has rights to take a strictly limited number of elephant and big game from the area (using less traditional but more effective methods), in return for re-stocking antelope and other game that is under pressure.

However, tourism is no panacea for the San. Tourists like myself are keen to learn more and more about their culture, but it can be unclear where the boundaries of privacy lie. I felt a little uncomfortable in their village, and wonder about the impact of increasing numbers of tourist traipsing through it.

By visiting the San we are changing them. However we have to be cautious to balance our own romantic ideals of preserving their cultures, with their desire to adopt some of our culture, and to improve their healthcare, education and income. We cannot help but be aware of their lack of experience in tourism, its invasiveness, and how to manage it to keep private aspects of their lives and culture that need to remain so. The answer may lie in limited numbers of responsible tourists visiting various sites (and possibly not the villages) to spread the economic benefits, and minimise the impacts on any one community.