Tribal culture in Namibia
Namibia's vast desert vistas, towering sand dunes and Attenborough-esque safari experiences shout loudly. But don't let its natural exuberance overshadow its human charms. This is a country that's home to some of Africa's oldest, and most distinctive tribal communities; from the San Bushmen to the ochre painted Himba and brightly-bedecked Herero. Namibia is also home to the Nama – one of the Khoikhoi peoples, an ethnic group which has largely disappeared; and the Damara, with their unforgettable click-filled language. Take the time to meet some of Namibia's tribal people and you'll add a fascinating, unforgettable human element into your wild desert adventures.
The San – Namibia's first people
Believed to be Southern Africa's original inhabitants, some 90,000 San, also known as Bushmen, live on the continent, with around a third of those in Namibia. Snippets of ancient San life can be found across the country, most notably in rock paintings and carvings at Brandberg Mountain and Twyfelfontein, thought to be over 2,000 years old.

Life for today's San has not been easy. The darker side of Namibia's celebrated conservation successes has been the eviction of the San from their ancestral grazing and hunting lands, leaving many communities landless and reliant on food aid. Without their land, traditional skills and knowledge passed down through generations are at risk of being lost.
Head into northwest Namibia, however, and you have the opportunity to visit community-owned and managed conservancies and tourism projects, such as Nyae Nyae Conservancy and Tsumkwe Lodge which are starting to redress these problems. Through well managed tourism, San communities are able to highlight the value of their traditional lifestyles and knowledge, support themselves, conserve their culture and protect their lands from becoming farmland.

Visit the San and you'll have an opportunity to take guided walks in the Kalahari, learning traditional bush and tracking skills as you go. You could even try learning a word or two in Khoisan, although the language's seven distinct clicks will test the mettle of even the most skilled linguist. Meeting the San is an eye-opening insight into their encyclopaedic knowledge of the land, wildlife and weather. All part and parcel of daily life in a culture, that when left to its own devices, has changed little in thousands of years.
The Himba
Famous for the distinctive, red ochre and butterfat otjize paste with which the women coat their bodies and hair, the Himba are considered to be Namibia's last semi-nomadic people. Around 50,000 Himba live north of the Kunene River, in the remote and arid Damaraland, traveling with their goats from settlement to settlement across the virtually barren landscape. This is also desert elephant territory, and Namibia tours that include a chance to track these rare creatures will often include a visit to the Himba.
The Himba have a longstanding relationship with tourism, and visiting a settlement is one of the best cultural experiences you can have in Namibia. You can learn how the women's elaborate hairstyles mark different life stages, and find out how life differs out here in the desert; many younger Himba will have attended boarding schools in towns, and can compare two very different lifestyles. Daub yourself with otjize and ash (which the Himba use to cleanse their skin and hair as water is a scarce commodity); deodorise with a smoky incense known to have antimicrobial properties; learn how to milk goats; and step inside a Himba family's hut for an insight into a lifestyle a world away from your own.
The Herero
Officially the Herero encompasses a hugely diverse range of tribal cultures, including the Himba, Tjimba, Mbanderu and Kwandu, However it is the Herero proper, the largest of these groups which reside mainly in central Namibia to whom the term usually refers.

It's not easy to miss Namibia's Herero women – decked out in voluminous, brightly-coloured, Victorian-style dresses and peculiar cow-horn hats. Unlike other ethnic groups in Namibia which preserve pre-colonial ways of life and traditions, the Herero's dress in particular is directly influenced by the German colonists. Originally forced into their distinctive dress – albeit in more subdued colours - the style is now a unique part of their cultural identity and a point of pride. The iconic hat is a nod to the group's pastoral heritage. The colonial style dress is particularly poignant as the Germans were responsible for a horrific genocide at the turn of the 20th century, which resulted in the deaths of up to 65,000 Hereros – some 80 percent of the population. Some of these were starved to death while trapped in the desert, and others were killed in concentration camps. Unsurprisingly, the community remains scarred by these events to this day.
Many tours of Namibia start and/or finish in Windhoek, the neatly Germanic capital city. Take some time to wander around and you'll be very likely to see Herero women in full traditional dress simply going about their daily business. Alternatively, take a break from adrenaline-fuelled adventures in coastal Swakopmund with a cultural tour of neighbouring Mondesa township, home to many Herero families. Pay a visit to a Herero home on the tour, and you can learn about the cow-horn hats, family traditions and how apartheid set out to divide Namibia's many native communities.

Travel to Namibia in August and you might catch Herero Day – held on the weekend closest to 23rd August in Okahandja. Here, thousands of Herero gather in spectacular traditional dress, and process through the streets to commemorate tribal chiefs who led the Herero revolt against the colonial German army.
Our top Namibia Vacation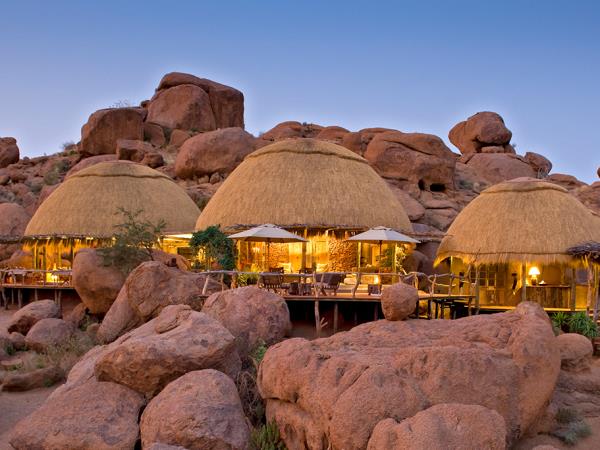 A fabulous small group guided trip in Nambia
From
£

3585

to

£

4520
12 days
ex flights
Small group travel:
2023: 6 Jun, 13 Jun, 16 Jun, 19 Jun, 23 Jun, 26 Jun, 30 Jun, 3 Jul, 14 Jul, 21 Jul, 24 Jul, 28 Jul, 4 Aug, 11 Aug, 18 Aug, 21 Aug, 25 Aug, 28 Aug, 1 Sep, 4 Sep, 8 Sep, 11 Sep, 15 Sep, 18 Sep, 25 Sep, 2 Oct, 6 Oct, 9 Oct, 13 Oct, 16 Oct, 23 Oct, 6 Nov, 20 Nov, 4 Dec, 18 Dec
If you'd like to chat about Namibia or need help finding a vacation to suit you we're very happy to help.

Responsible community tourism in Namibia
At its best, cultural tourism in Namibia offers an authentic insight into some of the world's most unique ways of life, while giving those communities a sustainable source of income and a way to celebrate and keep their customs alive. At its worst, tours to tribal villages and townships can feel akin to visiting a human zoo.

Responsible tour operators work together with these communities, whether San, Himba, or Herero, Damara or Nama, to create a sensitively managed and fulfilling cultural experience. But as a traveler how do you know which tour to choose?

At Responsible Travel we recommend you ask questions before booking a trip. Does your guide speak the local language? How much involvement does the community have in the planning the tours? How do they benefit from your visit and how are they compensated? What community projects does the tour support?

The best memories from these tours come from genuine cultural exchange, so step out from behind your camera, duck into a Himba hut when invited and ask questions about your hosts' lives. They'll be fascinated to hear more about you too, so sharing your own stories is bound to raise a smile.

Finally, ask your guide if they can teach you a few words in the local language to greet and thank your hosts. It's worth noting that the Himba and Herero are two branches of the same tribe – and they speak the same language. The devilishly difficult clicks of the Damara, Nama (four clicks) and San (seven clicks) languages may leave you a little tongue-tied, the effort will be enormously appreciated. And it's always a laughter inducing ice-breaker if nothing else.