Things to see & do in
Etosha National Park, Namibia

Accommodating a salt pan so large it can be seen from space, Etosha – which roughly translates as 'Great White Place' – is one of Africa's most unique wildlife destinations.

In arid desert conditions of northern Namibia, animals congregate around the park's multitude of small, life-giving water-holes, making it one of the easiest places to spot a plethora of African wildlife, including huge bull elephants, elusive leopards and giraffe reaching down awkwardly for a drink.
Etosha National Park is also home to a thriving population of critically endangered black rhinos, and Namibia's rhino conservation programme as a whole is considered to be one of the most successful in the world. However, while Etosha's rhinos are well protected there has been a human cost to this success. The creation of the national park evicted San Bushmen from their ancestral home, leaving communities of traditional hunter-gatherers landless and a thousand-year-old culture struggling to survive.
What can you see in Etosha National Park?
Home to four of the Big Five (buffaloes were last seen here in the 1950s) and 110 other mammal species, Etosha is one of the best places in Africa to spot big game. Numerous small waterholes are backed by the vast Etosha Pan, a shimmering, almost featureless expanse of clay and salt covering some 5,000sq km and a quarter of the national park. Vegetation here is sparse and limited to short, salt-tolerant grasses, and water is in even shorter supply. Wildlife relies on the permanent small waterholes, which become a magnet for Etosha's animals throughout the year.

There's no need to head out on long safaris drives in search of a fleeting glimpse of an elephant here; simply pull up at a waterhole, sit tight and wait for the wildlife – including rhinos, giraffes, elephants, lions, cheetahs, zebras and gazelles – to come to you. You might even be lucky enough to see a leopard. During the dry season the concentration of waterhole wildlife is simply astounding.

Etosha's most famous residents are its black rhinos. They may be critically endangered across Africa, but here in the harsh dry environment of the Etosha Pan, a healthy and hardy population adapted to desert life, is thriving. And it's not hard to spot them either. A few of the waterholes adjacent to Etosha's main camps are floodlit at night, offering a unique way to view the animals' nocturnal activities as you sip a sundowner on a deck, a safe distance away. The waterhole at Okakuejo, for example, attracts black rhino almost every night, along with white rhino, lions and elephants.

Even impala, which on many safaris are quickly (and perhaps unfairly) dismissed as 'yet another impala', are worth a second look. Here, the endangered black-faced impala is flourishing and the park has played a major role in the recovery of one of Namibia's endemic animals.
Etosha & the San
Sadly, what you won't see in Etosha are the region's original inhabitants, the Hai//om – a tribe of San Bushmen – who were evicted from their ancestral lands in the park in the 1950s. Ironically, the Hai//om's removal from Etosha is reflected in their own tale of how the pan formed (although with perhaps less violence than the story). The legend goes that a small village was raided here and its inhabitants all slaughtered save for one woman. She was so upset to lose her whole family that her tears flooded the land, creating a large lake. Once it dried up, the Etosha Pan was formed.
Many tour operators can arrange to combine your visit to Etosha National Park with visits to San villages in other areas of Namibia where community led tourism initiatives, communal conservancies and community run lodges are helping to redress the balance and protect both San's heritage as well as their future.
What does a vacation in Etosha entail?
Head to Etosha in the May to early November dry season and you'll need to be prepared for dust, on clothes, in shoes and on camera lenses and sensors; photographers will want to pack camera cleaning essentials. But remember the aridity is your friend; the dry landscape draws wildlife in vast numbers to numerous waterholes which will become a focus for your Etosha safari.

The waterholes make wildlife viewing in Etosha relatively (in safari terms) predictable. Gravel roads link each of the park's main viewpoints and as such this is an ideal place for self drive safaris. Most self drive vacations will give you the freedom to explore Etosha independently, with the help of a clear map and guidelines on how to approach wildlife safely. However, game drives can be arranged by your lodge should you prefer the company of an expert naturalist guide, or if you would simply like to relax and turn your full attention to the animals around you. Whether guided or not, you'll likely spend your days driving between each waterhole, parking up, watching and waiting. Have patience and Etosha's fauna will come to you.

Most vacation itineraries, either self drive or a tailor made or small group tour, will include one to three days exploring Etosha as part of a longer itinerary encompassing Namibia's other highlights. Of course, on tailor made and self drive adventures this can be tweaked and adjusted to suit your interests.
Family vacations in Etosha
Etosha is also an excellent option for the youngest of explorers, especially in dry season when regular waterhole wildlife sightings negate the need for long game drives. Some lodges, and there are several family-friendly ones in the park, overlook the waterholes and wildlife can be enjoyed without the need to even step foot in a car. Many provide excellent children's facilities, and some even run kids' wildlife programmes.
Etosha National Park highlights
Self drive safaris
Well maintained, and well mapped out roads in the park mean it is possible, and popular, to explore Etosha independently. While the roads are gravel, 4x4s are not strictly necessary and there is no technical driving involved, although the higher clearance can make for easier wildlife viewing. Guidelines on how to approach wildlife safely, and maps of the park's road network are provided to self-drivers.
Etosha Pan
Shimmering under the intense Namibian sun, the vast Etosha pan can seem full of water even at the height of dry season. Very occasionally it actually is, and rather than a mirage a thin layer of water mirrors the Namibian sky and attracts huge flocks of flamingos. At its driest, the cracked salt and clay drives animals to the small permanent water holes that dot its outskirts.
Water holes
Etosha's waterholes are its lifeblood, sustaining its populations of elephants, rhino, lions and more. Some, like Okakuejo are flood lit each evening; head here to see the black rhino and elephants that visit almost every night. Okondeka is a haven for lions, Halali regularly welcomes leopards and Sueda and Salvadora offer stunning Etosha pan vistas with regular cheetah sightings.
Our top Namibia Vacation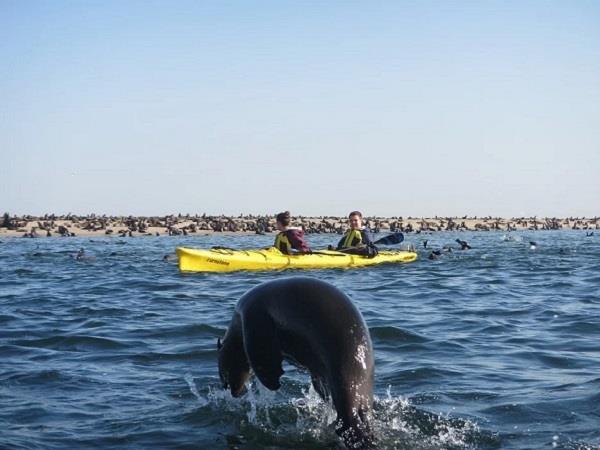 Self drive trip taking in Namibia's highlights
From
£

2650

to

£

4900
14 days
ex flights
Tailor made:
This trip can be tailormade throughout the year and can be adapted to suit your interests, budget and requirements as necessary
If you'd like to chat about Namibia or need help finding a vacation to suit you we're very happy to help.

Self drive vacations in Etosha National Park
Simon Mills, from our expert Africa member tour operator Native Escapes shares his views on self-drive safaris in Namibia: "Etosha National Park is just set up for it. It is very dry most of the year, so self drivers just need to head to a succession of waterholes – and if they wait, and have patience, animals will come. Driving in Namibia is a good experience. Driving is on the left, like the UK, but given the number of gravel roads, we'd always recommend driving in a 4x4 for clearance and safety. There is a 40km/h speed limit in the park."
And what are the benefits of a self-drive safari in Etosha National Park? Simon explains his view:
"Freedom. You can dictate your own pace, you can remain watching animals for as long as you want to (as long as you are out of the parks or in camp or at your lodge by sunset) and you can go where you want to. The thrill of finding animals or waiting patiently and then they appear is lovely."
Best time to visit Etosha National Park
For the highest concentrations of wildlife around Etosha's waterholes you'll want to travel in the dry season from May to early November. This is also peak season, so you will need to arrange accommodation well in advance as the park's lodges and camps will book up quickly. June to August bring particularly dry and very clear air, but extremely cold nights; come prepared with warm layers for early morning game drives. Earlier in the season, in May, the weather is warmer and there is less dust – making this a very pleasant time for safaris in Etosha.