Volunteer projects and safaris in Tanzania
Graham McClure has been working on volunteer projects in Tanzania for over 25 years. He got involved after being asked to help design and rebuild a cathedral in the country. This project would bring him into close contact with local people and their living conditions. He was shocked at what he saw, but also inspired to help. He now spends six months of the year in Tanzania, has a residency permit and speaks Swahili.

Graham founded the volunteer organisation that Responsible Travel work with, Go Make a Difference, in 2008. Go MAD is now one of Tanzania's designated health care partners. The company is a leading NGO in the northwest Musoma region and has raised over £1million, through volunteering, to finance projects that support local communities and the environment.

Musoma is situated on the eastern shores of Lake Victoria, which extends into Kenya and Uganda. It's impossible to visit the region without wishing to experience the animals of East Africa. Safari tours in Serengeti National Park are easily accessible from where Graham and the team are based. The combination of volunteering and safari, as part of the same vacation, offers an array of unforgettable, often life-changing, moments, but for very different reasons.
Responsible volunteer organisations find out what local people in Tanzania need and want, rather than implementing ideas without consultation. It takes time to build up relationships and integrate with local officials and national governments. Over the years, Graham and co-director Claire Anderson have got to know so many people that they're now considered part of the community.
As Graham and Claire both know Swahili, they've been able to build relationships, and trust, over time. They can walk through the village like a member of the family. They know everyone from the kids to the grandparents, and they're treated in just the same way as any other member of the community. It's this sort of confidence and level of integration that only comes from years and years of living and working alongside local people.
Our Tanzania volunteering Vacations
Where are volunteers needed?
The Go MAD team in Tanzania created a concrete water storage tank that harvests rainwater from the roof. Volunteers work with local people to build tanks of varying sizes, from 9,000L for a family to 45,000L for a health clinic. Clean water is vital for ensuring malaria isn't spread. Water tanks are needed in schools, health centers, villages and family homes. All of these water tanks are funded by volunteers.

Thousands of tanks are needed across Tanzania. This will allow as many people as possible access to clean water which will, in turn, help to eradicate the spread of malaria. Before Go MAD got involved, 90 percent of the families in the villages in the Musoma region had lost a child to diarrhoea. This is concurrent with all remote Tanzania villages without clean drinking water. Very few children, if any, now die of diarrhoea in the villages Go MAD work in. Overall, they've built more than 500 water tanks in East Africa.
Making sure local people understand why clean water is so necessary is a key part of health care projects that are funded by volunteers. Graham and Claire work closely with local schools and healthcare centers. They've created volunteer programmes that benefit local communities, encourage kids to stay in school and enable mothers to give their children clean water and regular health checks. Volunteers are vital for the ongoing work. Food, medicine and building materials cost money. It's with immense pride that Graham explains how a healthcare center that volunteers helped to build now attracts many young mothers and their babies. Mothers walk long distances to have their babies in this new health center that is staffed by a doctor, midwife and clinician.
Income generating schemes are also vital for supporting sustainable employment for local people. Sheds, for instance, are built for families to house a goat. Special grass (that requires zero grazing) is grown using the goat's dung for fertiliser. The family can use the milk for food and sell it to the rest of the village. Goats are then bred with other goats in the scheme. When goat kids are born they're passed on to another family as part of the on-going project. It's a great way for families to become self-sufficient.
Environmental projects too, such as replanting trees in areas that have been chopped down for firewood, also take place thanks to the contributions and fundraising of volunteers. As Claire explains, "We started a reforestation program in Musoma to help the ecosystem and provide an income for farmers. In November 2019, we planted 2,000 trees and have a plan to plant 12,000 more in 2020."
Our top Tanzania volunteering Vacation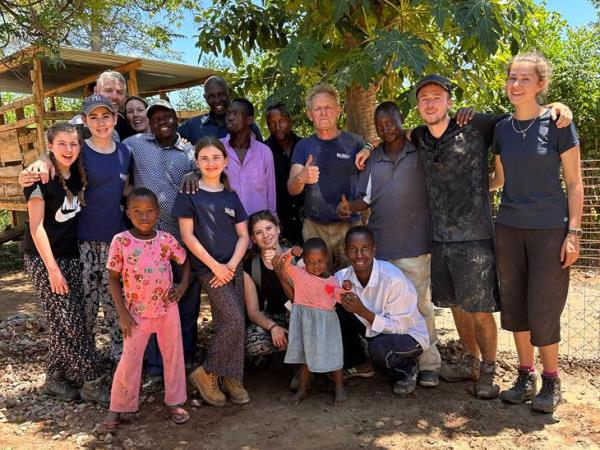 Memorable family vacation which makes a difference
From
£

500
14 days
ex flights
Tailor made:
This trip can be tailor made throughout the year to suit your requirements
If you'd like to chat about Tanzania volunteering or need help finding a vacation to suit you we're very happy to help.

It's not all work, work, work...
Practically all volunteers in Tanzania will go on a safari as part of their time spent in the country. It's a long way to go and combining community work with wildlife watching really allows insight into this exceptional area of East Africa, as well as making the most of the long haul flight.

Safaris in the Serengeti are easily accessible and it's just over two hours from the volunteer lodge in Musoma to the designated safari camp on the edge of Ikoma Game Reserve. Although the focus is always on the animals, it's also a great opportunity to take stock of your time spent volunteering. Warm showers are certainly always welcome and watching the stars around the camp fire is a lovely way to unwind before getting ready for a full day exploring in Serengeti National Park.
Bush walks and game drives take you over the African plains and around the watering holes where a huge variety of animals are known to congregate. Hippos, crocodiles, zebras, antelopes and giraffes are all frequently seen, and you might even be lucky enough to spot wild elephants, lions, leopards and cheetahs. After a day of wildlife watching, you'll also have the chance to spend time at a 4-star hotel that boasts fabulous views over the western plains, as well as an infinity pool and restaurant.
This type of vacation combines working alongside local people with the opportunity to experience one of the most exciting wildlife watching safaris in East Africa. Not only will your funds, and presence, really make a difference to people that need it most, but you'll also be forging unforgettable memories to keep and cherish for many more years to come.
More about Tanzania volunteering