Volunteering with Orangutans
Every year, many thousands of people make a pilgrimage to Borneo or Indonesia, donating their time and energy to orangutan conservation projects where they will work alongside paid, permanent staff on a range of vital tasks, from tree-planting to construction. With orangutan numbers still dropping due to habitat loss, volunteers ready to roll up their sleeves and get stuck in are immensely welcome.

This type of vacation is not for everyone. It's hard, dirty work in hot and humid conditions, where the accommodation is comfortable but a long way from luxury. And whether you're there a week or a month, not once will you get to cuddle a baby orangutan. But for those prepared to make these sacrifices, who love animals and want to do their bit in helping them survive in the wild, an orangutan volunteering vacation is an incredibly rewarding experience.
Natasha Beckerson spent nearly 10 years volunteering for the Orangutan Project at the Matang Wildlife Centre in Sarawak, Borneo: "The organisation doesn't salary any Western members of staff. They have quite a few long-term volunteers like myself, but they are just there on a house and food allowance. The team of local staff are all salaried and paid well for their work, but Westerners have to scrounge and suffer for our love!"
Don't expect superfast Wi-Fi or even TV for that matter in your accommodation. What electricity there is will be used for the essentials such as lighting. Instead, volunteers pass their evenings getting to know each other, sharing stories, perhaps playing games, and helping out with meal prep. "People end up finishing work pretty tired usually," continues Natasha," and so they quite often have early nights, finishing their day at nine or 10 each night." As for food, in all likelihood you'll have a small budget, which volunteers usually pool, and take turns to do the grocery shopping for communal meals.
Why do we need orangutan volunteering vacations?
Like the polar bear, the orangutan is one of the most recognisable and tragic symbols of species extinction. Endemic to only two islands, Borneo and Sumatra, the orangutan is in severe decline. It has been estimated that at the turn of the 20th century there were around 315,000 orangutans in the wild. Today, their numbers have fallen to just over 60,000. On Sumatra, where the species is considered critically endangered, there are likely fewer than 7,000 left.
Poaching and illegal trafficking for the pet and bush meat trades both play a part, but the greatest threat to orangutans' survival comes from rampant deforestation. Between 2000 and 2017,
over six million hectares
of old growth forest in Borneo was cut down, much of it to be used for palm oil and pulpwood plantations, with the Indonesian portion of the island losing most. As the trees fall, so do orangutan numbers.
The rate of deforestation is slowing, but key to that is regulation. Orangutan watching vacations demonstrate that there is value in preserving wildlife and the habitat it depends on. And orangutan volunteer vacations help, slowly, to restore what has been lost through replanting trees, maintaining sanctuaries and returning these melancholic, kind-faced great apes to the wild.
Our top trip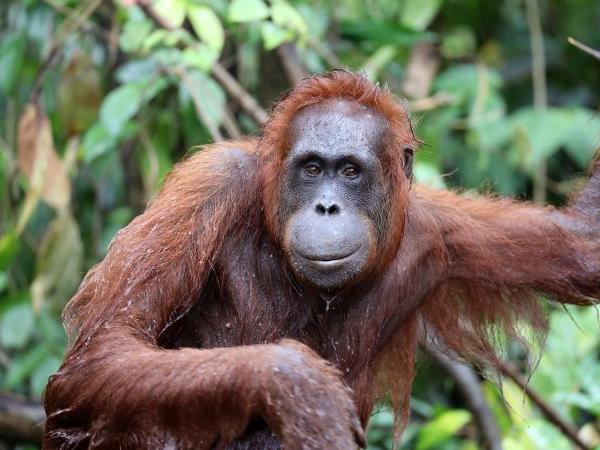 Care for stunning endangered orangutans in beautiful Borneo
From
£

1195

to

£

1895
13 days
ex flights
Small group travel:
2024: 31 Mar, 14 Apr, 28 Apr, 12 May, 2 Jun, 16 Jun, 30 Jun, 14 Jul, 4 Aug, 18 Aug, 1 Sep, 15 Sep
2025: 30 Mar, 13 Apr, 27 Apr, 11 May, 1 Jun, 15 Jun, 29 Jun, 13 Jul, 3 Aug, 17 Aug, 31 Aug, 14 Sep
If you'd like to chat about Volunteering with animals or need help finding a vacation to suit you we're very happy to help.

Family volunteering with orangutans
Orangutans are icons of conservation for good reason. They are soulful, gentle creatures. Even though you'll never be up close with them, it's still magical to see them nearby. For children, volunteering with orangutans will be an unforgettable experience even as they do their bit to help the apes' survival in the wild. As long as your family is physically fit enough to muck in and muck out in the heat of the Borneo rainforest, often on your knees while planting trees, your efforts will be very welcome.
A typical
family orangutan volunteer vacation
will see you pitching in at a project for just a few days. Children as young as eight can join, so keeping the trip quite short prevents exhaustion. You can always tag on a few days in a beach resort at the end too, and you will likely visit a sanctuary where you can see the inhabitants swinging through the trees for a fruit snack. The work can be quite arduous, but regular breaks will be included. Besides tree planting, food prep and routine maintenance, you may also spend a day at a local village or school – community engagement is arguably the most important factor in a conservation project's success or failure.
What do orangutan volunteering vacations entail?
The most important thing to note is that you will not have any direct physical contact with the orangutans. Diseases between humans and our ape cousins are easily spread, so long quarantine periods would be required. And also, they might look gentle but you really don't want to be in an enclosure with an adult orangutan, especially if they're in a bad mood. They're about seven times as strong as humans.

We've put together a rough, but not exhaustive, list of the tasks often involved in orangutan volunteering vacations:

Cleaning out cages Building enclosures, fences and other structures Enrichment activities, such as setting up rope swings or hiding treats Preparing food Planting trees General maintenance and cleaning
Expect to put in long hours most days and to help out when it comes to shopping and preparing meals for the rest of your volunteer group. You'll want to be in good physical shape given the type of work involved, and heat and humidity. And remember that for this kind of vacation you'll need to be sociable. You will share close quarters, teaming up with other people from all kinds of backgrounds, and need to get along with them well.
"People usually assume that it is all gap year people," says Natasha, "but for our project it is ladies, predominantly, between 30 and 60. Usually people who have been thinking about it for a while, who have always liked orangutans or have always been interested in Borneo. And then they have finally got to a place where they can afford it, or they have been in their jobs long enough that they can take a longer vacation. There is a tiny chunk of gap year students but it is definitely not the majority... People thinking about coming out shouldn't worry about being inexperienced at all. We receive volunteers from such a wide range of backgrounds; sometimes they also have skills that you might not always think are useful to this kind of work."
Where can I go on orangutan volunteering vacations?
Kalimantan is the Indonesian portion of Borneo. There are various sanctuaries for rehabilitated orangutans here, including the
largest in Indonesia
, found in Central Kalimantan, and a
2,000 ha sanctuary
set in an area of restored rainforest in East Kalimantan. Centres like this are focused on preparing orangutans for their eventual release, wherever possible. You will also likely help care for sun bears, the rarest bears in the world.
You'll be treated as a de facto member of staff, helping out in a wide range of tasks at projects that crucially also provide paid employment for local people, which helps foster a commitment to the orangutan's survival in the surrounding community.
Malaysian Borneo is split into two separate states: Sarawak and Sabah. In Sarawak, as well as assisting at a prestigious orangutan rehabilitation center, you might spend a week with an Iban tribe, custodians of the rainforest. In
Sabah
, meanwhile, after a stay in a traditional tribal longhouse, you might work with macaques, pygmy elephants and proboscis monkeys, as well as the orangutans and sun bears. Bringing a camera is essential.
Best time to go on an orangutan volunteering vacation
The best time to travel is between April and June, when the weather is driest, though you can still expect it to be sweltering hot as temperatures hover between 27°C and 32°C all year round. Most orangutan volunteering vacations in Borneo are tailor made trips, so you can choose your travel dates. The orangutan conservation projects do not have the luxury of choosing when to operate, however; they need willing volunteers throughout the year. So if you are flexible with your travel dates, it's worth asking when you can be of most use.
More Volunteering with animals articles