Best time to go walking in Spain

Northern Spain is similar to Cornwall thanks to the wild weather that's forged its rugged coastline

Walking in Spain lets you work on your tan as you traverse a varied range of landscapes but woe betide the walker who sets off mid-morning at the height of an Andalucian summer. Going equipped is essential, with water, sun hats and sun cream all advisable even outside of Jun-Sep. Spring and autumn are perfect for walking in south and central areas whilst the colder climes of the north allow respite from harsher temperatures during the summer. Winters can be freezing, especially in higher areas and at night, so although you'll find hardly anyone else on the trail, wrapping up in layers has to be factored in.
Walking in Spain, month by month
In general, the closer to the Bay of Biscay to the north, the milder the temperatures and the wetter the weather. For instance, in January and February, the Picos de Europa are pretty cold and wet whereas to the east in Catalonia it's not actually too bad. Temperatures in March and April are starting to creep up across the country and provide an excellent chance to go walking in central and southern areas which are notoriously scorchio during the height of summer. May and June are the best times to walk in Spain although conditions are still slightly erratic in the north so prepare for showers and a colder climate depending on how high you're walking. Conversely, Andalucia will certainly be heating up by early June, unless you're staying in the mountains. July and August are simply too hot to even think about walking (or eating, or sleeping…) in southern Spain and the expression mad dogs and Englishmen is certainly worth paying attention to for those visiting Andalucia in the summer. The Pyrenees and Picos de Europa, however, are much more pleasant at this time of year and certainly less crowded than the beach resorts along the east coast. Siesta time is also worth remembering, particularly in the south, as many shops will close from 2pm – 5pm so if you're looking for sustenance on the trail then remember to pack a picnic. In the Andalucian summer, many will close at 1 or 2pm – and not open until the following day. Many smaller shops also close on Sundays – even in cities. Rains start to fall around September and October in the Basque Country and Catalonia but never enough to put you off your stride, especially if you've remembered your pac-a-mac; and even the south starts to find milder temperatures and wetter days as November turns to December.
Our Spain walking Vacations
Our top Spain walking Vacation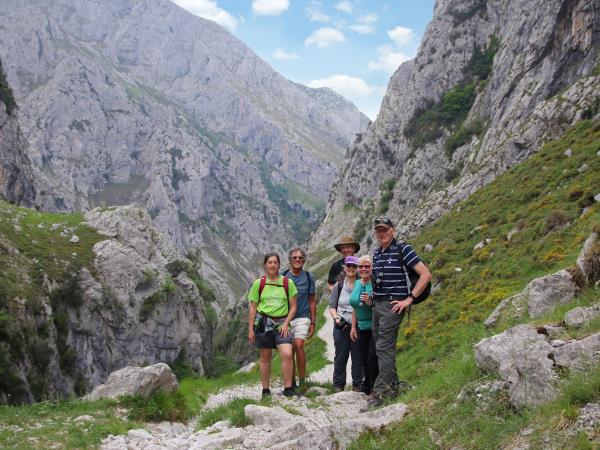 Spanish classes + stunning hikes in Picos de Europa
From €830 5 days ex flights
Small group travel:
2023: 9 Oct, 16 Oct, 23 Oct, 30 Oct
If you'd like to chat about Spain walking or need help finding a vacation to suit you we're very happy to help.

Responsible Travel recommends
Victoria and Paul Fellows, owners of our supplier Walk Andalucia, share their best times to go walking in southern Spain: "The main benefit of walking in the south of Spain has got to be the weather. In Andalucia the daytime winter temperatures average 15°C and it rarely drops to less than 6°C during the night. In Torrox we officially have the best climate in Europe with over 330 sunny days per year!

From March through to the end of May the flowers are in abundance and we see many rare orchids on our walks. For most of the year trees are laden with avocados, loquats, oranges, lemons, figs, grapefruit, limes, grapes, almonds, clementines and custard apples, and a lot of trees crop twice due to the sunshine."
Ana Rodríguez García, founder of supplier Peak Me Walking and Language School, shares her best times to go walking in northern Spain: "I think that May, June or September are the best months to go walking in the north of Spain as the days are long, the weather is mild and conditions are a lot more stable as opposed to the hotter months of the summer. July and August are very busy and popular walking routes, such as the Ruta del Cares, Covadonga Lakes and Teleférico de Fuente Dé, are best avoided at this time of the year."