Best time to go to Zanzibar

Zanzibar's weather can be neatly summed up as hot and wet or hot and sunny. Ideally, go for the latter.

When it's hot, it's very, very hot, and when it's wet, it's horrid. Well, in March to early May anyway, when the long rains bring daily torrential downpours, high humidity and churned-up, silty seas. Outside these times, most visits to Zanzibar will be pleasant, with dry, sunny June to October peak season on the beach (and in Tanzania's game reserves if you're on safari first). January to March are also hot and dry, but quieter, and while November to December bring Zanzibar's short rains these tend to be isolated showers which won't lead to a vacation washout. Temperatures hover around 30°C all year round. March, October and November are generally considered the best for diving and snorkelling – with warm seas, little wind, and excellent visibility. Whale sharks can be seen from September to December.
Is a Zanzibar vacation for you?
Go to Zanzibar if...
You want to dive. Or snorkel. Zanzibar's near pristine reefs coupled with its exceptionally clear, bath-like Indian Ocean waters add up to some of the best diving and snorkelling on the planet. Chumbe Island is particularly good for snorkelling, while whale sharks can be spotted around the Mnemba Reef September to December, too.
You've spent a week on safari. Let's be honest, safaris are exhilarating and awe-inspiring, but with early morning game drives over bone-shaking terrain, rarely wholly relaxing. A few days on Zanzibar's powdery sand is the perfect antidote for bumped bottoms and safari excitement, with light aircraft plying regular routes from the Serengeti, Selous and Arusha in Tanzania, Nairobi in Kenya, and more. Or take the ferry from Dar Es Salaam.
You're a foodie. Zanzibar's aromatic mix of Swahili, Arab, Indian, Persian and European influences gives this island one of East Africa's tastiest food cultures. Don't miss the evening street barbecues at Forodhani Gardens in Stone Town, where freshly caught fish is grilled to perfection, or local delicacies like pweza wa nazi (octopus curry), mandazi (cardamom spiced Swahili doughnuts) or Middle Eastern-meets-Indian-style mishkaki , marinated meat kebabs.
Don't  go to Zanzibar if...
You want an all-inclusive escape. Zanzibar was once the wealthy enclave of Omani-Arab traders, but today, many Zanzibaris, particularly those in rural areas and in Pemba, live in poverty. All-inclusive resorts abound, but vacations to them generally create limited local economic benefits for local people, and incur a large environmental footprint. Zanzibar's economy is highly dependent on tourism, and you can spread the benefits of visiting by eating in local restaurants and supporting local tourism businesses during your stay.
You expect to live in your bikini or boardies. These are profoundly Muslim islands. While swimwear won't be out of place on the sand, in the villages, in Stone Town and anywhere outside your resort you will need to dress respectfully. That means no shoulders or knees on show for women, and tops and long trousers for men.
You're not interested in Zanzibar's history. The slave trade, which saw a million African lives bartered for in Stone Town in the 19th Century, has shaped modern Zanzibar. As has the spice trade which, although in decline, is still one of Zanzibar's industries. Tour the spice plantations, visit the former slave market in Stone Town and add some context to your beach time.
Our top Zanzibar Vacation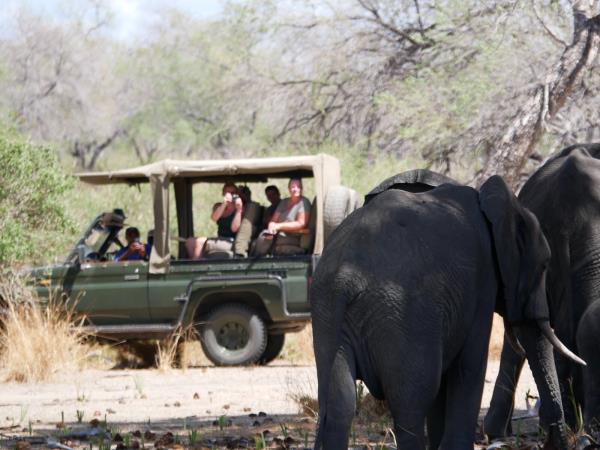 Off-the-beaten track safari experiences & paradise beaches
From
£

4250
10 days
ex flights
Tailor made:
This trip can be tailor made throughout the year to suit your requirements
If you'd like to chat about Zanzibar or need help finding a vacation to suit you we're very happy to help.

Izzy Greaves, Zanzibar expert at our tailor made vacation specialists Audley Travel shares her Zanzibar tips:
First-timer tips
"It is a Muslim island so you do need to be respectful of the local people, particularly in Stone Town. Zanzibar combines very well with safari in both Tanzania and Kenya with daily flights – a light aircraft flight from Dar es Salaam only takes 20 mins. The island has something for everyone, water sports and land activities."
Moving beyond the beach
"There is plenty to do on the island that isn't at the beach, I recommend spending a night or two in Stone Town which has fascinating history with the East African slave trade, beautiful architecture and buzzing day and night markets."
Tips for getting away from the crowds
"Zanzibar has become more commercial over the years, it is still a beautiful island but definitely has become more popular. Therefore if you want to really avoid the crowds and go off the beaten track I would recommend looking at Pemba Island or Mafia Island."
Responsible tourism tips
"We highly recommend staying in the family run/manager run properties which are smaller and more boutique. These will often have their own responsible tourism values and will work closely with local communities. When booking local tours only book recommended ones from your hotel or tour operator and avoid swimming with dolphin tours as they are not particularly well run."
Marie Cavie, from our Tanzania experts Native Escapes shares her top tips for Zanzibar:
Packing tips
"The sun is very strong and it is humid throughout the year, averaging 25°C. Pack lightweight loose clothing in fabrics such as linen and cotton which can be washed and dried easily. Some of the higher end beach accommodations request that men wear long trousers at dinner times too, so best to check before travel. If visiting Stone town, or areas outside of the beach resorts, clients should be respectful and wear appropriate clothing to cover up. Being predominately Muslim this is particularly applicable for women who should also cover shoulders and make sure knees are covered too. Definitely no short shorts!"
Itinerary ideas
"Take an excursion to a sandbank for a picnic and a visit to Changuu Island – better known as Prison Island. Head to Fumba Island for dolphin spotting, Jozani Forest to see the endemic Red Colobus monkeys, partake in a spot of dhow making, visit a spice plantation, or merely immerse in the sights, smells and sounds in Stone Town's melting pot of a city."
More about Zanzibar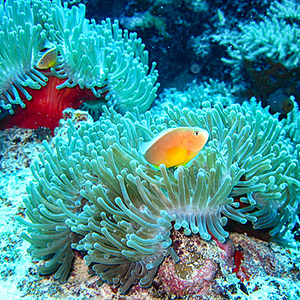 Its powdery perfect swathes of white sand, lapped by an impossibly turquoise ocean are famous, but Zanzibar has more to offer than just a beach break.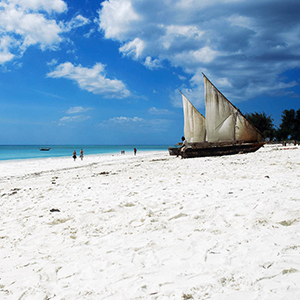 While all offering powdery white sand and turquoise waters, not all of Zanzibar's beaches were created equal.