Zimbabwe map & highlights
---
MAKE THE MOST OF YOUR TIME
Zimbabwe is still finding its feet as a self-drive destination at the mo, so we would highly recommend an organised tour. Logistically, the challenge lies in that Zimbabwe's domestic flight service is still in its infancy, and although the main road network is pretty good, as with most African countries, driving is slow and some off-road routes are almost impassable. Flying into Bulawayo, most trips will head west combining Victoria Falls with a safari at Hwange – you'll have the option to extend further north to Mana Pools, or southwest to Matobo NP by road if you have the time.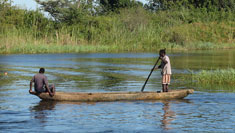 Canoeing
Requiring neither previous experience, nor superhuman levels of fitness, a canoe safari is a really relaxing way to appreciate the incredible scenery and wildlife along the Zambezi River. Pick the right time of day to drift along the Lower Zambezi and you'll see hippo, elephants, zebra and buffalo, all contentedly browsing the banks underneath the kind of spectacular sunset that only Africa affords.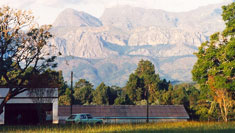 Chimanimani National Park
Superb hiking territory with the Chimanimani Mountains at its heart, creating landscapes of volcanic peaks, deep valleys and gorges. Like so much of Zimbabwe this is tourist free, so there is still a great feeling of wilderness as you wander, the icing on the cake being the hike up to Bridal Veil Falls. Or to viewpoints that take in Mount Binga, the country's highest peak, or across into neighbouring Mozambique.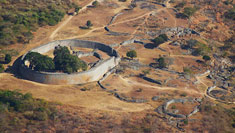 Great Zimbabwe National Monument
Dating back to 11th century, these are the Kingdom of Zimbabwe's ancient capital ruins, rightly awarded UNESCO status. Covering 722 ha, this stone city is thought to have housed 18,000 people, and considered one of Southern Africa's greatest archaeological monuments. Indeed, Zimbabwe means 'Houses of Stone' and replaced the colonial name of Rhodesia after independence.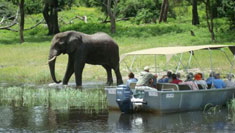 Hwange National Park
Hwange is only a 2.5hr drive from Victoria Falls and is Zimbabwe's biggest national park. Famed for its enormous elephant population, you can spot four of the Big Five (minus black rhino) in its forests and scrublands and it has an unfenced link with Botswana, the Chobe River and Namibia, so incredible sightings of huge herds on the move are frequent.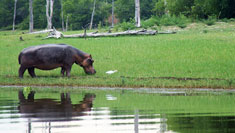 Lake Kariba
Quite tricky to reach, Lake Kariba rewards your effort with its staggering remoteness. A huge manmade expanse of shimmering water reflecting the beautiful scenery within which it sits, it's known for its population of fish eagles and is home to islands including Chete, a road-free piece of land where leopards, lions, impalas, and lots of lions and crocs roam free.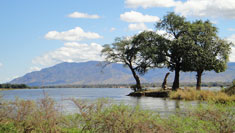 Mana Pools
Down in the Lower Zambezi, Mana Pools is another really remote national park (a UNESCO-listed one no less) and what sets it apart from the others is that it has a riverfront – attracting lots of great game – and it's unfenced too, so there's every chance of a family of elephants strolling past while you're having a snack. Safaris on foot are no longer allowed here, but better safe than stampeded.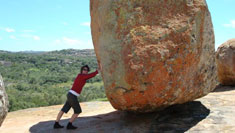 Matobo National Park
Home to 3,500 ancient rock art sites and stony outcrops that you can sit above and gaze at, Matobo is a lesser-known national park with a really spiritual vibe. You can game drive, mountain bike and, unusually for Zimbabwe, take a walk with a ranger to see rhinos on foot there, and its hills are also the home of Cecil John Rhodes' grave. A very atmospheric safari option for the thinkers out there.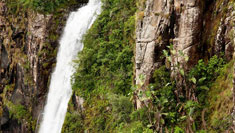 Mtarazi Falls
Upstaged by Victoria Falls' formidability, this is actually the tallest waterfall in Zimbabwe at 762m, and the second highest in Africa. Located in a wonderfully luscious Nyanaga National Park, the surrounding region is habitat to the endemic blue duiker antelope and samango monkeys. Visiting in the summer rainy season is perfect as the elevation makes for cooler temperatures and the falls are in full flow.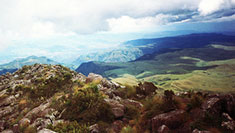 Mt. Nyangani
The wonderful thing about hiking Zimbabwe's highest peak, Mt. Nyangani (2,592m), is that it is not a walk 'til you drop experience, but a relatively moderate climb. These are the eastern highlands, however, so there are some steep sections of course. It is vital to have expert local guides as the weather is notoriously changeable here and when the rain clouds pass, they reveal a rolling, river-filled, rambling heaven.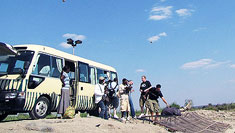 Overland trips
Zimbabwe is the all-important end point on the famous Cape Town to Vic Falls overland tour. And what a finale to 5,000 miles of fabulousness. An epic adventure that takes you through South Africa, Namibia, Botswana and of course Zimbabwe, traveling in purpose built trucks for about three weeks, through coastal, desert, mountainous and savannah terrain. The finale being the falls. Where else?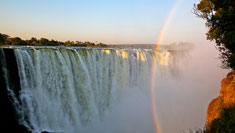 Victoria Falls
Known locally as 'Mosi-oa-Tunya', which means 'the smoke that thunders', just one glimpse of the spectacular Victoria Falls confirms why. An immense sheet of gushing water double the height of Canada's Niagara Falls, this raging waterfall is one of the Earth's is greatest spectacles and to see it front on as Zimbabwe's unparalleled views permit, is to really feel the full force of its power.


Sample Zimbabwe Itineraries
---
Walking and wildlife (16 days):
Harare ► Eastern Highlands ► Mt. Nyangani ► Chimanimani Mountains ► Bridal Veil Falls ► Great Zimbabwe monuments ► Matobo National Park ► Hwange National Park ► Victoria Falls

Zimbabwe, South Africa and Botswana safari (16 days):
SOUTH AFRICA ► Kruger National Park ► ZIMBABWE ► Great Zimbabwe monuments ► Matobo National Park ► Hwange National Park ► Victoria Falls ► BOTSWANA ► Kasane ► Chobe National Park ► Okavango Delta ► Khama Rhino Sanctuary ► Kalahari Desert ► Makgadikgadi Pans
Sample travel times
---
Approximate travel times in Zimbabwe by road, train and ferry.

Bulawayo – Victoria Falls by sleeper train: 15 hours
Harare – Bulawayo: 50 mins by air
Harare – Bulawayo: 5 hours by car
Kariba – Mlibizi: 22 hours by ferry
Harare – Eastern Highlands: 4 hours by car
Victoria Falls – Hwange National Park: 2 hours by car