Vacations for blind & partially sighted travelers
Sightseeing is not reserved exclusively for those with good eyesight. There are many more ways to 'see' a landscape, a historic building, a plate of food in a restaurant, than with just your eyes. In the UK alone there are some two million people living with some form of sight loss, and around 360,000 people that are registered blind. And many of them want not only to travel the world, but to do it on their own terms without necessarily having to rely on friends or family.
Traveling as a blind or partially sighted person can be daunting, especially if you intend to take a vacation on your own. But if you've been living with sight loss for some time, then with the right level of support you're just as competent as anyone else. With all of our blind and partially sighted vacations, so long as the operators have sufficient notice of your requirements and you're prepared to be a little flexible, then your freedom and independence needn't be hindered by visual impairment.
Exploring India, Japan or South Africa can be incredible sensory experiences even if you can see very little, or nothing at all. You can also take a more active approach if you prefer, with yoga or hiking vacations. Some trips may require you to travel with a sighted companion, while others are designed expressly with accessibility in mind and ensure there is support for you from arrival and throughout your stay if you're going solo. As you'll find with our trips, if you want to discover the world on your own terms, there's no reason that being visually impaired need hold you back.
Our Accessible travel Vacations
Practicalities
Blindness and partial sight is perhaps one of the most challenging forms of disability to travel with, but with careful organisation and the ability to adapt, every aspect of a trip can be managed well. For the sake of independence you will probably want to bring a cane with you, but bringing along a service animal can potentially add another layer of complication, one you'll need to make sure is fully discussed with the operator before departure.
Centre based trips can be ideal for blind and partially sighted travelers as you don't need to get to grips with a series of different accommodations, and they will often have been designed or adapted for accessibility. A good example is in Catalonia where at a rural sport fitness hotel you have door touchpads with Braille, a level footpath for walking and staff that are specially trained in providing fulfilling activities for guests with a variety of disabilities, from horse riding to rowing. It's worth keeping in mind that in places such as India or Japan the toilet arrangements in your accommodations may take some getting used to!
Our top Accessible travel Vacation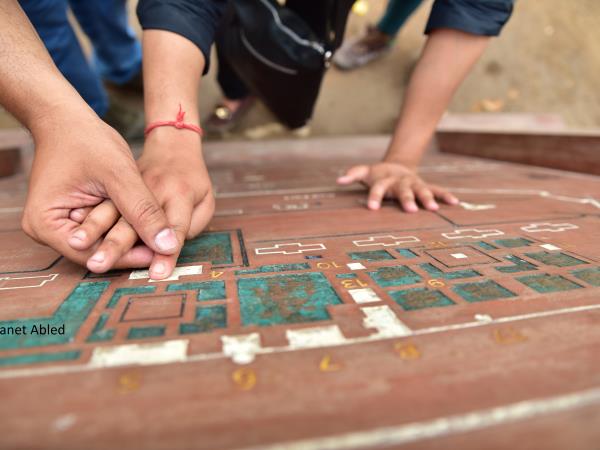 Culture, Nature, Wellness all together in God's own country
From
€

2500

to

€

6000
10 days
ex flights
Tailor made:
This trip can be tailor made throughout the year to suit your requirements
If you'd like to chat about Accessible travel or need help finding a vacation to suit you we're very happy to help.

Our travel team is always happy to discuss your particular requirements when it comes to accessibility. If we know early in the process exactly what you need then through communication with suppliers we can make appropriate vacation recommendations, and ensure that every aspect of your trip will meet your needs, from accommodation to meals and support.
Tactile travel
Our trips are a long way from just audio guides. In Japan you can walk a section of Mount Fuji; breathe in the aromatic air of the temples; wander the appetising food stalls of Osaka to taste delicacies such as savoury pancakes and octopus dumplings; and even take part in a traditional tea ceremony. In Portugal you can take part in daily yoga sessions, dine on tasty Ayurvedic cuisine, treat yourself to massage and acupuncture sessions, and enjoy a soak in a mud bath.
Driving tours of South Africa, taking in safaris in Kruger National Park, Cape Town's Table Mountain and Robben Island, and the wines of the Franschhoek Valley, can be customised for people with limited or no visibility with personal driver-guides. And in India you will discover heritage areas with the aid of 3D printed models of monuments, and take advantage of special access permissions in key sites for a more tactile and sensory approach than most visitors receive.
More about Accessible travel