Disabled access vacation advice
Planning
Martin Heng, Accessible Travel Manager & Editorial Adviser, Lonely Planet (Australia):
"Planning is so important when you have access needs. I never use to plan anything. I used to buy a ticket, pack my bag and go, and of course now that is impossible. And so you do need to plan. Think about the most important things that you need when you are away. They are to have a bed, and to have a bathroom. Those two things are absolutely essential. Everything else you can probably manage, one way or another. So, the most important thing is to make sure that the place you stay is going to accommodate your needs, and the only way to do that is to talk to them directly. If possible get them to send you photos of their so-called accessible room, because standards vary from country to country."
Our Accessible travel Vacations
Stay open
Martin Heng: "You can generally rely on the help and kindness of strangers. When I did my round the world trip last year, In India, which is a hard destination for anyone to travel, for a matter of a dollar, I could hire someone for three minutes and they would pick up my power chair and put it in the back of a van. In San Francisco, I have never seen so many homeless people in all my life. I was cruising around in the evening with a $1500 Go Pro camera strapped to my wheelchair and a bag on the side of it, and I have never felt safer. I wouldn't have done that had I been able bodied. I was very much accepted by that homeless community and vocally welcomed. That was an eye opener to me and a good lesson."
Where to go
Martyn Sibley, co-founder of leading disability lifestyles magazine disabilityhorizons.com is a font of knowledge when it comes to disabled access vacation advice: "My top tip is, no matter who you are, whatever your perceived limits are, just do it! It might take a lifetime of planning, but you can get there. And that is my next tip – decide where you want to go and what you want to do when you get there. Don't let your disability plan that for you. "
Activities
Martyn Sibley: "Choosing the right accommodation and knowing that they have been able to answer all your questions, is fundamental. After that I recommend pushing your boundaries just a bit. I am a bit of an adventurer, and been lucky enough to fly a plane, abseil, scuba dive, hot air balloon and so much more. But you don't have to do all that straight away. Take baby steps and get braver with each trip, or on each day of your trip even. Just don't go stale because others say its best and safe."
Brian Seaman, accessible tourism expert, who worked at leading charity, Tourism for All UK for 19 years: "Be a bit braver - you can go bungee diving or a zipwire in a wheelchair if you want to. The opportunities are there, it is just making those contacts so that you know that the place you are visiting has those facilities."
Fitness
Fiona Smart co-founder of our supplier Mas Pelegri, a superb sports hotel in Girona Spain:
"We are sports coaches and all about getting fit whoever they are. It isn't all about working with people with disabilities here, we work with everybody. Everybody has issues. It doesn't matter who you are, you just have to work out a way of getting around them. We set out originally to do cycling and triathlon coaching, but there are lots of athletes who are disabled in some way or other. So, if you are part of athletic coaching, you will always meet people who are disabled. There is no separation between the two in sport. "
Our top Accessible travel Vacation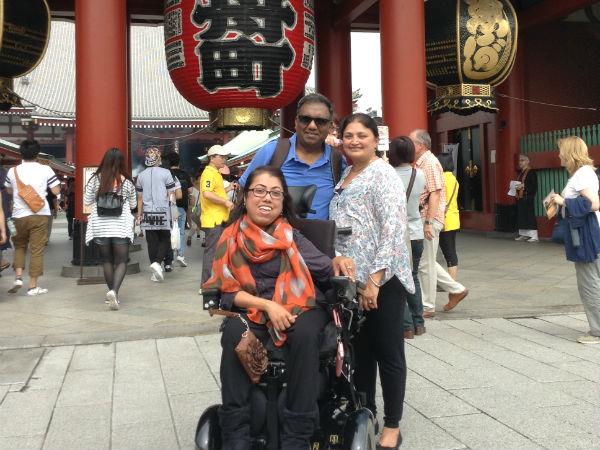 Wheelchair-friendly version of Japan's highlights.
From
US $

4750
11 days
ex flights
Tailor made:
This trip can be tailor made throughout the year to suit your requirements
If you'd like to chat about Accessible travel or need help finding a vacation to suit you we're very happy to help.

Our travel team is always happy to discuss your particular requirements when it comes to accessibility. If we know early in the process exactly what you need then through communication with suppliers we can make appropriate vacation recommendations, and ensure that every aspect of your trip will meet your needs, from accommodation to meals and support.
Checking details
Fiona Smart: "We had to rebuild our property to make it into a hotel, in 2007, and we realised that the Spanish rules for door sizes didn't even accommodate a wheelchair! Thankfully the law has changed now, but so many people built their places with these rules. So, you need to check in Spain that when a business says that it has access, this is in keeping with the contemporary laws.

Ask questions and say exactly what you need. So if you need a rail on the right hand side, or the left hand side, do say. Also, beware of sinks which are at a lower position to cater for people in wheelchairs – there is often a metal pipe which takes the water away, and if it is hot the tube becomes hot too. If you don't have feeling in your legs and touch the hot pipe, you won't feel that you have been burned. So you need to be careful of that. "
Activities
Fiona Smart: "Be brave and try new things. If you are just going and seeing a place, it is just one part of the experience. If you are going and doing an activity in a different country, you are taking part in the culture of that country. You can go and view an art gallery online. But you can't go and kayak or swim in a beautiful lake online."
Asking for help
Chris Veitch, accessible and inclusive tourism consultant:
"Guests have a responsibility to be upfront about what their requirements are. They can't expect businesses to be mind readers either. Sometimes it is low cost things that make all the difference, but unless businesses know that, they won't invest in them."
Taking help
Chris Veitch: "I think it is a two way thing and disabled people also have a responsibility to help. And if a disabled person is rude to someone offering help, then that isn't helpful. You may want to be independent, but you can just say very nicely, I'm fine thanks. If you are aggressive or horrible, then you will put people working in hospitality off approaching another person with disabilities, as you they don't know what the reaction is going to be."
Japan travel
Ali Muskett from our supplier InsideJapan:
"It requires a bit of flexibility, but Japan is actually much more accessible than many people think. In particular, people are always pleasantly surprised by the transport network, and an increasing numbers of barrier-free rooms are being introduced."
More about Accessible travel