Annapurna Circuit travel guide
---
2 minute summary
From the humid, sub-tropical lower levels, through alpine forests to semi-arid desert, no trek deserves the word 'varied' as much as the Annapurna Circuit. This celebrated, world-famous route is a 125km circumnavigation of spectacular Himalayan scenery, with the mighty Annapurna range bang in the middle. The climax is the Thorong La pass, a lunar landscape at over 5,000m altitude, with epic views to Tibet and back across the Annapurnas. This isn't just a walk 'n' gawp trek, though. The rich culture of the region, part Nepali, part Tibetan, is visible in pretty villages, Hindu temples and Buddhist prayer flags. Walk by day, then at night relax with local hosts in the teahouses that line the route, for a lesson in Himalayan life. No one ever regrets trekking the Annapurna Circuit. Go with strong calves and a sense of adventure and you'll be rewarded by a lifetime of memories.
Annapurna Circuit map & highlights
---
MAKE THE MOST OF YOUR TIME
Most full-circuit treks follow an anticlockwise direction, starting in Besisahar, as traveling clockwise involves a longer ascent of the Thorong La pass. The route is richly varied, taking you through layers of scenery and culture, from the sub-tropical Marsyangdi Valley where Hindu (Gurung and Thakali) settlements dominate, to the arid Tibetan Plateau, where prayer flags announce its Buddhist heritage. You'll share the route with locals carrying impossibly huge packs, mule trains with tinkling bells and other trekkers. New roads stretch into the ranges, but forget Tarmac and traffic; they are more like bridle paths. Occasionally, you cross or walk one, but bar the odd motorbike, they are largely peaceful.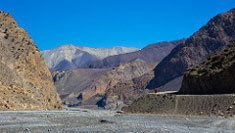 Kali Gandaki Gorge
The deepest gorge in the world, Kali Gandaki sits between Annapurna and Dhaulagiri, which both top 8,000m. The Gandaki River courses through on its way to the Ganges and bouncy suspension bridges link both sides. The Annapurna Circuit follows it for miles, taking in Tibetan villages like Marpha, with its whitewashed houses and orchards, as the landscape changes from semi arid, to pine and juniper forests.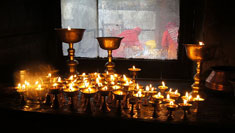 Muktinath
Nestling below the Thorong La pass in Mustang, Muktinath is a sacred place of pilgrimage for Hindus and Buddhists. Worshippers at its tiny temple wash their cares away by running through 108 holy fountains or taking a dip in its freezing holy pools. Look out for ammonite fossils amongst the riverbed pebbles when you leave, the holy 'shaligrams' prized by Hindus.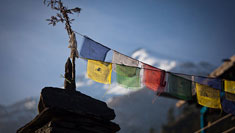 Pisang
Two Tibetan villages in one – Upper and Lower – Pisang sits at the base of Annapurna II and IV. Cross the river to medieval Upper Pisang where multicoloured prayer flags flutter from tall poles, bright against the buildings' brown facades. Pass through its welcome gate, past a long mani or prayer wall, and join the monks in the monastery for evening prayer.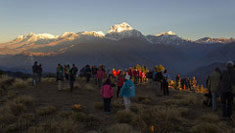 Poon Hill
Poon Hill is a one-hour hike off the main circuit, but it's worth the effort. Get up early to watch the sunrise illuminate the mountains. You won't be alone – this is a popular viewpoint – but you will see both Annapurnas, Dhaulagiri, Himalchuli, Nilgiri and fish-tailed Machhapuchhare turn pink in the dawn rays. Streams of prayer flags trail down the hills, adding colour at ground level, too.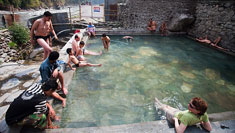 Tatopani hot springs
The hot spring baths in Tatopani are a welcome chance to soak tired muscles, ideally placed towards the end of the circuit if you're heading anticlockwise. The waters are said to contain healing powers and while the facilities aren't at luxe spa levels, bathing outside in ground water heated by hot rocks deep inside the earth is an excellent way to round off this trek.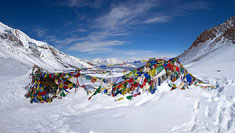 Thorong La pass
Conquering the Thorong La is a high point (pun intended!) for most trekkers and after a steep ascent and several false summits you're rewarded by a panorama of snow-capped peaks stretching into Tibet. This is a long but manageable day of walking, with 3am starts typical to allow time to cross it in a day, to avoid spending too long at high altitude.