There is no question that the Himalayas offer some of the best hiking in the world and this Nepal travel guide merely scratches the surface of the picturesque and soaring peaks that have challenged adventurers for decades. The Himalayas are a special place and its villagers a special people; Nepal is not only a trekking nirvana, but a cultural beauty too. You'll stumble across little villages where you can hang out drinking tea with the locals, welcomed with stories of myth, migration and deep religious belief. An enchanting blend of Hindu and Buddhist mysticism, Nepal is a peaceful land - there is nowhere else in the world where two religions, so often a catalyst for unrest, co-exist so comfortably.

It's said Nepal is an acronym for 'Never Ending Peace And Love', but the Nepalese are a proud people too, as strong as the Gurkhas who have fought for us all

Whether you hike, bike, or raft your way around Nepal, you will come back a changed person, but to travel there is to travel with patience and things won't often happen the way you think they will. Relax and you will relish your experience. Discover more about how to get the most out of your Himalayan adventure in our Nepal travel guide.
Nepal is…
a chance to experience the best trekking in the world
Nepal isn't…
a destination for anxious flyers!
What we rate & what we don't
Nepal's east & west
Really, the only way to get out to the east and the west of Nepal is by domestic air or very long road journeys, both of which the weather can play havoc with and delay for days. If you have time though, head out far west to Dhangadhi, an interesting homestay area with a committed afforestation policy and a restaurant where everything is made from banana.
Nepalese food
Nepalese cuisine is delicious and the ritual of food is a very important part of local life - there are over 100 ethnic groups in Nepal, so be adventurous and your taste buds will be richly rewarded. Newari dishes, of which there are over 200, are unique to the Kathmandu Valley and are heavy on buffalo; try chhoyla, spicy grilled buffalo meat, for energy with a kick.
Fairtrade Kathmandu
Kathmandu is extremely tourist driven, but not all of its shops are tourist traps. You can buy fairtrade goods in the capital, in shops belonging to Nepal's Association for Craft Producers. Try Mahaguthi for heritage and cultural products, and Dhukuti for authentic interiors and homeware.
Manaslu trek
Manaslu is an amazing high altitude trek that circles between Manaslu and Annapurna, the world's 8th and 10th highest mountains. The isolated region has only been open to westerners since 1992 and is a natural paradise of alpine meadows, thick forest and huge glaciated mountains wrapped up in a rich culture that's remained largely unchanged for centuries.
Nepalese people
When tourists rave about Nepal, they rave about the Nepalese, which speaks volumes considering they're up against Everest. Without question one of the world's friendliest nations, the local's fervour for handicrafts and their openness about how the community works outside of teahouses is both infectious and inspirational.
Annapurna Sanctuary Trek
This incredible trek has peaks that stand at 7,000m, allowing you to hike in the shadow of the world's roof. The range forms a natural amphitheatre, reached via a testing combination of steep stone steps and forested hillsides ablaze with colour, and is circled by Himalayan giants like the Glacier Dome and the infamous twin-peaked Macchapucchare.
Chitwan National Park
Chitwan became a World Heritage Site in 1984 and covers a whopping 930 sq km of subtropical lowland in south-central Nepal. It's not just home to rhinos and tigers; more than 500 species of bird, 150 types of butterfly and 56 mammals also live here. For an immersive experience stay in an ethical elephant camp, hanging out with the big beasts,, rather than riding them, as they enjoy a chain-free life.
Everest Base Camp trek
Probably the world's most renowned base camp, the trek up to Everest Base Camp is a classic that takes walkers straight through Sherpa country. Pass small villages and their amazing local markets, and see incredible high altitude scenery including breathtaking views of Mount Everest, the highest mountain on Earth, after an essential photo stop at the iconic Base Camp rock.
Thamel nightlife
The nightlife in Thamel – if you can call it that; everything shuts at 10pm except the misplaced go-go bars – is all just a bit odd. It's clear a lot of the dancing girls are performing their way out of poverty, which is uncomfortable, and, unless your idea of an authentic Nepalese night out is a warm pint of Guinness at an 'Irish' bar, then it's best avoided.
Throwing litter away locally
Litter isn't a huge problem in the Himalaya, but it's one that's growing. Up in the mountains, rubbish is often burned or buried and the bulk of it is made up of plastic water bottles and wrappers from packaged snacks. Take a spare bag trekking with you and throw all of your rubbish away at the end of your trip in Kathmandu where it will be disposed of properly.
Flying
Flying in the mountains of Nepal is inherently dangerous because weather can close in quickly and unexpectedly. Airlines with poor safety records close yearly in Nepal and while crashing is of course not a certainty, flying does carry a risk. Our tours typically don't involve flights into the mountains, relying on road transport or sticking to two feet, which is generally safer.
Taxis in Kathmandu
Smog in Kathmandu is five times the level that prompted Paris's monthly car ban, and in recent years the number of vehicles on the capital's streets has increased exponentially. To boot, the city sits in a bowl-shaped valley, so air pollution blown around during the day settles back in at night, which all equals a major problem. Find your way round on foot instead of hopping in a taxi.
Eating & drinking in Nepal
Rakshi: they call it wine, but it's more like homemade whisky and will blow your socks off. Ask a local resident and you'll get pointed in the direction of the village distiller.

Sukute = Dried buffalo fried in hot chillis, which you eat as a snack with your rakshi or a beer; beats peanuts.

Nepal's national dish is 'dal-baht': soup of lentils and spices served over rice.

Jand is Nepali home-brewed beer. Kinder on you head than rakshi.


Nepali granny, Gyani Maiya Sen, is the only native fluent speaker of 'Kusunda' left in the world. The language she speaks has no alphabet.

Our top trip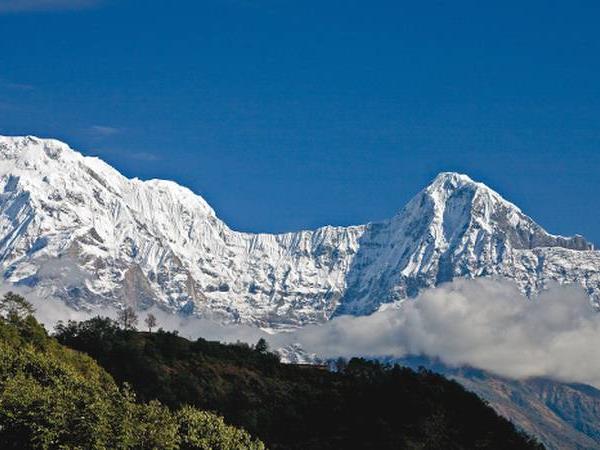 From the Annapurna Range vistas to jungles of Chitwan NP
From
US $

1890

to

US $

1940
11 days
ex flights
Small group travel:
2023: 10 Dec, 24 Dec
2024: 7 Jan, 14 Jan, 28 Jan, 4 Feb, 11 Feb, 18 Feb, 24 Feb, 3 Mar, 10 Mar, 17 Mar, 31 Mar, 9 Sep, 15 Sep, 22 Sep, 6 Oct, 13 Oct, 20 Oct, 27 Oct, 10 Nov, 17 Nov, 24 Nov, 1 Dec, 8 Dec, 22 Dec
2025: 5 Jan, 12 Jan, 26 Jan, 2 Feb, 9 Feb, 16 Feb, 23 Feb, 2 Mar, 9 Mar, 16 Mar, 30 Mar, 6 Apr, 13 Apr, 8 Sep, 14 Sep, 21 Sep, 5 Oct, 12 Oct, 19 Oct, 26 Oct, 9 Nov, 16 Nov, 23 Nov, 30 Nov, 7 Dec, 21 Dec ...
If you'd like to chat about Nepal or need help finding a vacation to suit you we're very happy to help.

People & language
Set against the backdrop of the Himalayas, Nepal is a melting pot of over 100 ethnicities and tribes divided only by altitude, not attitude. The country is a blend of Hindus and Buddhists; the Buddhists have come down from Tibet and the Mongolian Plateau and have a distinct look with a rounder faces than their Hindu neighbours who are taller, with very dark hair and oval faces. Races in Nepal don't mix too freely as their caste system is deep-rooted, but they co-exist in harmony and if you visit temples in Kathmadu, you'll see both Buddhists and Hindu temples.

Nepali is Nepal's official language, but there are 123 languages spoken as mother tongue in Nepal.

Don't greet people with a handshake or a hug, instead place your palms together, bow, and say 'namaste'.

Gifts & Shopping
Prayer paraphernalia is everywhere in Nepal and is very pretty too; recreate your trip at home with prayer flags and a prayer wheel, which you spin to release prayers to heaven.

Buy a Nepali national flag for your family and dazzle them with this flag fact: it's the only flag in the world that's not rectangular or square in shape.

Nepal is famous for its revered Gurkha soldiers and it's a mark of respect to buy a Gurkha knife as a souvenir; just make sure you buy it from a recognised handicraft shop.


In Nepal, nodding your head means 'no', and bobbing your head from side-to-side as if bringing your ears down to your shoulders means 'yes'.

How much does it cost?
Bus ticket: 200km £3.70

Bottle beer: £1.25 - £2.45

Kilo of fruit: £0.60p

Bike hire: £4.90 - £12.30

Basic lunch: £1.25

A brief history of Nepal
Though the god-fearing Newars are thought to have called Nepal home since the 4th century AD, settling there and developing a peaceful Hindu-Buddhist culture, the history of the country has not been without violence or bloodshed.
Read more