A line in Nepal's national anthem describes this tiny Himalayan nation as having
'A shawl of nature's wealth unending'
. We couldn't agree more.

Nepal's wildlife may not be as bold as its mountains, but it is no less breathtaking. Nepal wildlife vacations take you out of the country's peaks and into its steamy, subtropical lowlands, where Bengal tigers roam along riverbanks, clouded leopards hide in elephant grass and one-horned rhinos peak through dense sal forest.

Here's you'll have the spine-tingling chance to track tigers on foot – one of the few places in the world where this is possible – or by dugout canoe along its myriad waterways. And Nepal is something of a success story in wildlife conservation, too. In South Africa, 1,000 rhinos were lost to poachers in 2017 alone; in Nepal's Royal Chitwan National Park this figure was just one. And that was the first killed in over three years.
Where to see wildlife in Nepal?
Royal Chitwan National Park
Royal Bengal tigers and one-horned Indian rhinoceroses – over 500 of them – are Chitwan's calling cards. But there's plenty more to seek, with clouded leopards, Nepal's densest population of sloth bears, monkeys, gharial crocodiles and the occasional migrating wild elephant all wandering Chitwan's dense jungle, sal forests, grass plains and river systems.

Nepal's first and most popular national park is home to a third of its tigers, and while well protected here, they tend to be more cautious of human visitors than their Indian cousins. As a result, sightings are rarer in Nepal than in India, but the hair-on-end experience of tracking tigers through sal forest on foot more than makes up for the number of individuals seen. If you're lucky, you might even spot a tiger wandering the misty banks of the Rapti River as you float quietly past in a dugout canoe.
Royal Bardia National Park
Where safaris in Chitwan can be easily combined with treks in the Annapurna Sanctuary or to Everest Base Camp, Royal Bardia National Park, tucked away in Nepal's remote west, is best for vacations where wildlife takes top priority.

The most undisturbed, and the largest, of the national parks in Nepal's subtropical Terai, Bardia is home to a small, but significant and growing population of wild Asian elephants, which roam the Karnali floodplain and Babai Valley. Thanks to effective conservation strategies, this population, while small, is relatively stable and although most of Nepal's elephants are migratory visitors from Bengal and India, around 80 now call Bardia home, compared to just eight in the 1990s.

Bardia is dominated by primordial sal forest, with patches of open savannah and alluvial plains intertwined with the winding channels of the Karnali River. Few visitors reach this serene reserve, which remains a haven for a variety of endangered animals – joining the elephants are Bengal tigers, one-horned rhino, Gangeti river dolphins, swamp deer and gharial crocodiles.

Bardia is best explored on foot – although jeep safaris and rafting are also possible – and journeys into the park must be accompanied by a guide. This is no bad thing, as you'll stand more chance of seeing the park's wildlife with an expert on hand. Look to the skies for a glimpse of two of Nepal's rarest birds – the Bengal florican and the Sarus crane.
Ilam & the Himalayan foothills
Far east, on the border with Sikkim, the Himalayan foothills host the shy, endangered red panda. Deemed almost impossible to see in the wild until recently, a vacation into these remote and moss-covered rhododendron and oak forests is one of the most unique wildlife experiences in the world. Spotting a red panda is by no means guaranteed, and small scale tourism initiatives here are still in their infancy, but as local guides become more experienced sightings are increasing. And local communities are gaining an appreciation of the value in protecting their unique neighbours.
Our top trip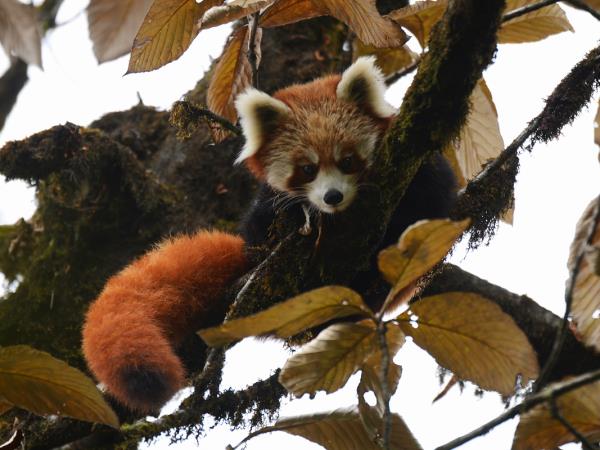 Watch iconic Red Pandas in the the wilds of Eastern Nepal
From
£

2395
10 days
ex flights
Tailor made:
This trip can be tailor made throughout the year to suit your requirements
If you'd like to chat about Nepal or need help finding a vacation to suit you we're very happy to help.

What does a Nepal wildlife
vacation entail?
Royal Chitwan National Park, in particular, is often combined with hiking vacations in the high Himalayas and its proximity to Kathmandu and Pokhara – five to seven hours along somewhat bumpy roads, or a 20-minute flight – make it very feasible to add two or three wildlife-filled days onto the end of your trekking vacation.

However, don't be fooled into thinking that the wildlife is only really an add-on. Chitwan, Bardia and the Himalayan foothills all warrant attention in their own right, and if wildlife is your priority, you could spend anything from a few days to over a week in your park of choice.

Once in Chitwan or Bardia (a 50min flight from Kathmandu) you'll enjoy a variety of daily activities from your lodge including tracking tigers on foot with local guides (armed only with bamboo sticks and an intimate knowledge of the animals' behaviour), river cruises by dugout canoe, jeep safaris through the forest and grasslands and visits to breeding and research centers for freshwater turtles and vultures. Expect early starts; tigers in particular are more active at night and in the morning mists. If you're staying for a week or more, you'll likely spend a few days in different areas of the parks to maximise opportunities to see wildlife.
If tigers are your main reason for visiting Nepal then you'll need a reasonable level of fitness to enjoy the on-foot safaris. These can last up to eight hours, in hot, humid conditions and over uneven forest terrain. Tracking red pandas in the Ilam region involves hikes at altitude; get in some hill walking practice before departure.
Don't be surprised to see elephant back safaris in Chitwan National Park. These have historically posed a bit of an ethical dilemma for us as they are the key drivers of a steady stream of income that has been heavily reinvested back into the successful protection of Chitwan's rhinos and tigers. You can read more about the issues surrounding elephant trekking, and why we don't support it, in our
elephant conservation travel guide.
Where will I stay?
In Chitwan and Bardia, accommodation ranges from simple guesthouses to luxury lodges, which support the local communities surrounding the national parks. Many of our specialist wildlife vacation companies in Nepal use lodges that are part of the TOFTigers (Tour Operators for Tigers) network which spans the Indian subcontinent and encourages responsible tourism in tiger habitats. In the Ilam region, basic but comfortable village guesthouses make up for a lack of facilities in the warmth of their local welcome.

As many of the lodges are community-owned you can expect as much cultural entertainment as wild delights, from evening Tharu stick-dancing performances to casual conversations with your friendly hosts.
Best time to see wildlife in Nepal
Mid-January to mid-May – the middle to end of the hot, dry seasons – are generally the best times to see tigers in Chitwan and Bardia National Parks as wildlife gathers around the shrinking waterholes. However, March to May can be extremely hot – over 35°C – so be prepared for tough days on foot.

For milder temperatures in the Terai consider traveling between October to February, with October and November in particular also bringing crystal clear skies, and excellent trekking conditions, in the Himalayas.

Red pandas are fussy animals, hiding away in tree hollows and dark shadows once the thermometer creeps over 25°C. To see them, you're best traveling either side of the summer monsoon, in mid-March to mid-May or October to November, when the Himalayan foothills are slightly cooler.

In general, the July-September monsoon is best avoided whatever wildlife you want to see, as rivers flood and parts of Royal Chitwan National Park become inaccessible.