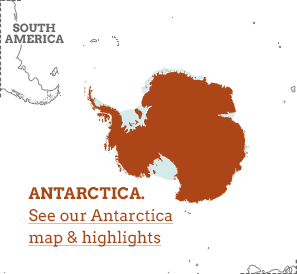 The frozen continent – nearly twice the size of Australia and with most of its land over 2km high – is a polar desert. Plunged into darkness for six months of the year, yet with almost constant daylight throughout the austral summer, Antarctica is the most unexplored, hostile and out-of-this-world place on the planet. You don't come on vacation to Antarctica – you come on an expedition, rolling across an endless ocean, braving chill winds and blinding ice to set foot where few dare.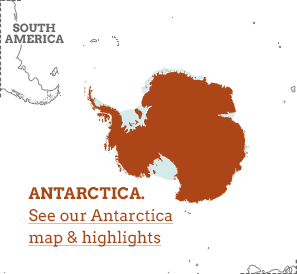 For some early polar explorers, Antarctica was an ice-clad hell. But for modern photographers and bird watchers, wildlife fans and adventurers, it's the earth's last, truly untouched slice of heaven.

But as harsh and bitter as this landscape may be, it is fringed with softness and warmth. Baby seals flop across the ice, while comical penguins waddle and dive. Giant albatross launch themselves off cliffs, while the sight of the long-anticipated Antarctic sunrise reflected in still waters will melt your heart. The anticipated empty landscape reveals itself to be crammed with shifting sights – of penguins, seals, and the fluctuations of light and freshly carved ice.
Our Antarctica travel guide reveals how to choose your polar expedition.
Antarctica is...
the driest, coldest and windiest place on Earth.
Antarctica isn't...
a barren, frozen wilderness. There is plenty of life to be found.
What we rate & what we don't
Smaller ships
We don't think that bigger is better in Antarctica. Larger boats (over 100 pax) may reduce seasickness, but a smaller vessel gives a more personalised service, the chance of one-on-one time with the scientists and lecturers, and access to shallower harbours. Additionally, only 100 people may step ashore at a time, so passengers on bigger ships must take it in turns.
On board lectures
When you sign up for an outdoor adventure in a wild landscape, lecture programmes may sound rather dull. But the ships' biologists, geographers, photographers, historians and geologists share fascinating insights about the land and creatures around you. You'll learn to identify species, and a little knowledge means you will be even more amazed by the world passing you by on deck.
New Zealand Subantarctic Islands
If Antarctica is the forgotten continent, these specks of land are the least explored part of it. Collectively a UNESCO World Heritage Site, the
New Zealand Subantarctic Islands
nurture strange megaherbs and are a haven for seabirds, as the only land for thousands of miles. Further south, Macquarie Island – once considered too "harsh" to be used as a penal colony – shelters huge penguin and seal colonies.
South America
Wherever you're from, Antarctica is a long, long way away. Take advantage of having travelled halfway round the world and squeeze in a tour in South America. At the "end of the world", Patagonia and Tierra del Fuego are utterly magical – but if you've had enough of chilly wildernesses, you could always spend a few days warming up in the seductive city of Buenos Aires.
Zodiac trips
The power of Antarctica is never clearer than to those venturing out in tiny inflatable Zodiac boats – surrounded by whales and towering bergs. Cruises tend to include one or two Zodiac trips a day, allowing you to get up close to seals, penguins and step onto the endless Antarctic continent. Your schedule is dictated by the weather and the ocean – simply thrilling.
Lemaire Channel
Cruising through the stunning Lemaire Channel is a trip highlight. Icebergs, glaciers and sheer cliffs are the giants above the water, while humpback whales are the behemoths below. Keep an eye out for orcas too. As narrow as 1,600m in places, with plenty of loose icebergs, the channel is precarious. The scenery and mirror-like waters are a dream for photographers, however – earning it the nickname "Kodak Gap".
South Georgia
In the rush to reach the Antarctic, don't miss the desolate and beautiful South Georgia along the way. A 3,000m mountain ridge discharges glaciers into sheltered harbours, home to king penguins and enormous barking elephant seals. The resting place of explorer Sir Ernest Shackleton is found here, along with a museum revealing the island's fascinating history.
Fearless wildlife
The fact that any creature can survive this extreme landscape is incredible enough – but the animals themselves are awe-inspiring. Orcas and huge humpback whales breach beneath huger icebergs and 3m-long leopard seals hunt penguins beneath the waves, while giant albatross and petrels patrol the skies. On-board lectures explain more about life on the planet's least hospitable continent.
Polar bears
Want to see these enormous bears prowling the ice? Head north, waaaayy north – polar bears are only found in the Arctic.
South Pole fly-ins
The ghastly journey to the South Pole, which once took months and killed many who attempted it, can now be done in a few short hours. Yours for £30,000 – a flight to the bottom of the world. Ironically, this is designated a "Specially Managed Area" to protect it – but we're not sure how flying all this way for a few short hours fits in with this. Likewise with day-long "flightseeing" tours.
Warm temperatures
Antarctica has a history of ringing the alarm for climate emergencies. In the 1980s, it was where scientists discovered the hole in the ozone layer. These days, Antarctica is one of the most quickly warming places on the planet. While the ice won't disappear anytime soon, scientists worry that ice and fish stocks will change more quickly than the wildlife and people that depend on them can adapt to.
If you'd like to chat about Antarctica or need help finding a vacation to suit you we're very happy to help.

What do Antarctic cruises entail?
There may be entire days at sea, and the view from the deck may be of endless water followed by endless fields of ice – but an Antarctic cruise is anything but monotonous. Setting sail from South America, the long journey south may be broken up with visits to remote southern islands including the Falklands and South Georgia, where you'll get your first glimpse of Antarctica's wildlife.
If you head straight to the Antarctic Peninsula, you'll spend two days and nights navigating the notorious Drake Passage. While some passengers emerge unscathed, most experience seasickness – although it could be argued that this just adds to the expedition feel of the voyage, and makes arrival on the frozen continent all the more anticipated. Thankfully, the waters around the peninsula are generally calm, with lake-like channels meaning you can concentrate on holding your camera steady – rather than your stomach.
If you really can't face the crossing,
direct flights
to King George Island are available – reducing the crossing time to two hours rather than two days.
Once at the Antarctic Peninsula, you'll be exploring the channels, islands and setting foot on the continent itself. All landings are made by Zodiac – carrying roughly 10 passengers plus a guide. These allow you to get up close to seals and penguins, and really feel dwarfed by icebergs. You may also visit research stations, staffed year-round by intrepid researchers who can share details of their work.
Growing in popularity are activity-based cruises with optional extra activities. These include kayaking, diving and snowshoeing – and are ideal for those who want to experience the Antarctic just that little bit closer.
Read more about
life on board an Antarctic cruise
.
A brief history of Antarctica
Centuries before Antarctica's existence was ever confirmed, the idea of a cold continent at the bottom of the earth, mirroring what lay to the far north, stirred the minds of philosophers and scientists, sailors and explorers. As the curious Europeans captained ships rounding the Cape of Good Hope and Cape Horn, chilly southern winds were felt, fuelling these speculations of the
Terra Australis Incognita
– the Unknown Southern Land.
Read more