Archaeology vacations map & highlights
---
SURVEYING OUR SPECIAL SITES
The secret of good archaeology vacations is often the skills of the guides who bring these ancient citadels, castles and cities to life. There are few things to beat being guided around Petra in Jordan by Bedouin guides whose families have lived there for centuries. Or taking a Nile cruise through the Valley of the Kings on a traditional felucca and spending time with people from indigenous Nubian communities. You can make your own way around Greece, for example, by bike, pedalling around Peloponnese's ancient treasures, but linking up with guides when you are there. And then cycling on through ancient villages which have hardly changed since the Venetians built their forts, or actors performed at Epidaurus.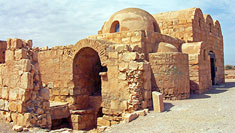 Amman & the Desert Loop
As well as exploring the great, ancient capital with gems such as Citadel Hill, Dead Sea Scrolls and the Roman theatre, the desert beyond holds a whole other world of stupendous sites. Here, the sands are peppered with castles and forts, the finest being Qasr al-Hallabat, Qasr El Kharraneh and Qusayr 'Amra, dating back to 661 AD. Each had its own specialty, some military, others as 'pleasure palaces'.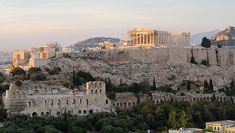 Athens
As well as its world renowned Acropolis, overlooking the city as a reminder of Greece's ancient stature, Athens boasts many archaeological accolades. Get in the starter blocks at Panathenaikon Stadium, home to the first modern Olympics, and then continue through at least a pentathlon of greats. These include the temple of Olympian Zeus, the Parthenon and National Archaeological Museum.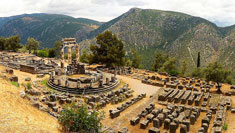 Delphi
Rulers and pilgrims came to hear Apollo's oracle at Delphi, the temple way up on the mountainous cliffs of Mount Parnassus, now part of the eponymous national park. History and hiking here are both to be celebrated, with the eagles and vultures that soar over the juniper covered valleys adding to its timeless feel. A UNESCO site and an ancient sanctuary, it is still a place for philosophising in peace.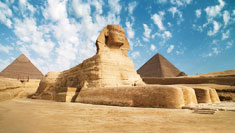 Egypt
The Pyramids, Sphinx, and Valley of the Kings are not only iconic but also highly protected by UNESCO. So are other less known, but equally stunning sites, such as Abu Mena, old Cairo, Saint Catherine and the Nubian monuments from Abu Simbel to Philae, the former having been rescued by UNESCO when the Aswan Dam was built. With Middle Eastern strife, the sites are less busy these days too.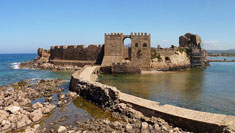 Peloponnese
The Peloponnese is, literally, the Arcadia of archaeology vacations and, as well as its ancient monasteries, there is much to explore here. Behemothic beauties include the theatre at Epidaurus, epic citadel at Mycenae, or ancient cities of Mantinea and Tegea. And then there is Olympia, of ancient games fame. Sail around the ancient sites on a small cruise boat, although the history will be far from watered down.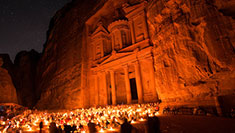 Petra
This ancient jewel in the desert sandstone needs no introduction. An enchanting place where most tourists spend only a day, archaeology vacations take more time to explore it and Little Petra. Approach via the Siq canyon which is like following a natural red carpet up to meet the country's greatest celebrity. The best exit is via Umm Sayhoon where Bedouin, who once lived in Petra's caves, were resettled.


Archaeology vacations
travel advice
---
TELL TALES
Tips on where to go
---
Christos Panagiotopoulos at our leading Greek archaeology vacation supplier, Arcas Travel Services: "The Peloponnese is popular for its archaeological monuments. A visit to the archeological sites of Mycenae, Epidaurus with its ancient theatre, Ancient Olympia which is the birthplace of the Olympic Games, Sparti and Mystras is a must. Moreover, there are numerous archaeological sites that are not so advertised and crowded, but have nothing to envy from the mentioned above, such as Ancient Tegea and Ancient Messini. The Peloponnese peninsula also consists of many cities that are a true masterpiece and every traveler should visit them, such as the castle city of Monemvasia as well as the Venetian castles of Nafplio and Methoni."

Andrew Appleyard is an archaeologist as well as International Sales Manager at our supplier, Exodus:
"For me one of the most fascinating sites in Jordan is Umm Qais, a town situated about 40km north of Jerash overlooking Israel and the Sea of Galilee. Aside from the panoramic views and a great restaurant, Umm Qais has extensive Greco-Roman ruins, including a stunning black basalt amphitheatre, which really does deserve to be seen whilst on tour."
Best time to go
---
Andrew Appleyard, from our supplier Exodus Travels: "Visiting Petra during the winter gives the sandstone a much more distinct colour variation whilst in the summer months of June, July and August it's virtually washed out and nonexistent. Also, different times of the day offer variations on light with the Treasury in shade during the morning and bathed in sunlight from around midday onwards. Getting up early, around 5am, is the best way to beat the crowds and the heat when visiting Petra."

Christos Panagiotopoulos at our leading Greek archaeology vacation supplier, Arcas Travel Services:
"The ideal seasons for a variety of outdoor activities in the Peloponnese are spring and autumn, where the temperatures are not especially high, and there is a small possibility of rain. Especially in spring, nature is at its best! The flowers are blooming, the colours of the nature are amazing and there are wonderful, fresh scents everywhere. The leaves in the trees and the grass start to blossom and the spring breeze refreshes you."
Practical tips
---
Andrew Appleyard, from our supplier Exodus: At the archaeology sites, it is good to have a very good, trained archaeologist with you. Especially at some of the large sites, or 'tells'. When you actually stand there, as a normal punter, you won't make head nor tail of it whatsoever."
Archaeology vacations travel advice
---
TIPS FROM OUR TIME TRAVELLERS
At Responsible Travel, we think the best people to advise our travelers are often... other travelers. They always return from our tours with packing tips, weather reports, ideas about what to do - and opinions about what not to.

We have selected some of the most useful archaeology vacations travel advice that our guests have provided over the years to help you make the very most of your vacation – and the space inside your suitcase.
"Make sure to take advantage of snorkelling in the Dead Sea, do the hike to the high sacrifice place in Petra where you will be rewarded with an amazing view of the treasury and maybe add an extra day or so to your vacation to do some of your own exploring in downtown Amman (and have dinner at Hashem's – a remarkably down-to-earth falafel restaurant but worth the visit)." – Elaine Leigh
"Take mosquito/ bug cream – we thought we'd escaped 'til we did the gorge walk… The helpful folk at Arcas found me a couple of nights by the sea in Loutraki before the main vacation… I swam in the sea, enjoyed good local seafood, walked up the steep footpath at the back of the town to visit a shrine at the Monastery Saint Patapios and had the most fantastic view all along the coast to Corinth and beyond... I loved it all, from the rural, barely excavated sites to the majestic Parthenon." – Jackie Hutchison in Greece
"Most visitors explore the Peloponnese by bus which involves long periods of travel, but we were never moored more than 30 minutes away from anything. The itinerary was well paced with a good mix of site visits, travel along the amazingly scenic coastline, and interesting talks about Greece, its history, customs and anything we wanted to ask about… It is a very intimate experience living with such a small group of fellow travelers and you have to be prepared to get along with others." - Hilary Richards on our Greece small ship cruise, ancient sites of the Peloponnese
"We went at the beginning of October, and even so found it rather hot for mid day cycling although the evenings were cool. The sites and towns were not as overcrowded as in high season. Much of the cycling is on small tracks with few hills, but of course there are hills to be climbed – you can always stop for breath or get off and push... Learn at least a few words of Greek and the alphabet if you don't already know the language – it is appreciated and gives more opportunity to interact with those you meet. Knowing your letters helps decipher road signs quickly!… For those of you as old as us (late 60s), remember to take your varifocals so you can read the Garmin and the road ahead...!" – Fiona Eccles on a Greece cycling & archaeology vacation
"This is not a relaxing vacation there are early starts and long days but well worth it. The train journey is long and not smooth all the way." – Elaine Gay on a Nile cruise in Egypt