Picture a typical luxury cruise vacation. You're on a gigantic boat, in fact more of a resort, and everything you need, everything you could possibly want, to keep you and your family entertained for a week or two is right there on board with you: a choice of dining rooms, bars, nightclubs; swimming pools (with water slides!), gyms and spas; arcades, cinemas, theatres, gift shops, maybe even casinos; climbing walls, miniature golf, rope courses, even skydiving simulators. It is, frankly, ridiculous. And as for luxury – call us picky but the amount of passengers needed to make all that financially viable makes it seem more like a floating theme park.

Small ship cruises of the Arctic could scarcely be more different. Far fewer passengers for one thing, usually between 50 and 250 on a ship. Onboard amenities, while perfectly adequate for a week or two, are much more limited. You might have a library, a fitness suite, even a small pool, and there will be a restaurant, but not much beyond that. The reason for that is perfectly simple: the boat is just a means of getting from A to B, you're supposed to get off as much as possible. Of course your time onboard is far from dull – in fact the travel hours fly by as you admire the Arctic scenery, practise your photography on sea birds and marine wildlife, attend talks from the expedition team and gasp in awe at the icebergs floating past.
The type of activities available to you depend on the vacation you go for, but most involve heading out in the small fleet of Zodiac rigid hull boats that most ships carry with them. The restriction on Antarctica cruises, with only 100 passengers allowed ashore at a time, does not apply in the Arctic, but given that daily excursions involve ferrying large numbers of people back and forth, they need to be, and always are, extremely well organised.
Specialist expedition crew accompany you on excursions and the ratios are excellent, sometimes as low as 1:8, allowing you to learn a great deal from experts with years of experience in this environment and wildlife. Other crew members act as well-trained bear-spotters, armed with flares and guns and positioned on high ground. If a polar bear does appear in the close vicinity and can't be scared off, groups will return to the ship as soon as possible.
All activities are of course entirely optional, and once everyone is on land they may be divided up into smaller groups, for instance with some heading off on two-hour hikes, the more adventurous going further and steeper, and others preferring to stick around on the beach instead. Arctic cruise itineraries are purposefully made as flexible as possible and daily schedules can easily be torn up depending on the weather or wildlife sightings. When choosing a cruise one factor you should take into account is your own fitness level, so that you can make the most of your time in the Arctic.
Our Arctic cruising Vacations
Nature hikes
Hiking in the Arctic is invigorating and sensory, as you cross tundra strewn with beautiful wildflowers, climb summits such as the 400m Plateau Mountain on Spitsbergen, and listen to the loud groans of glaciers in the long process of calving icebergs. You might also strap on a pair of snowshoes (bring your own foldable poles) to traverse fields of snow and ice, explore historic mining, whaling and trapping communities, and of course there will be innumerable opportunities for photography.
Northern Lights
From late September until April the Arctic sky darkens enough to make it possible to view the Northern Lights. The majority of Arctic cruise vacations take place in the summer months when the weather is warmer and the ice more broken up, but there are some Arctic Northern Lights cruises that depart as late as September in search of the aurora borealis.
Sea kayaking
Along with their RIB launches for land excursions, many ships also carry a number of sea kayaks. The waters are generally calm, so you can paddle along as part of a group, getting much closer to gigantic icebergs, coastline and wildlife such as whales, sea birds and seals than you would be able to on the ship itself. Beyond being a good way to shake out the kinks in your muscles after days of cruising, sea kayaking promises another amazing perspective on the Arctic scenery.
Polar Plunge
Weirdly enough, taking the 'polar plunge' is one of the most popular activities on an Arctic cruise. It's exactly what it sounds like: you'll either jump from the ship (wearing a safety harness) or run from the beach into water that in summer is usually around 0°C. And no wetsuit. Most people manage only few seconds, but the bravest stay in for several minutes.
Dog sledding
Exploring the coastline around Spitsbergen in the Norwegian Svalbard archipelago is a common Arctic cruise route. If your itinerary visits the main town on Spitsbergen, Longyearbyen, then you might be able to book a session of mushing aboard a husky-drawn sledge – bound to be one of the most exhilarating moments of your trip even though it may not compare to your first sighting of a polar bear.
Beach cleans
Sadly, while we may think of it as one of the Earth's last remaining pristine wildernesses, even the Arctic is no stranger to the curse of plastic pollution. The movement of ocean currents mean that beaches are often sprinkled with waste that's both unsightly and a hazard for Arctic wildlife. Some Arctic cruises organise beach cleans, and it's always worth bringing a bag with you on any shore excursion to pick up any litter you find.
Our top Arctic cruising Vacation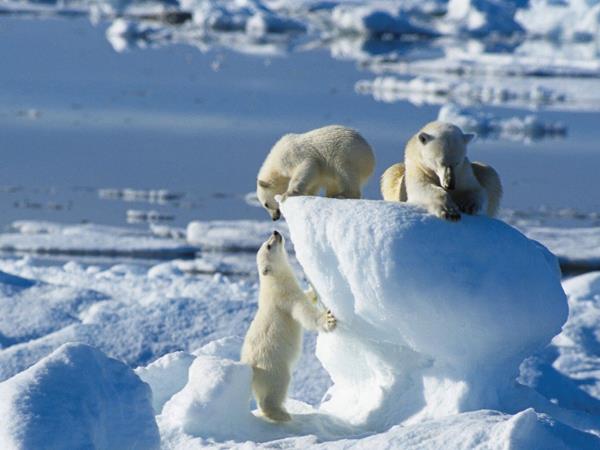 An exciting wildlife cruise around the Svalbard archipelago
From
£

6432
12 days
ex flights
Small group travel:

If you'd like to chat about Arctic cruising or need help finding a vacation to suit you we're very happy to help.

For passengers with limited mobility or requiring the use of a wheelchair, trained expedition staff are available to provide assistance on land and also on the ship if needed and some ships have lifts between decks. The level of assistance can vary from cruise to cruise, so it's advisable to discuss with our
travel team
when making an inquiry to ensure the trips suggested will meet your personal requirements.
More about Arctic cruising