Responsible tourism in the Arctic
---
Travel right on an Arctic cruise
When it comes to environmental concerns, the Arctic has crept up in many people's consciousness in the past few years. No longer perceived as an untouched wilderness, it's now right up there with the razed rainforests in terms of precariousness; images abound of chunks of Greenland melting into the sea, Alaska and Russia racing to drain the oil, and lonely polar bears floating out into the ocean on ever-shrinking fragments of ice. Temperatures are increasing in the Arctic at almost twice the global average, and the warming oceans have melted such a huge percentage of once-permanent sea ice, that in 2014, National Geographic drastically redrew their Atlas of the World to reflect the receding polar ice cap.

With such a bleak outlook, it's easy to question the ethics of flying to the Arctic at all. But flying to the Arctic contributes just as much to global warming as flying to any other destination does. In fact, tourism here can be a force for good; traveling in national parks and wildlife reserves involves paying park fees, which support the maintenance, protection and monitoring of these wilderness areas, as well as encouraging the creation of new protected areas. Visiting remote Inuit communities creates much needed income and supports a disappearing way of life. And onboard lectures from polar experts offer an unrivalled chance to learn, creating a boatful of ambassadors who will return home to spread the word about the disappearing Arctic.

Arctic wildlife & environment
---
"The changes are more visible in the Arctic. You can actually see the decrease in ice happening, and people have to understand that the ice is changing. I go out there on the same week every year, and every year has been completely different in terms of the ice coming down from the north and how it blocks areas, and temperatures and weather and everything. Even the wildlife that you see is different every year."

– Charlotte Caffrey, from our supplier Aqua Firma
Drilling for oil in the Arctic
---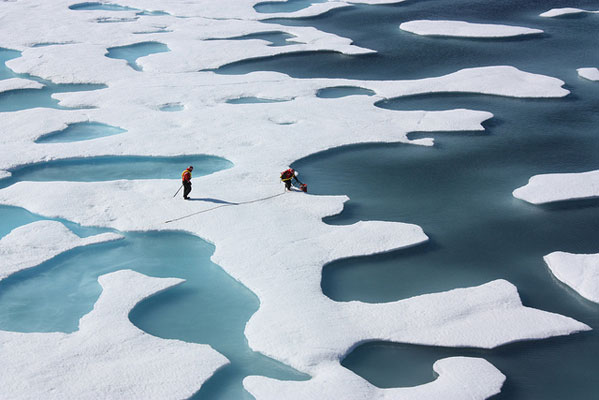 The melting of the ice is having another knock-on environmental impact: facilitating access to oil. Some
412 billion barrels of oil
– plus huge reserves of natural gas – are believed to lie in the wider Arctic region . Drilling attempts in the 1970s and 80s proved to be costly, complex and inefficient – but rising oil costs and receding ice were left oil companies lusting for more. However, in 2015 there were two major developments in the Arctic regarding drilling for oil and gas. First, in September 2015 Shell abandoned its plans of drilling for oil in the Arctic, announcing that there weren't enough reserves to make it worth their while. All this after spending over $7bn and exploring for ten years. Second, in October 2015, the US government's Obama administration blocked future prospects for oil drilling in Alaska, putting in place lease conditions that make it nigh on impossible for prospectors to even set foot there. It has also refused requests from companies already holding leases to drill, to extend them. The Save the Arctic campaign led by Greenpeace over the years has had an extraordinary impact on creating awareness about the environmental impact of drilling for oil in Alaska, but still continues to monitor events. For example, Greenland has put its extensive reserves up for tender, and Russia has already begun drilling – and has recently struck oil.
The use of nuclear icebreakers, the hauling of icebergs to make way for rigs, and the creation of roads and pipelines all have the potential to cause havoc in the fragile Arctic ecosystem – not to mention the effects of yet more fuel being burned contributing to further climate change. And of course, an Arctic oil spill could be catastrophic for wildlife above and below the ice, with cleanup operations hampered by the rig's inaccessibility and harsh conditions. WWF has more information
on their website.

What you can do
Unlike Antarctica, which is "owned" by no-one but governed and protected through the Antarctic Treaty, the Arctic encompasses the northernmost parts of eight countries, who also claim parts of the ocean extending beyond their territories – and as the extent of the oil reserves is being revealed, they are attempting to claim more. Greenpeace is still calling for a global sanctuary to protect the Arctic Ocean and ban offshore drilling so it's never too late–
sign their petition
, or make a donation to support this campaign.
WWF also does
extensive work in the Arctic
, including supporting polar bear research, assisting local communities to avoid conflict with wildlife, researching the impacts of climate change and establishing protected areas. They are also members of the Arctic Council, and as such can influence decisions made by the governing nations. There are several ways you can
support WWF
and their work.
People & culture
---
THE INUIT & HUNTING TRADITIONS
Before they disappear
---
The indigenous peoples living around the Arctic Circle have battled for centuries to maintain their unique ways of life. Historically, colonisation and European diseases, then "development" and relocation, and even the spread of communism threatened Inuit towns and villages, from Canada to Siberia. Today, Inuit culture is largely recognised and protected, and communities are permitted to hunt and occupy their ancestral lands. But now the lands themselves are facing a much bigger threat than ever before: climate change.
Over 150,000 Inuit are dependent on the ocean for fishing, whaling and hunting seals* – but without the ice cover to hold the land in place, the coast is eroding and villages are, literally, disappearing. The waters are rising around them and sea ice is flimsy – hunters can no longer drag their boats across it to the sea, leaving them stranded on the land and unable to sustain themselves and their families. On the edge of the Bering Strait, a community of Alaskan Inuit has been described as
the United States' first "climate change refugees",
as their village succumbs to the rising waters.
Arctic drilling also poses a threat to subsistence lifestyles, as does the disappearance of the wildlife upon which these people depend. Most of us would cheer up at the thought of a longer, warmer summer, but suicide rates have rocketed amongst native Canadian and Greenlandic populations as the ice breaks up sooner each spring and the Arctic winter shrinks each year. Tragically, they are the ones paying the price of the high-consumption Western lifestyle that they have never subscribed to.
*Source:
BBC

What you can do
Visiting an Inuit community is an eye-opening addition to your Arctic cruise itinerary. Baffin Island, Hudson Bay and Greenland are some of the best places to meet indigenous peoples – many of whom are actively involved in tourism, as a means of supplementing their income. Purchasing crafts and paying for tours or demonstrations can make a big difference to a struggling family.
Mary Curry, from our supplier Adventure Life, discusses meeting the Inuit: "Art is a huge part of these cultures, and one of the easiest ways to engage with the local people is to ask about their art, whether it's the needlepoint or carvings that they're making. It's a good way to interact."
Hunting – preserving culture or preserving species?
---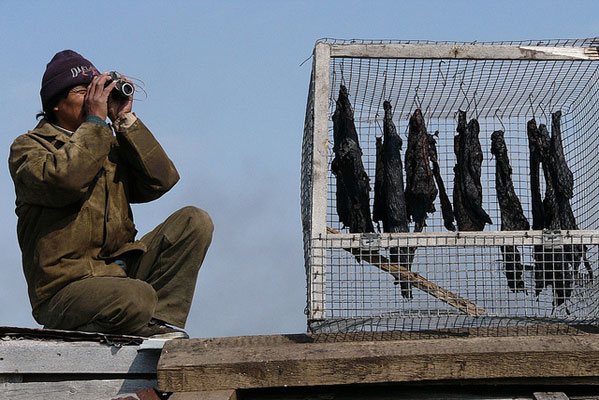 Most polar bear hunting was outlawed in 1973, but in some countries, hunting by native people is still legal. The allocation of hunting permits is based on regular monitoring of the populations, and quotas are then assigned to the communities.
Controversial as this may sound, polar bear hunting (as well as the hunting of other species, including seals and whales) is a strong tradition for native Arctic populations. Every part of the bear is used – from the fur to the meat and the fat, and the Inuit know which bears are best to cull without damaging breeding populations.
However, in Canada, communities are also permitted to
sell on their quotas to non-native hunters
. Permits are sold as part of a package – including several days' food, transport and lodging – and the hunter must be accompanied by a native guide. With the package costing tens of thousands of dollars, this is no small business for the Inuit, and many have come to depend on the income from hunters to remain in their Arctic villages, even as the sea ice melts and subsistence hunting becomes tougher. Although the hides are usually bagged by the hunters, the Inuit will still eat and preserve all the meat. Hunting also allows for the management of the polar bear populations which are straying ever closer to inhabited areas.
While hunting may appear to be the antithesis of conservation, the current laws in Canada allow for sustainable hunting and the preservation of Inuit rights and culture. On the flipside the US has recently passed a law preventing the import of polar bear artefacts – including skins and skulls. The good intentions behind this law, however, have meant that few US hunters now want to hunt bears if they cannot bring heir bounty home – and the Inuit communities have seen their income evaporate overnight.
What you can do

While we don't advocate hunting as a tourist, visitors to these regions should be aware that it is a traditional way of life – and one which has been sustainable for thousands of years. As a visitor to an Inuit community, the best thing you can do is travel with an open mind, and engage with your hosts to learn more about subsistence living in the Arctic.
Mary Curry, from our supplier Adventure Life, shares her responsible travel advice for people visiting local communities in Canada: "The Inuit live very traditionally. Theirs is very much a hunting culture and that's an important thing to be prepared for. For some people it can be very upsetting to see a skinned polar bear or a skull hanging up on someone's doorstep – but that's a common sight. Hunting wildlife that we would consider to be borderline endangered is legal by native people in some of these regions. Hunting narwhal, polar bear, even bowhead whales. So it's important that people are aware that this is a subsistence culture and that hunting is very much key to their life; every part of the animal gets used."
Responsible tourism tips
---
Travel better on an Arctic Cruise
Norway Is one of just three countries which still allows commercial whaling, contravening the International Whaling Commission's commercial whaling moratorium. Up to 1,000 Minke whales are hunted each year, and whale meat is still served across Norway, including Svalbard. In Greenland, whale hunting is permitted as a subsistence practice by indigenous whalers. However, it's now being sold to tourists – increasing demand. We do not recommend eating whale meat as it is a direct threat to whale species.
The term "Eskimo" is largely considered to be outdated and offensive; broadly speaking, "Inuit" is the preferred term, especially in Canada and Greenland. However, some native Alaskan and Siberian communities – particularly the Yupik – still refer to themselves as Eskimo. If in doubt – ask your guide!
As always, be respectful of any communities you visit. You may not like the idea of hunting seals, whales or polar bear for subsistence purposes – but keep an open mind, and be prepared to learn from your Arctic hosts. Always ask permission before taking pictures.
Purchasing crafts and taking tours with local guides contributes to local income and livelihoods – and helps people remain in these isolated rural areas rather than migrating to the cities. In Greenland, the Inuit have a quota for hunting walrus as they eat the meat and use the skins and fat. They also carve the tusks as pieces of art; if you buy any crafts made from walrus you can obtain a CITES certificate to demonstrate that it was sustainably hunted by native populations, allowing you to take it back to your home country.
There are several natural parks, designated wilderness areas and wildlife refuges in the Arctic – each will have its own set of visitor guidelines. Be sure to familiarise yourself with these – your guide will also advise on behaviour within the park. In general, take nothing with you, leave nothing behind and keep to designated trails. The Arctic has an exceptionally short season for regeneration each year – even the most minor damage to vegetation and lichen can take decades to recover from.
Some regions of the Arctic are better protected than others. Cassia Jackson, of our supplier Heritage Expeditions, explains more: "Conservation in the Russian Far East is severely underfunded. The Far East of Russia is nine time zones away from Moscow, and historically has often been ignored. Heritage Expeditions directly contributes to local conservation in this part of the world. An example of this our partnership with conservation agencies Birds Russia, Wildfowl and Wetlands Trust and Birdlife International."
As many Arctic operators also work in the Antarctic (the same vessels are used as the season alternates), many operators are members of the International Association of Antarctic Tour Operators (IAATO). This promotes good practices, training and environmental protection – so we highly recommend traveling with an operator who belongs to IAATO.
Request a cruise that includes lectures and onboard programmes by scientists and researchers to make the most of your time in the Arctic – educating you about local wildlife, culture, climate change and conservation.

Rodney Russ is the founder of our supplier Heritage Expeditions, as well as an expedition leader: "As biologists and ornithologists, we are intimately aware of the many issues that confront wildlife and their habitats, the world's oceans and isolated ethnic groups. We aim to actively contribute to the conservation of the places we visit."