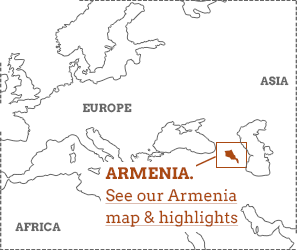 Our Armenia vacations roam this mountainous, deeply religious country, as well as its winemaking heritage and unique position on the Silk Road. Tourism is vital for the preservation of Armenia's many ancient monasteries, such as beautiful Khor Virap, and for sustaining remote communities where families welcome you into their homes. When trekking the Lesser Caucasus Mountains, Armenian guides go far beyond showing you around and ensuring you stick to the trails. They're an amazing source for understanding Armenia's traditions and Christian faith. Combine Armenia with neighbouring Azerbaijan and Georgia to appreciate the cultural subtleties of each.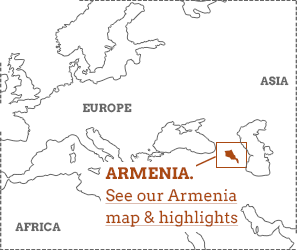 Our top Armenia vacations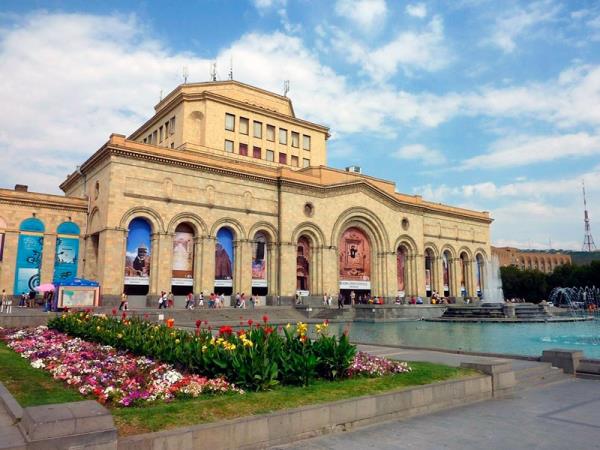 8 days
ex flights
Independent tailor made vacations to Armenia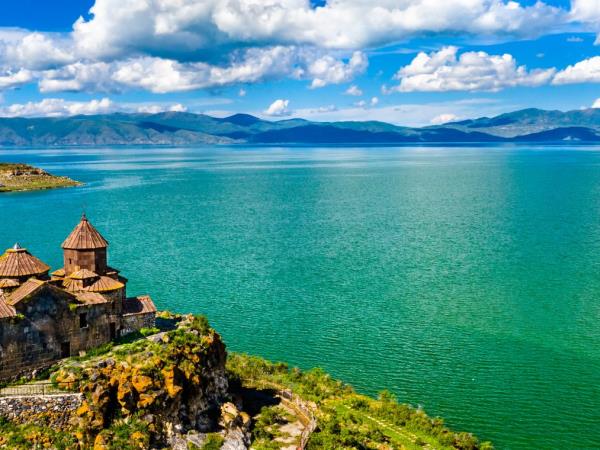 8 days
ex flights
Group tour to Armenia's culture, nature, cuisine & history
Small group
2022: 25 Jun, 3 Sep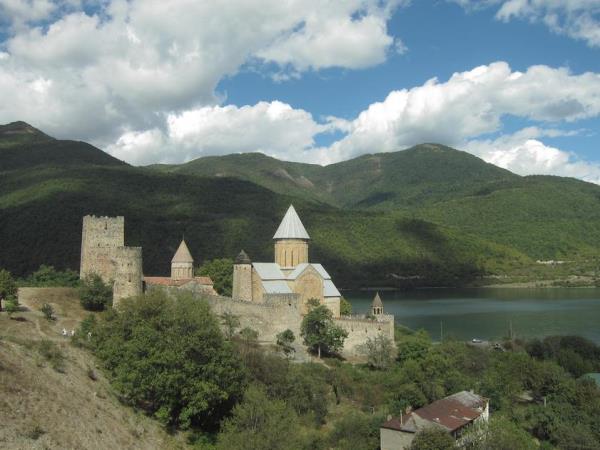 16 days
ex flights
Journey to the furthest reaches of Europe
Small group
2022: 16 Apr, 19 May, 9 Jun, 25 Aug, 9 Sep, 7 Oct
Map & highlights
Etchmiadzin Cathedral is the 'if you only see one thing' highlight; it's said to be the world's oldest cathedral. It's hard to choose the must-see monasteries, but a couple of the finest are medieval Geghard, balanced on the Azat Gorge, and Khor Virap, where pilgrims gather in the shadow of Turkey's Mount Ararat. Sister mountain Mount Aragats is also worth a peek (or four – there's a quartet of peaks, technically), especially if you like hiking. You can vacation like an Armenian among the beaches and monasteries of Lake Sevan – and don't forget the capital Yerevan, one of the oldest cities in the world.
1. Etchmiadzin Cathedral
Church and religion are integral to Armenian culture, and the UNESCO site of Etchmiadzin Cathedral, not far from Yerevan, holds regular Orthodox services that can get pretty full on. Even though the exterior isn't overly extravagant, Etchmiadzin is nonetheless impressive and as the world's oldest cathedral it fully deserves a visit alongside several other medieval churches that you'll find nearby.
2. Geghard Monastery
This UNESCO site was built amongst the towering cliffs of the Azat River gorge on top of a sacred freshwater spring within a cave, and features several notable khachkars (carved stone towers) as well as churches carved from the surrounding rock face. Combine this with a visit to the nearby colonnaded Temple of Garni.
3. Khor Virap Monastery
On the fenced border with Turkey, Khor Virap was where Armenia's patron saint, Gregory, was imprisoned for trying to preach Christianity, and has become one of the country's more sought after pilgrimage sites, with regular church services still held to this day. Views over the green fields and vineyards of the Ararat plain ascending the snow capped Mount Ararat are some of the country's most endearing.
4. Lake Sevan
Lake Sevan has Armenia's only beaches, and consequently is one of the most desirable vacation locations in the country. Residents traditionally hold summer picnics or take a boat ride on the lake. Sevanavank and Hayravank monasteries, located on the lake's western shore, make great alternatives to sunbathing, with the country's largest collection of khachkars to be found nearby in the medieval cemetery of Noratus.
5. Mount Aragats
'Sister mountain' to Mt. Ararat over the border in Turkey, volcanic Mt. Aragats also holds an important role in Armenian heritage. Hiking is popular on the mountain in summer, the route to the northern peak more arduous than that to the southern. On the way up you can visit the ruins of 7th century Amberd Fortress, and Alphabet Park, an artistic monument to the man who 16 centuries ago created the Armenian alphabet.
6. Yerevan
Despite being one of the oldest inhabited cities on the planet, Armenia's capital, Yerevan, is pretty darn cosmopolitan with a charming blend of historic memorials, flower filled parks and aesthetically beautiful buildings, especially those surrounding the Republic Square. Monuments and statues are everywhere, a fine example being a 22m-high Mother Armenia who gazes down from a position once occupied by Stalin.