Atlas Mountains map & highlights
---
MAKE THE MOST OF YOUR TIME
At last, Moroccan tourism has stretched beyond the souks and seaside and woken up to the wonders of the Atlas Mountains that dominate their interior. An exquisite, elevated wilderness, serious hikers like to take on Mount Toubkal, the highest peak in North Africa, staying in mountain refuges or Berber gites along the way. Others like to muse the mountains in cosier surroundings, staying in kasbahs overlooking olive filled valleys, taking gentler hikes with muleteers to carry your bags, with a hot hammam waiting for you at the end of the day. If ever there was a place to stop carrying the world on your shoulders, it's the Atlas.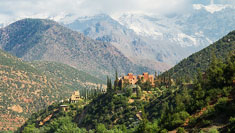 Atlas Kasbahs
There's nothing like an adobe abode in the Atlas. Kasbah actually means citadel, as originally many of them were fortresses which segued surreptitiously into the landscape as lookout posts for possible invaders. Today they are synonymous with stunning mountain accommodation, often with their own hammams, treks and Berber guides. Perfect if you want a blissful bed after a day of Atlas adoration.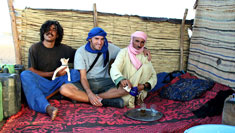 Azzaden Valley
Also known as the Azzanane Valley, this is quieter than the neighbouring Imlil Valley, and there is a spectacular trekking lodge to stay in, in Aït Aïssa village with its own hammam no less. With views up to Toubkal, take guided treks through tiny Berber villages and rocky, wild terrain peppered with walnut groves and ancient juniper trees. Or up to peaks such as Aguelzim (3,500m) or the Cascadas d'Irhoulidene waterfall.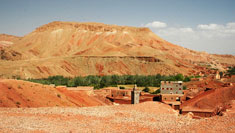 Dades Gorge & Valley
The Dades Valley in the Atlas foothills is where the air smells sweet, because it is most famous for its Damascus rose growing. Smelling less sweet, but definitely rosy cheeked, are the cyclists who come here for the hairpin bends. The canyon and cliffs are also a firm favourite with white water rafters and climbers, as well as hikers of course. Check out the Rose Festival in El Kelaa M'Gouna in May.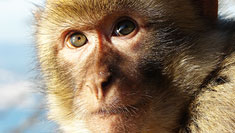 Ifrane National Park
In the Middle Atlas, the gateway town is the surreal Ifrane, built by the French and with an incongruous Alpine chalet look, with skiing nearby and all. Swap surreal for sublime by exploring the national park, popular with cyclists for mountain biking through cedar, oak and juniper forests which are home to the rare Barbary macaque. These are Morocco's largest forests and all just over 50km from Fes.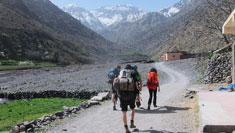 Imlil
Gateway village into the High Atlas Mountains and also to the eponymous valley where you can hike to glorious heights of Tizi n'Mzik Pass at 2,489m, or Tamsoult Waterfall and take in Berber villages of Tanghourt, Fimlil and of M'Zik. As well as the great Mount Toubkal, the highest peak in North Africa. This is the place to start hiking excursions with muleteers and mountain guides, hire bikes and stay in remote kasbahs.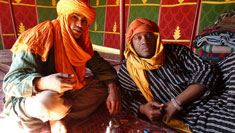 Jebel Aklim
Climb Jebel Aklim (2,531m), one of the highest peaks in the Anti-Atlas Mountains, from where you have spectacular views across to the High Atlas. You can take on the Aklim Range circuit through villages such as Irtem and M'dint, aka City of Cats, which pop up like colourful oases surrounded by palms, almond or olive trees. It feels timeless here, and yet the Berber people, still leading very traditional lifestyles, are beyond welcoming.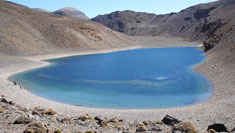 Lake Tamda
Tamda means lake, and the full name of this one kilometer long stunner is actually Tamda n'Ounghmar, at an elevation of 2,667m. Another popular trek from the village of Tijhza, this blue beauty is like a gift from the gods, perfectly poised between the often snow capped peaks of Jebel Anghomar and Jebel Tamda. Follow ancient mule paths through dry valleys, bedecked with wild orchids in season.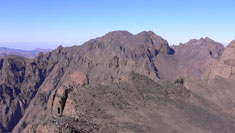 Mount Ouanoukrim
Morocco's second highest peak, many people add it on to a Mount Toubkal trekking vacation. With two summits, Timzguida and Ras Ouanoukrim, most aim for the former because of its huge dome peak with plenty of space to take in the views. At the southern end of the High Atlas, see the land drops dramatically down to desert plains, with the Anti-Atlas rising out of them – a beautiful sand to snow effect in winter.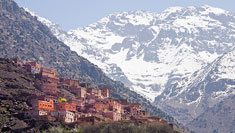 Mount Toubkal
Jebel Toubkal is the highest peak in North Africa and mecca of mountaineering. At 4,167m, it is a strenuous trek in all seasons, don't take it on without expert mountain guides. In winter, serious alpinism techniques come into play, with vacations available to train and guide you. Gateway town is Imlil, and the climb usually takes two to four days, with different routes available, staying overnight at mountain refuges or wild camping.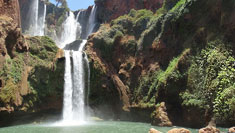 Ouzoud Waterfalls
This is a fertile region of the Middle Atlas, thanks to rivers that feed these magnificent waterfalls, which also provide a natural playground for those who love canyoning and aquatic trekking. The falls themselves are 110m high and they do get busy, but once you start canyoning in the surrounding gorges and El Abid River, you lose yourself in Atlas adventure. Same goes for camping at nearby Bin El Ouidane Lake.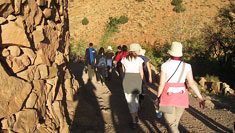 Tizi'n'Ourghsan
Although not as famous as Tizi n'Tacht Pass, this valley takes you through some of the most remote High Atlas terrain. A six hour loop walk up to the valley col starts in the village of Tijhza where there is a hikers' gite, then takes you along the course of the Ouarikt River and up to a great viewpoint of the gorge, terraced slopes and shepherds tending their flocks below. And another world.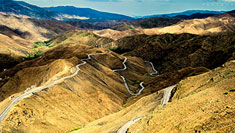 Tizi n'Tichka Pass
In the High Atlas, this is one of the sought after high points, often at the beginning of a walking vacation, it's first time you realise you are far from the Plains of Marrakech. At 2,000m, you have views over the burnished mountains that await, as well as the rewards of a descent into the Azaden Valley, famous for its juniper forests and, always a sight to behold in the arid Atlas, the Aourwiz waterfall.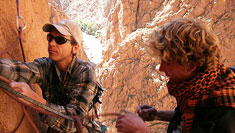 Todra Gorge
Aka Todgha Gorge, this canyon is located in the eastern part of the High Atlas near the town of Tinerhir. A hiking haven, the pink and orange limestone cliff walls are aglow not only with the sunlight that catches it at various points, but also with the buzz of serious climbers, who discovered these 300m cliffs long ago. This and the nearby, and divine Dades Valley are both rose growing oases and kasbah central.