Atlas Mountains responsible tourism issues
---
TRAVEL RIGHT IN THE ATLAS MOUNTAINS
The name 'Berber' comes from Roman times and the Latin for barbarian. The name they give themselves, however, is 'Amazigh', meaning 'free people'.
Like all high mountain regions, the Atlas Mountains are vulnerable. To climate change, to erosion, to rare species having their habitats put at risk, to pollution and to the negative impacts of tourism, particularly when it comes to the local population. Which, in the case of the Atlas, are the Berber people. You will be hard pushed to find Berber man or woman, girl or boy, who doesn't greet you with a genuine smile, open their doors and welcome you for a cup of tea, or help you with directions or support. However, tourism is still relatively thin on the ground compared with other mountain regions around the world, such as on the Inca Trail, the Alps or Nepal. Responsible tourism has long been the way in the Atlas Mountains, so let's keep it that way. Read on for more pointers.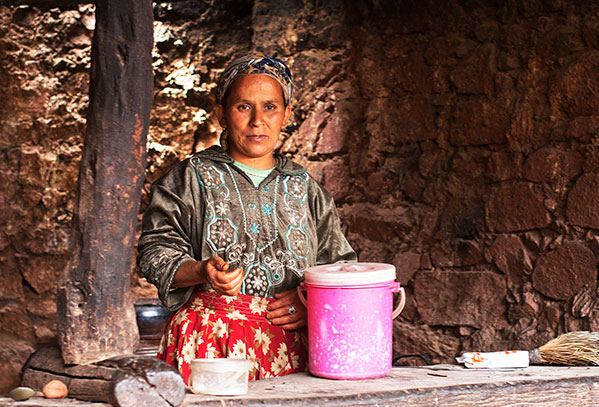 People & culture
---
Meet the Berbers
The Berber people are the indigenous people of Morocco and make up at least 80 percent of the Moroccan population. Traditionally nomadic, most are now in settled communities in the Atlas Mountains as well as the Rif Mountains. If you are going to do some trekking in the mountains, it is most likely that you will have the honour of being accompanied by a Berber guide and a muleteer. Experts in subsistence farming, the tradition is to bring livestock up to summer pastures and so these guys know the mountains like the back of their hands. They also really respect the mountains, with one of their well known expressions being 'where there is water, there is life". And if you get the chance to see the snow covered peaks of the Atlas, or go rafting or canyoning down a gushing river, you will know that there definitely is water. As tourists, it is very important that we also respect the mountains and the people who have been their stewards for generations.

What you can do
Learn some words of the Berber language, also called Tamazight. Along with classical Arabic, it is one of Morocco's two official languages. Contrary to popular belief, French is not an official language but a hangover from the colonial years, although about half the Moroccan population speaks it, mostly older generations. Interestingly, although Tamazight is one of the official languages, it has only been taught in schools since 2009. So do learn a few words; it will be truly appreciated. Here are a couple below, but your vacation company will be able to tell you more. As will your Berber guide, of course.

Thank you= Ake issrebeh moulana
Hello = Manzakine or Salam
Respect Berber culture
---
Berbers are, for the main part, practising Muslims
, and so do please respect their culture. You will hear the Muezzin, or call to prayer, sometimes five times a day, or you may just see someone rolling out a prayer mat and preparing to worship if you are in someone's house, shop or passing by. Please give Berber people the peace and time to worship. Also, during Ramadan, it is important to remember that this is a time of fasting. Your guides or hosts may choose to sit somewhere else during your meal breaks, for example, so it is worth remembering to be sensitive to this. And also remember that they may be a little more tired than usual.
In Berber culture, the
left hand is considered unclean
. It is traditional to exchange food or money with the right hand, and shake hands with this one too.
The traditional greeting is to shake hands and sometimes give two kisses, but only between two people of the same sex.
A women will traditionally hold out her hand to be shaken
, and until that point a man won't offer a physical greeting, but bow his head instead.
Please be very respectful when photographing people
. Take your time to get to know them a little first, and then always ask if it is OK. Ideally without sticking a camera in their face and giving them little choice.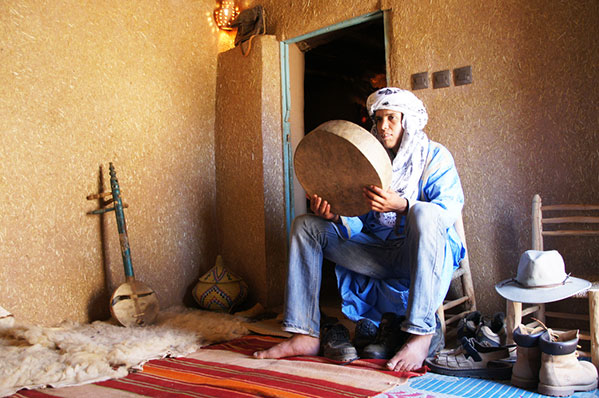 Even though you are only an hour or so from the big city,
the etiquette of dressing modestly
definitely applies in the Atlas Mountains. It should also apply in the cities but tourists are forgiven more easily in the city. In mountainous rural areas, wear long trousers, keep shoulders covered and so on.
Support the work of and read all the information on the Imlil Valley Association
website, a network of people working tirelessly to ensure that tourism is of the responsible kind in this gateway to the High Atlas village. Founded by Chris McHugo from our supplier Kasbah du Toubkal, one of its most impressive projects is
Education for All
, which provides education for Berber girls after primary age. They always welcome donations and you can also volunteer as an education expert there on one of our vacations.
Sallie Grayson from our supplier of volunteering projects in Morocco, People and Places: "Our volunteer programme, 'Education volunteering with Berber girls in Morocco' works with Education for All in the Atlas Mountains. It is a brilliant programme and really well run. The last time I was there, I went to see Latifa, the main housemother at the school, and she is over the moon with the volunteers who go there. Their next challenge, having succeeded in getting girls into high school education, is now making sure they are fully supported going on into further education or into work. This is a new development for them, and we are working on that with them too."
Make sure that your tour operator pays the Berber guides and muleteers a living wage. If they are responsible tour operators, they will be transparent about this and be aware of, for example, the work of the Imlil Valley Association which promotes ethical and responsible tourism throughout the region.

Public displays of affection are not a Berber thing, and they can be offensive. Keep the cuddles for the kasbah.
Wildlife and environment
---
DONKEY WORK
In Morocco, it is very common to see donkeys and mules being used to transport goods to market, or indeed people and their packs to the mountains. In Marrakech, for example, horses and carts, or
caleches
, are a common form of transport for tourists. As tourism has gone through the roof in Morocco over the last few years, there have been many cases of animals being neglected or overworked. Enter the superb international organisation SPANA, which has been around for almost a hundred years providing veterinary care and support for working animals around the world. They play a vital role in Morocco, where they have built nine water troughs and run free health clinics for Marrakech's 300 horses and donkeys. They also run extensive education programmes throughout the country, including in the Atlas Mountains. You can support their vital work through donations on
their site
, or simply ensure that you use one of their animals on your visit to the country. You can recognise their creatures by the SPANA tag, usually around one of their ankles.
Watch SPANA's fantastic video here
.
What you can do
Don't travel with a donkey that is wearing a traditional Berber iron bit. It causes great pain, and makes it difficult for the animal to eat. Tell the owner that you won't use it, because it is only through travelers changing their behaviour that many of the owners will too.
A mule or donkey should never carry more than 75kg, and this is only for short journeys. On longer ones, the rule of thumb is half that weight. So, if it looks like your donkey or mule is overloaded, or tired or injured, refuse to take it.
Read up on the work of SPANA
- their history is fascinating, having been set up by a mother and daughter in the 1920s – and do please donate to them, too.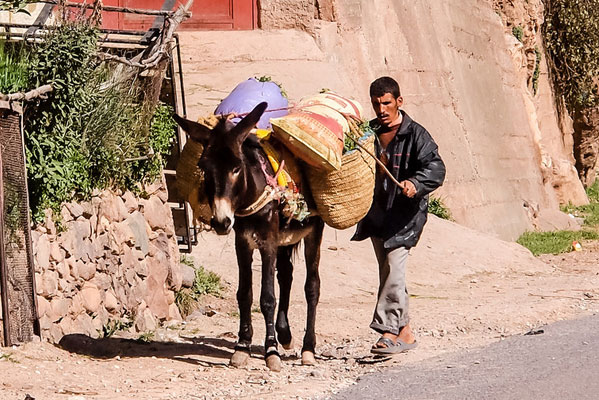 Responsible tourism tips
---
Travel better IN THE ATLAS MOUNTAINS
These mountains are pristine. Please don't litter them in any way and that includes apple pips, orange skins, cigarette butts and water bottles. Take every bit of waste away with you please. A lot of these are common sense, but do read up on the Leave No Trace principles as a general reminder. For example, do you know the poo rules? (Do you though?) Here you go: "Deposit solid human waste in catholes dug 6 to 8 inches deep, at least 200 feet from water, camp and trails."
Respect the mountain culture of safety at all times. Most vacations in the Atlas Mountains are fully guided, so you won't need to worry. But if you are going out alone, do always tell someone which route you are planning to take and when you are expected back. And be prepared with safety and medical kits, food and water, maps and a compass if you are going unguided. See our Walking Vacations Travel Guide for more tips.
Pack your binoculars. The Atlas are famous for their raptors, such as peregrine or Barbary falcons and Bonelli's eagles. Although it is in French only, birders will love this site, the Groupe Ornithologie au Maroc (GOMAC).
Charity climbs take place on Mount Toubkal, but please remember that these magnificent mountains are home to the Berber people. Sadly it is rare for charity event organisers to have an environmental policy or, indeed, to generously support the local economy. There is an argument that they bring tourism money to the area, but many charity climbers swoop in and out again for a few days, so this is not always the case. If you are just going there for an event, consider extending your stay for a couple of days and spreading your money locally, not just funnelling it all into a non-local charity. If every charity walker/runner spent one more night in a kasbah, riad or mountain gite, and bought one more dinner locally, it would create a hugely positive impact.
Do tip in the Atlas Mountains as so many people depend on it as part of their income and wages are low. Stick to 10 percent and you will be giving fairly and squarely.
Morocco criminalises LGBTQ+ people, and public displays of affection are not recommended for all travelers.