Walking in Austria travel guide
Austria has all the ingredients necessary for a classic European walking destination. There are reams of well marked routes across the country – more than 24,000km of trails in the Tyrol region alone – offering different levels of challenge, so walking here is just as suitable for families as it is for more experienced hikers.

There is a stunning diversity in Austria's landscapes, from snow-tipped mountains to deep valleys, glaciers, waterfalls and grassy alpine meadows where cowbells tinkle plaintively.

Blending your walks with cultural activities is easy too, with cities such as Innsbruck and Salzburg close to the mountains, or Vienna on the Danube. Plus, walking in Austria can be done year round. In the winter you can mix things up with cross country skiing, tobogganing or snow shoeing, while in the summer months the superb network of ski lifts remains in service, opening up remote mountain areas for incredible panoramas. Given all this, it's hardly surprising that walking is so firmly embedded in the Austrian national culture, or that many keen hikers choose to return year after year. Find out more in our Austria walking vacations guide.
What does walking in Austria entail?
Small group or self guided walking?
It's really a case of 'choose your own adventure' in Austria. Self guided walking is easy, with marked routes and detailed booklets provided by your vacation company. You can also join a small group tour with walkers of similar abilities, a recommended option for solo travelers. There is also the question of whether you walk point to point, staying at a different accommodation ever night with your luggage transported ahead of you, or choose a center based trip which is ideal for those that want to add on a few extra non walking activities, or just don't like unpacking.
Do I need to be a regular walker?
The beauty of walking in Austria is that there are routes available for every ability. Up in the mountains of course a degree of physical fitness is recommended, as many trails include ascents and descents that can be tough on the knees. But not all walks require such exertion; there are lighter gradients along the banks of the Danube in the Wachau Valley for example, and on the Seefeld plateau. You can also choose a trip that builds in downtime, with flexible itineraries that can be altered depending on how you feel every day.
Summer or winter walking?
The Austrian scenery is just as alluring whether you're there in summer or winter. In the snow, however, it is harder going, and you're best off on a guided, small group tour rather than heading out on your own. Snow shoeing and cross country skiing are popular, and no experience is necessary as all instruction is provided. Reward your exertions with a hot chocolate, or a hot tub, back at your accommodation. Outside ski season, walking vacations can be combined with wine tasting in Danube vineyards, museum visits in cities, white water rafting and canyoning for the adventurous, or a spot of mountain biking.
Accommodation & food
Expect to stay for the most part in small, family owned guesthouses and hotels, perhaps with the occasional night in a mountain hut. Austrian Alpine cuisine tends to be plentiful and mouthwatering, just the ticket for powering you up and down the slopes. Traditional foods and drinks include Wiener schnitzel, tortes, sweet pastries and pancakes, and, of course, the winter favourite Glühwein. But vegetarians, vegans and those that prefer lighter fare are well catered for too.
Regenerating mind, body & soul
The best walking vacations don't simply provide good physical exercise in the fresh air; they also help you unwind mentally and escape the pressures of everyday life. We think Austria is particularly ideal for this – many itineraries begin or end in beautiful cities such as Salzburg or Innsbruck, for instance, with their museums, art galleries and historic architecture that let you mix cultural experiences with your walking. Or why not watch the sun rise over the Grossglockner while you adopt the 'downward dog' in a bespoke yoga studio, followed by breakfast made from fresh, organic and locally sourced produce?
Our Austria walking Vacations
If you'd like to chat about Austria walking or need help finding a vacation to suit you we're very happy to help.

Is an Austria walking vacation for you?
Go on an Austria walking vacation if...
… you're new to this kind of trip and want the perfect introduction, with a good mix of challenge, scenery and convenience. Austria is also great for shorter breaks - most itineraries can be tailormade.
… you can travel any time of year. Austria is great for walking in every season. Off peak shoulder months such as May and October offer good weather, fewer crowds and better deals.
… you want a great family vacation. There are plenty of scenic and easygoing walks for all ages, fun off piste activities, and good food to satisfy healthy young appetites.
Don't go on an Austria walking vacation if...
… you're watching the calories. Austrian mountain food tends to be rich, hearty and filling, meant to give you plenty of energy. … you're expecting von Trapp kitsch everywhere. Your average Austrian isn't embarrassed by 'The Sound of Music', but neither is he particularly interested in reminiscing about it. … you want to get off the beaten track. Austria is a well established and reliably popular walking destination, so there aren't many opportunities for trailblazers.
Best time to go walking in Austria

Austria is an excellent walking destination all year round, with every season offering its own unique appeal.

Austria is a broad country with three main geographical areas. The Danube River runs across the top, separated from the Austrian Alps by the Bohemian Forest, a smaller mountain range. Given the variance in topography, weather conditions in Austria can vary dramatically depending on your altitude. However, the best time to go on a walking vacation in Austria is generally considered to be from May to October, when the weather is at is finest. In the warmest months, head upwards: generally, temperatures fall by around 5°C for every 300m you ascend.
Walking in Austria, month by month guide
In the north and west of Austria, you can expect a climate influenced by the Atlantic, with rainfall common in summer, and colder winters. The southeast, by contrast, tends to be more Mediterranean in aspect – summers are typically long and very warm. The Austrian Alps have a number of renowned ski resorts which are naturally very busy throughout December, January and February and into spring. The ski season usually ends by late April, though at higher elevations and on glaciers it can continue for several more months. January is the coldest month of the year in Austria, but temperatures rarely drop below -10°C. Even in mid-winter there are still hiking opportunities in some areas, and snowbound regions can be travelled by snowshoes or cross country skis. By March, the temperature is rising. April, one of the wettest months of the year, is also when the risk of avalanche is greatest as the snows of winter melt away. Self guided walkers are well advised to stick to marked trails. With the valleys largely clear of snow by May, the landscape is carpeted in gorgeous wildflowers. Coupled with drier weather, this is an excellent month for walking. June, July and August are often gloriously warm, with daytime temperatures usually between 20°C and 35°Cdepending on elevation. Consequently, popular walking routes can get crowded. The evenings tend to be cooler, so bring a light jacket, and remember that the Austrian summer is characterised by occasional thunderstorms. Probably the most popular time to walk in Austria though is the autumn, in September and October, and sometimes as late as November. The weather is usually dry and the scenery is of course wonderfully colourful. In autumn, the farmers are bringing their cattle in from pasture before the snow begins to fall, so the valleys ring with the sound of cowbells. For anyone wanting to summit the Grossglockner, the season runs from June to mid October. No special equipment is required beyond a good pair of hiking boots and perhaps some poles.
More about Austria walking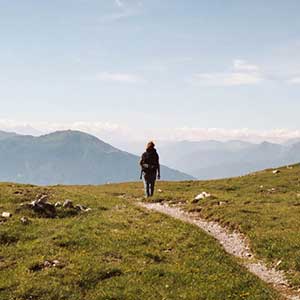 The chances of encountering a yodelling nun are vanishingly small, but in Austria the mountains are the local celebrities. Follow in the footsteps of such illustrious company as Richard the Lionheart, Sigmund Freud and Clint Eastwood across landscapes that might have been designed for hiking.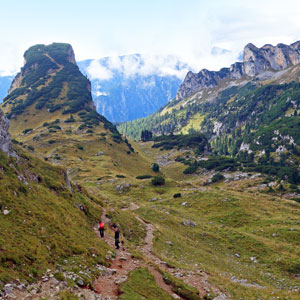 Keep your carbon footprint low at high altitude: go on a walking vacation in the Tyrol that uses local transport and is fuelled by local food.