Baja California travel guide
---
2 MINUTE SUMMARY
Driving down the 1,247km of Mexico's Baja California peninsula, you'll feel like
you're reaching the tip of the world. There are four desert regions along the way, supporting characteristic giant cacti, and a mountain range along Baja's spine. But in these arid landscapes, you're never far from the water; the peninsula measures just 40km at its narrowest point. And this is some water. Jacques Cousteau referred to the Sea of Cortez, separating Baja from the mainland, as "the world's aquarium." Containing almost 3,000 marine species, including 900 fish and a third of the world's marine mammal species, the description seems apt.
Kayaking in these waters – from islet to islet – is an idyllic way to discover Baja's marine life up close. But it's the lagoons on the Pacific coast that provide the most spectacular draw, as they fill up with thousands of grey whales each year – a species so friendly they regularly approach boats and introduce their enormous babies to the wide eyed onlookers onboard.
Find out more in our Baja travel guide.
Marine species in Baja
---
WHAT MIGHT YOU SEE?
Grey whales
---
The grey whales are Baja's star attraction. Virtually every single one of these 15m, gentle giants migrates to Baja between January and March to mate and give birth – and they are known for their curiosity and friendliness towards the boats. Baja offers possible the closest whale encounters on the planet, as mothers nudge their days-old babies towards the waiting boats, and rub themselves against the hulls. Grey whales have an unusual feeding habit, turning on their sides to scoop up sediment from the seabed which they then filter through their baleen plates for tiny sea creatures.
Other whales
---
Traveling across the narrow Baja Peninsula, you arrive at the Sea of Cortez – which Jacques Cousteau called "the world's aquarium." Blue whales migrate to these deep waters each spring, along with fin, humpback, pilot and Bryde's whales; sperm whales are resident year-round. Humpbacks are known for being particularly acrobatic, leaping out of the water and slapping their huge fins and flukes. The blue whale, reaching lengths of up to 30m, is the largest animal that has ever lived.
Whale sharks
---
In Bahia de la Paz, on the eastern side of the peninsula, whale sharks migrate each year between October and March. The world's largest fish – reaching up to 10m here – are not dangerous, and as well as viewing them from a boat, it may even be possible to swim alongside them as long as you keep your distance. If you want to learn more about this mysterious species, liveaboard research trips are available where you'll be joined by a whale shark scientist, and can contribute to the collection of data as you learn how to identify and sex the sharks, measure them and learn about their behaviour and the threats facing them.
Other species
---
Boat trips around Baja are the marine equivalent of an African safari – you'll be ticking off species at an incredible rate. Pods of dolphins whizz through the water, sea lions bob around your kayak, mobula rays soar above the waves and there is an incredible number of birds to observe on the beaches, cliffs and coves, including brown pelicans, boobies and hummingbirds further inland. Sea turtles also nest along the peninsula, with green, loggerhead, hawksbill, leatherback and olive ridley turtles visiting the beaches at different times of year. Come in November to February to see the huge leatherbacks – which measure around two metres and can weigh 900kg – hauling themselves ashore.
Baja map & highlights
---
MAKE THE MOST OF YOUR TIME
Baja California is the second longest peninsula in the world, stretching over 1,200km in length. Baja California Sur (Southern Baja California) comprises the lower half of the peninsula – and is where much of the action takes place. Vacations generally involve flying into La Paz, Loreto or San Jose del Cabo, then being transferred by road from there to your base. The azure waters of the Sea of Cortez run along the sheltered east coast, and contain many secluded islands. San Ignacio lagoon and Magdalena Bay lie to the west – though it's a short drive from coast to coast, meaning many itineraries will take in both sides, driving over the mountains that separate the Sea of Cortez from the wilder Pacific.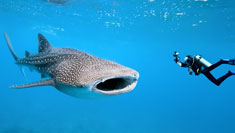 Bahia de la Paz
From October or November to March, the world's largest fish is a common visitor to this bay. The whale sharks here measure up to 10m in length, but the species is known for its gentle nature. If you are lucky you may even be able to swim alongside them – whale sharks swim slowly and only eat plankton. The cool winter waters mean that wetsuits are advisable, and you must keep a good distance from the shark.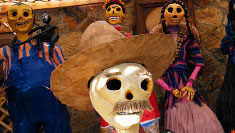 Inland
With such abundant marine life, it's understandable that most visitors stay close to the coast, but don't miss the chance to explore further inland; the nature here is just as unique. The deserts and mountains are rich with flora such as the giant cardón cacti and desert flowers. Meet the local communities too, who serve excellent local fare and have strived to protect this landscape despite economic hardship.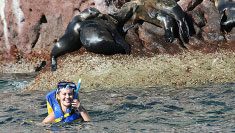 Islands
Some 900 islands can be found in the Sea of Cortez, with many larger islands and remote islets lying between La Paz and Loreto. These are havens for pelicans and California fur seals; visitors can snorkel, or hike across sweeping desert beaches and rocky outcrops. Visit the islands on day trips; spend your vacation kayaking between them and setting up camp each night; or sail between them on a small ship cruise.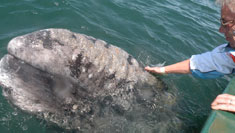 Magdalena Bay
Each year, almost every grey whale in the world swims to Baja to mate and give birth; Magdalena Bay is one of the sheltered spots where they congregate. This 50km-long bay is protected from the open Pacific by a chain of barrier islands, and surrounding mangroves are havens for birdlife. Accommodation is in an eco camp right on the beach; whales can often be seen before you've even left your tent!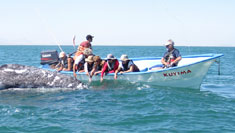 San Ignacio Lagoon
San Ignacio is a veritable whale nursery from mid January to early March, when grey whales travel from the icy waters off Alaska to give birth here to their young. The bay is one of the best whale watching spots in the world; zoned areas means it's up to the whales to approach the boats, and the naturally curious calves are only too keen to greet the boats, much to the delight of the passengers.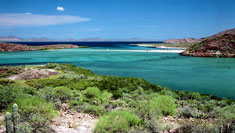 Sea of Cortez
Jacques Cousteau called it "the world's aquarium", this impossibly turquoise sea lures migrating whales, sea turtles and manta rays to its deep, warm waters, and even has resident populations of dolphins and fin and sperm whales. These can be seen from land as well as from boat trips out to sea. Much of the Sea of Cortez is protected by UNESCO, as well as by the 2,065km2 Bay of Loreto Marine Park.