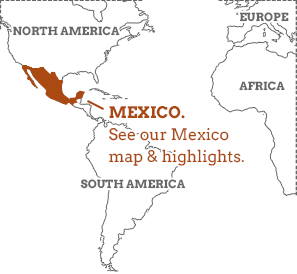 Mexico is a land of delicious dichotomies. Just look at its Margarita. Sweet and sour. And yet it works. Landscape wise, it is diverse to say the least – deserts, mountain ranges, volcanoes, and oodles of coastline, with the Pacific to the west, Gulf of Mexico to the east, and the Caribbean further southeast. Yes, there are stretches of concrete all inclusives, but with over 9,000km of coastline, you don't need to go too far to sip your cool Mexican beer in peace.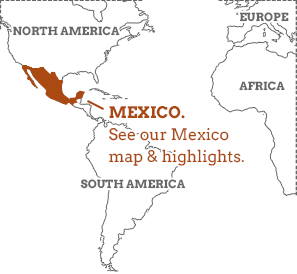 Contrary to popular belief, you don't slam a tequila shot in Mexico. You drink it slowly, relaxed, with ice. All in all, a good metaphor for traveling here really.

Culturally its dichotomies are disarming too, with Spanish colonial influences in Oaxaca and Puebla, for example, next to ancient Mayan magnificence, but today Mexico is also home to prolific indigenous community life. Most of our Mexico vacations take you on a cultural journey, until you hit the vast northern Baja Peninsula, a haven for migratory whales that honour these waters with their songs and dances for several months of the year. No dichotomy there. Just to die for.
See our Mexico travel guide for more details.
Mexico is...
mountains, Mayans and marine magnificance. Toast that with a margarita.
Mexico isn't...
all about all-inclusive resorts. That's like saying France is all about Club Med.
What we rate & what we don't
Palenque
Mexico is falling down with ruins, literally, but Palenque's still feel weirdly full of life. Only partly unearthed, surrounded by luscious jungle with monkeys darting around, and trees full of toucans and parrots, you can hike over mysterious mounds with supposed temples or palaces underfoot. Less pristine and museum like than Chichen Itza, and way fewer people. You can swim at nearby Mishol-Ha waterfall if water levels permit.
Nature & national parks
Most Mexico vacations follow the cultural circuit, but there is so much wildlife to be seen here too. And no better places than the 67 national parks. Which Mexico doesn't really shout about. Espiritu Santo Archipelago National Park is famous for whales, Mexico City's stunning Desierto de los Leones National Park famous for not really being a desert, but rich, ancient oak forest, and Iztaccihuatl-Popocatepetl Zoquiapan National Park is volcanic, snow-peaked perfection.
Indigenous culture
Just because there are glorious elegant ruins to visit, doesn't mean that Mayan culture is a thing of the past. Far from it. Over 15 percent of Mexico's population has indigenous or Mexican Indian roots. In fact, unknown to most, there are over 60 indigenous groups and just as many languages, meaning that Mexico defines itself, in its constitution, as a "pluricultural" nation. The most prolific groups are Nahuatl, Yucatec (Maya), Zapotec and Mixtec.
San Cristobal de las Casas
For an insightful juxtaposition of colonial, colourful architecture alongside traditional Mayan, mountain life, this town is a must see. There are day trips to the markets here, but take time to spend time in this exquisite, elevated and eclectic area of Mexico. It is, literally, a breath of fresh air.
Whale watching
You can savour the whales off Mexico's Baja Peninsula between February and April. One of the longest peninsulas in the world, it proffers 3,000km of coastal homes to dolphins, blue, sperm whales and orcas. Most magically, almost every grey whale in existence gathers around four particular mangrove lagoons here to breed and birth. Go out and see them on small boats, or camp on lagoon islands and wake up to whale song.
The Mayan Trail
Mexico is part of a 2,400km trail around the great pyramids, palaces and ancient principalities from Mayan civilisation, which dominated Mexico's Yucatan Peninsula, but also further south into Central America. Many are UNESCO sites, such as Chichen Itza and Uxmal, but they are all impressive sites and, although you can't fit them all in, many tours visit Mexico, Belize and Guatemala's finest, as that works geographically.
Oaxaca
The antithesis of culturally stripped Cancun, Oaxaca is what many of us hope Mexico to be. Culture vultures swoop and swoon here, as do foodies, as Oaxaca's traditional cuisine has been listed by UNESCO as an 'intangible cultural heritage'. Throw in the archaeological delights of Monte Alban, Mitla and Yagul, and the historic hub of Zocalo, the old city center, where markets and backstreets are buzzing and beautiful.
Mexican food
It really is as good as you might hope. And Mexicans have realised how much we love it too, with food trails and gastro getaways very de rigeur these days. Go for a taco trail in Mexico City, check out the superb market in Oaxaca, a town that has UNESCO heritage status for food alone, and the Yucatan Peninsula is superb for seafood. Not forgetting tequila, mescal, margaritas, heritage and contemporary beers to raise a glass.
Cancun
The city that has given the Yucatan Peninsula its yucky reputation, this hub of the Mayan Riviera has done for Mexico's reputation what Magaluf has for Spain – cheap all inclusive vacations in concrete resorts that not only keep money out of the local economy, but nature and local people out of tourism. There is so much more to Yucatan though. You just have to fly in and keep going, cycling, hiking or swimming.
Eco everything
Mexico is rightly proud to be the birthplace of ecotourism, a movement that was led by Mexican environmentalist, Hector Ceballos-Lascurain in 1983. However, beware of bandwagon bounders, calling themselves 'eco' just because they are rural, remote or just a tad rustic – with no connection with community or culture. Or eco parks that include swimming with enclosed dolphins as part of their sustainable sensations. Not.
Golf
Golf is often the undiscussed area of irresponsible tourism. And it is mega in Mexico. They have gone from 50 courses to over 150 in ten years. They may seem like heavenly holes, but golf raises issues of herbicides, pesticides and contaminated water seeping into the natural environment. As well as excess water and indeed land usage. Unless they are carefully managed, it is still rare to see a golf course that does things the fair way.
Cruise ships
It is not hard to measure the economic and cultural impacts of the cruise ship 'sleep thousands' giants. Just visit a port like Puerto Vallarta and watch it in action. This 'roll on, roll off' tourism has few good impacts, the economic one always cited as the positive influencer, but actually, most of the money stays on board. In contrast, most of their polluting elements don't.
Our top Mexico Vacation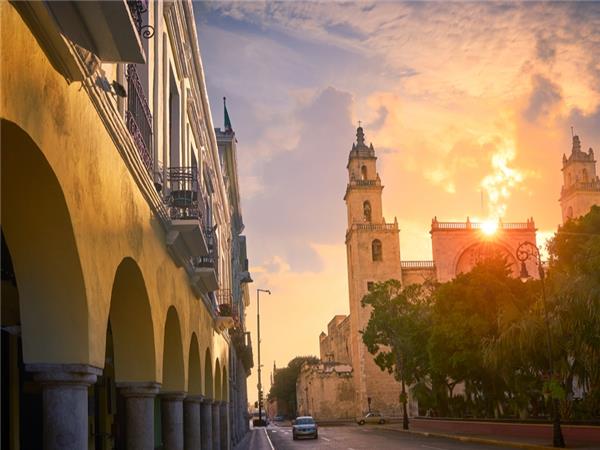 The land of the Aztec, Zapotec and Maya civilisations
From
US $

4570

to

US $

6310
21 days
ex flights
Small group travel:
2023: 28 Oct, 11 Nov, 18 Nov, 19 Dec
2024: 20 Jan, 17 Feb, 9 Mar, 30 Mar, 27 Apr, 18 May, 3 Aug, 28 Oct, 29 Oct, 30 Oct, 9 Nov, 19 Dec, 21 Dec
If you'd like to chat about Mexico or need help finding a vacation to suit you we're very happy to help.

Eating & drinking
If you get a chance to do a culinary tour, just do it.

Agua Tehuacan is the country's most famous mineral water, named after the town in Puebla where its volcanic source is located.

It's not all tacos and fajitas in Mexico. Check out arrachera, a really tender cut of steak. Usually served with plantain and guacamole.

Elote is cornucopia, if ever there was one - corn on the cob with lots of cheese and other dressings piled on top.

There's something in the water in Mexico. The volcanic waters all have different qualities. 'Tehuacan' has lithium, making you mellow, and 'Topo Chico' has potassium, great for kidneys. Don't take it on a long bus journey though.

People & language
There are over 60 indigenous groups and just as many languages, meaning that Mexico defines itself, in its constitution, as a "pluricultural" nation, the most prolific groups are Nahuatl, Yucatec (Maya), Zapotec and Mixtec. But just learning a few words in Spanish goes down really well, as English is rarely spoken outside resort towns:
"Hablo un poco de español" – I speak a little Spanish
"Buenos días/Buenas tardes/Buenas noches" – Good morning afternoon/evening
"Puedo tomar una foto?" – Please may I take a photo? (Please, always ask!)
Gifts & Shopping
Mexican Fairtrade products include coffee, honey, cocoa, sugar and quinoa.

Buy a top tequila – look out for "100 percent agave" on the label.

Dulce de leche or cajeta is a sugary caramel, similar to condensed milk. Buy it in small wooden boxes on market stalls, for the sweetest gift ever.

Buy wood carvings and unique black pottery in Oaxaca.

Taxco is the town for silver – look out for .925 stamp for quality.

Artisanal leatherwork is Valladolid's finest export.

Oaxaca's traditional cuisine has been listed by UNESCO as an 'intangible cultural heritage'. Who needs Michelin, when you have that status?

How much does it cost?
Comida corrida (set menu) in standard café: £2-2.50

Dinner in a sit down restaurant: £6

Entry fee to Chichen Itza: £4

Local beer: £0.75

Kilo of oranges: £0.50

Rafting trip: £35-50
History
When a country has the word 'civilisation' as part of its heritage, there is an inevitable and intangible feeling of weighty wondrousness about it. And Mexico's Mayan history attracts people from all over the world, not only to see the extraordinary architectural remains of great cities such as Teotihuacan, which date back to AD500, but also to get their head around the fact that this great civilisation seemed to simply collapse, with little being known about its inner workings, or how and why it disappeared.
Read more