Sea kayaking vacations in Baja
Traveling around the sheltered shoreline of the Baja Peninsula by sea kayak is certainly one to add to the list for anyone looking to escape Mexico's crowded tourist hot spots. Sea kayaking is one of the least intrusive modes of transport and a wonderful way to watch wildlife without disturbing natural behaviours or the environment. Snorkelling with sea lions, hiking on uninhabited volcanic islands and mosquito net covered nights, illuminated by the Milky Way and glowing bioluminescence, all bring the beauty of Baja to the fore. This region of Mexico is well protected by conservationists and local communities, and sea kayaking means travelers can experience the water, the wildlife and the limestone landscapes in a deeply responsible way.
Our Mexico Vacations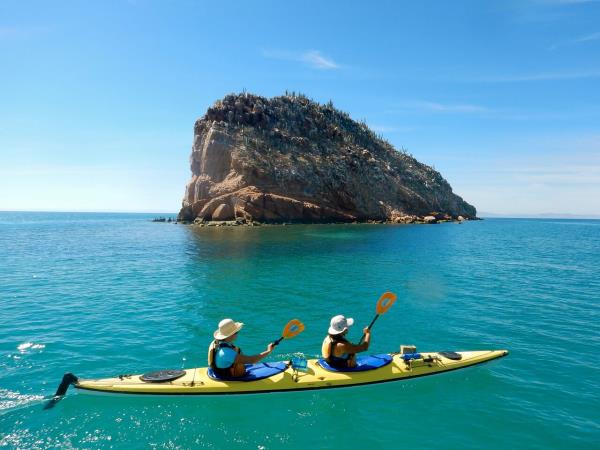 Adventure on the waters of Espiritu Santo
From
US $

1695
9 days
ex flights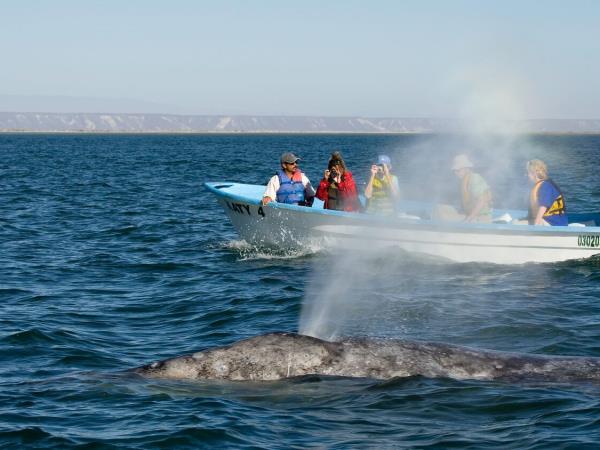 Marine life and sea kayaking adventure in Baja
From
£

1875
9 days
ex flights
Where to go sea kayaking in Baja
Sea of Cortés
The protected Pacific pocket that separates the Baja Peninsula from the Mexican mainland, the Sea of Cortés is the best place to go sea kayaking in Baja. This is where you'll find hundreds of limestone coves, saline estuaries and sandy beaches along a coastline that stretches 4,000km. Thanks to the relatively narrow width of the Sea of Cortés – it ranges from 50km to over 240km – and the peninsula that shelters it from the rest of the Pacific, it has long been an absolute haven for native and migrating marine life. Everything from whales, dolphins and flying mobula rays to turtles, eels and octopus can be seen here, and sea kayakers have one of the best seats in the house to watch wildlife.
Isla Espíritu Santo
This large, uninhabited island in the Sea of Cortés has been saved from real estate developers and quite rightly deemed a Biosphere Reserve by UNESCO. Some of the beaches are just breathtaking and sea kayaking is the only way to travel when it comes to circumnavigating the island's wild and rugged cliffs and crags in search of sheltered spots for lunch. It's possible to camp out on the silver sand beaches of Espíritu Santo as part of an organised tour. Snorkelling with sea lions and watching the sunset, as pelicans dive for fish, is simply the best and the only way to cap a day spent out at sea. Thanks to Isla Espíritu Santo's lack of artificial light, the night sky is well worth staying up for, with gently lapping waves – and protective mosquito nets – ensuring a good night's rest.
Bahía de Loreto National Park
This UNESCO-protected environment extends for just over 2,000km2 in the center of the Sea of Cortés to provide marine mammals – and sea kayakers – with an exceptionally diverse selection of coastal landscapes. Several of the islands within Bahía de Loreto National Park have desert-like conditions; keep an eye out for numerous endemic reptiles, tall flowering cacti and nesting sites for sea birds as you kayak around the smooth cliffs and sandy coves. Hiking and camping is possible on the islands, with spectacular sunrises luring kayakers from tents ahead of another day afloat.
When to go sea kayaking in Baja
The best time for sea kayaking around Baja and the Sea of Cortés is from the end of October to the end of April. November to December and March to April offer particularly calm and clear conditions. Friendly grey whales and their calves can be seen around Magdalena Bay and San Ignacio Lagoon on the west coast of Baja from February to April. Other whale species, as well as dolphins and sea lions, have all been known to make an appearance during sea kayaking expeditions in the Sea of Cortés from January to April. For whale sharks, head to Bahia de la Paz from October to March. June, July, August and September are very hot with a risk of hurricanes and little or no shade.
Our top Mexico Vacation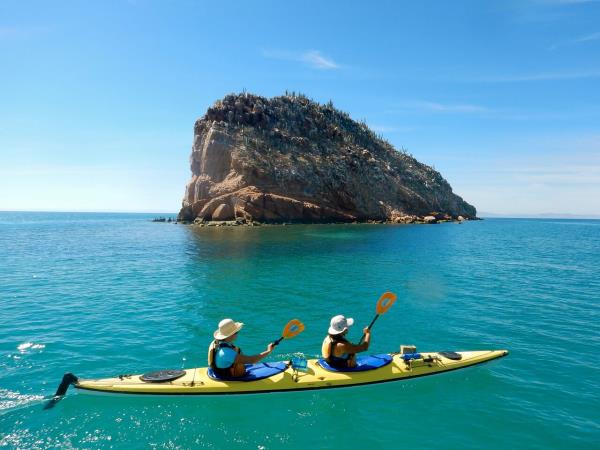 Adventure on the waters of Espiritu Santo
From
US $

1695
9 days
ex flights
Small group travel:
2023: 7 Mar, 18 Mar, 1 Apr, 8 Apr, 15 Apr, 29 Apr, 14 Oct, 28 Oct, 4 Nov, 18 Nov, 26 Nov, 9 Dec, 23 Dec, 30 Dec
If you'd like to chat about Mexico or need help finding a vacation to suit you we're very happy to help.

Staying safe while sea kayaking in Baja
Unremitting sunshine can be a concern when sea kayaking in Baja, so long-sleeved neoprene, peaked caps and sunglasses are essentials. Winds can whip up the Sea of Cortés, which can be a blessing or a curse depending on which way you're paddling. Sea kayaking instructors are highly trained and experienced, however; and know the how to paddle into the wind and with the wind at your back. They also know the best time to launch and which areas to avoid.

Good quality equipment will be provided on organised tours, including wet suits and buoyancy aids. If you're sea kayaking as part of a small group, guides will keep a keen eye on everyone's progress and ability. The group will always wait for slower kayaks and there will be regular breaks in sheltered areas where you can regroup and rest. When it comes to wildlife – which can be pretty huge in this part of the world – just remember to stay calm, don't touch and enjoy the experience from a safe distance.
How to go sea kayaking in Baja
Small group kaykaing vacations
On small group sea kayaking vacations in Baja, you'll be accompanied by experienced guides so even beginners can launch with confidence. This type of tour is ideal for solo travelers who are keen on sociable sea kayaking, and you'll likelt find yourself camping, snorkelling and hiking, too. Guides will prepare all meals and show you how to set up your tent; do check before departure which kayaking and camping equipment is provided.

Small group tours can involve anywhere from three to ten days paddling with regular breaks and beach lunches; this is a relaxing experience rather than a jet-propelled paddle. Kayaking and whale watching tours are also available between January and March to coincide with calving season for grey whales.
Tailor made
A tailor made vacation in Baja allows you to explore other areas of Mexico before meeting up with a small group for a sea kayaking expedition. You'll enjoy a guided tour of Mexico City, and the Teotihuacan Pyramids before flying to La Paz beside the Sea of Cortés. Tailor made tours can be taken all year round, and the maximum group size for kayaking is ten people. This is a great idea for couples wishing to meet new people as well as having time to explore the mainland on their own. Sea kayaking expeditions will involve camping, hiking and a flexible itinerary that takes into account the weather, wildlife and water conditions. Guides will be on hand to help you take to the water and all meals will be prepared for you at campsites. Wine and cocktails add to the convivial atmosphere around sunset, as you swap stories of your days on the water.