Traveling in Mexico with kids
Mexicans just love family life, and welcome kids into the community with open arms. Local people will often comment on the beauty of your children, and learning the Spanish to return the compliment is a lovely thing to do: Que hermoso/a simply means "what a beautiful boy/girl".

I was a bit concerned that the kids might get bored with all the history and culture. But they just loved all the gory details and Horrible Histories style Mayan Mysteries.

A family vacation in Mexico is non-stop fun fair in fact. Even the ancient ruins and museums aren't all precious and revered, but left open to be explored and appreciated for the magical places that they are. Children tend to love Mexican food, the coastal treats make for one big natural water park, and the language is manageable for most young people, many of whom learn Spanish in school these days.
If you'd like to chat about Mexico or need help finding a vacation to suit you we're very happy to help.

Activities for families in Mexico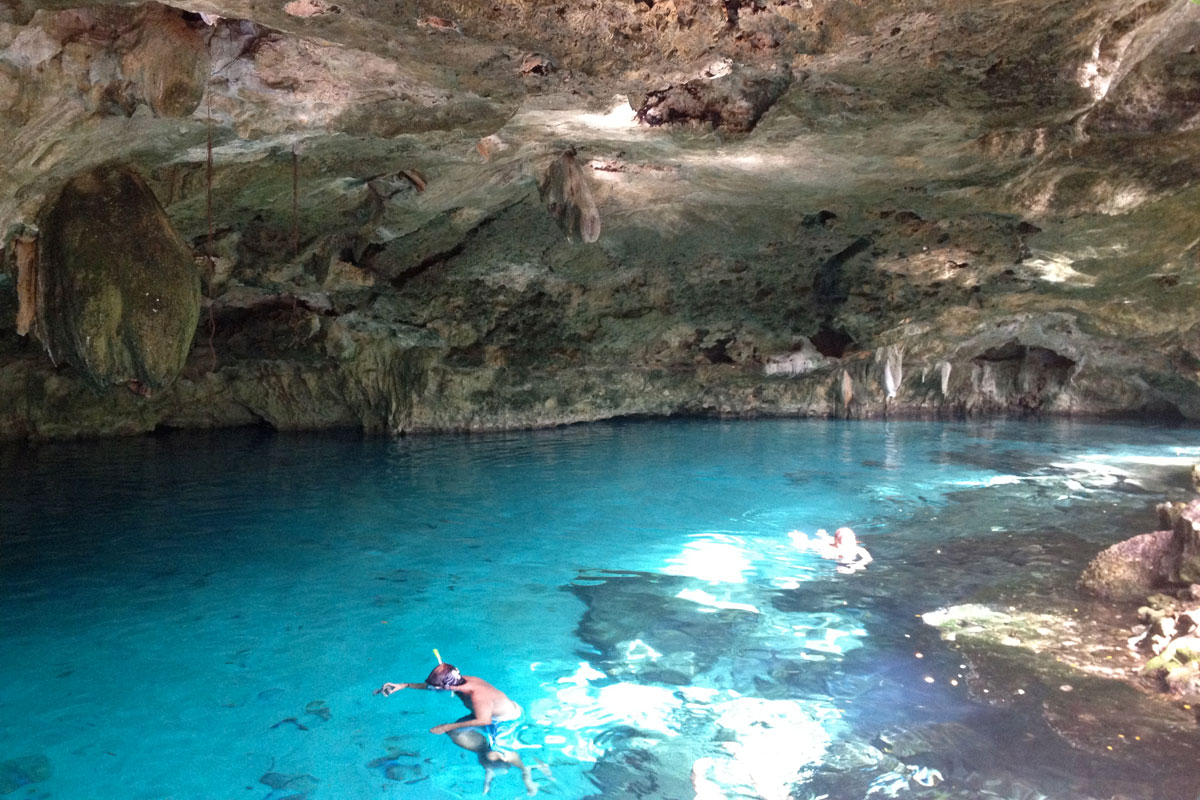 Swimming in cenotes
You can't go to the Yucatán without diving into these delectable pools. Created by the collapse of limestone bedrock, the subterranean pools are crystal clear, heart stoppingly beautiful oases. Revered by the Mayans, they are still have an ethereal feel. Ask to go to the quiet ones; some get a bit packed in peak season.
Water babies
Water play is prolific in Mexico. As well as fun on the beach at Celestun, you can see sea turtles nesting. Kayaking in Sian Ka'an Biosphere Reserve will turn every child into a bird lover, with osprey, herons and egrets all on show. As is marine life as you snorkel around Caribbean coves and beaches such as Akumal.
Little monkeys
As well as extraordinary whale watching on the Baja California Peninsula, Mexico's jungles, more famous for Mayan ruins, are also wildlife havens. Always look upwards when you get there; spider monkeys and howler monkeys are firm favourites with children.
Vicky Rodford from our leading Mexico supplier, Intrepid Travel, knows how to dive into family vacations in Mexico:
"Swimming in cenotes is a top experience. But you do need to be careful that you go off the beaten path a little bit, rather than going to one that is just off a highway that is packed and a bit more like swimming baths when school is out. But if you find the right cenote it is just stunning. You can swim underneath, into the dark, you can hear birds flying in and out, and the water is absolutely crystal clear, and it is so peaceful. They can be just gorgeous."
"There can be some long drives to get between places in Mexico, so make sure you take something to occupy yourself and the kids on the journey. It is a big country."
"Kids tend to love the Mayan history, because it is quite brutal. The guides are really good at giving the details, which can be fairly bloody, about the ball courts, for example, which are at all the ruins. It seems to appeal to children when they hear about the victors having their heads cut off as a reward to expedite them to heaven. Also, the sites are big and sprawling with time for the kids to run off and explore. You can't climb everywhere, but many do allow you to clamber to the top of the ruins and look out over the jungle, which is pretty cool."

"Snorkelling near Tulum is just great for kids. Not necessarily in the sea as it can get a bit choppy, but there are plenty of good snorkelling experiences that I recommend. Tulum generally is a nice place for families, with ruins on the sea but plenty of beach time too."