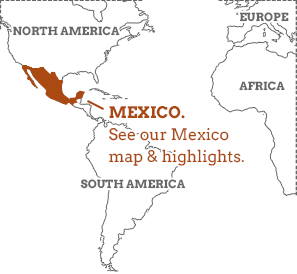 Mexico's most famous spots are sadly tarnished by mass tourism, yet there are signs of improvement. Our Mexico vacations, for instance, eschew gaudy resorts and large cruise ships in favour of small, locally owned accommodations and restaurants where you'll get a far more authentic taste of Mexican culture. From the golden beaches of the Caribbean coast to the spectacular Mayan ruins of the Yucatan Peninsula to sea kayaking off Baja, our small group and tailor made vacations employ local guides with deep knowledge of their communities and landscapes, promising experiences that you'll remember much longer than vacations that rarely leave the resort.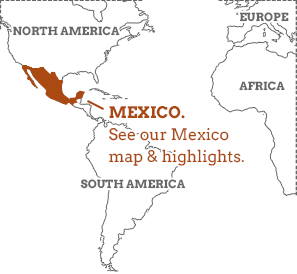 Our top Mexico vacations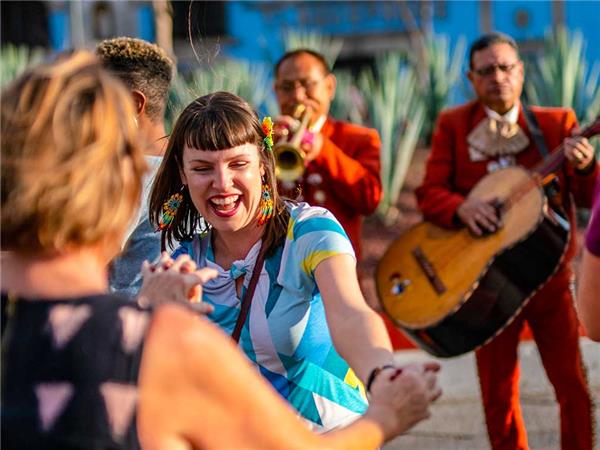 From
US $

1402

to

US $

1995
15 days
ex flights
2 week discovery Mexico's Aztec, Zapotec & Mayan cultures .
Small group
2023: 11 Feb, 18 Feb, 25 Feb, 14 Mar, 18 Mar, 21 Mar, 25 Mar, 15 Apr, 22 Apr, 6 May, 13 May, 20 May, 3 Jun, 10 Jun, 17 Jun, 24 Jun, 1 Jul, 8 Jul, 18 Jul, 22 Jul, 5 Aug, 8 Aug, 12 Aug, 19 Aug, 2 Sep, 16 Sep, 30 Sep, 3 Oct, 7 Oct, 10 Oct, 14 Oct, 21 Oct, 28 Oct, 31 Oct, 4 Nov, 7 Nov, 11 Nov, 14 Nov, 18 Nov, 21 Nov, 25 Nov, 28 Nov, 2 Dec, 5 Dec, 9 Dec, 12 Dec, 16 Dec, 19 Dec, 23 Dec, 26 Dec, 30 Dec, 2024: 6 Jan, 9 Jan, 13 Jan ...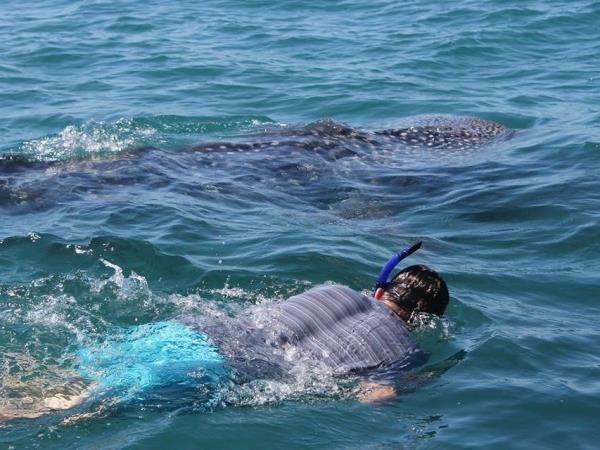 11 days
ex flights
Active adventure with wildlife in Mexico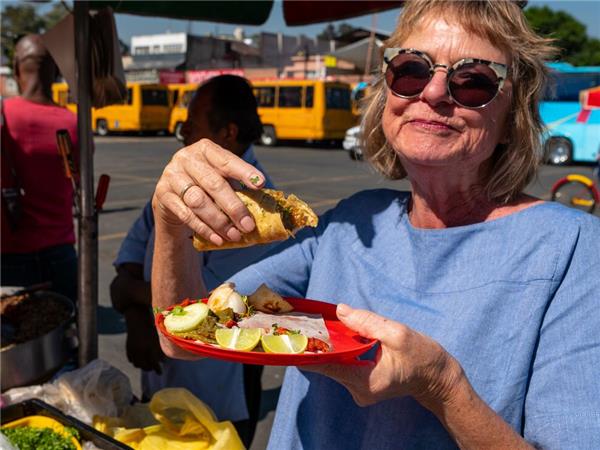 From
US $

1834

to

US $

2125
9 days
ex flights
Get an authentic taste of Mexico on this 8 day tour
Small group
2023: 4 Mar, 1 Apr, 6 May, 1 Jul, 12 Aug, 16 Sep, 7 Oct, 21 Oct, 11 Nov, 18 Nov, 25 Nov, 9 Dec, 23 Dec, 2024: 13 Jan, 10 Feb, 2 Mar, 16 Mar, 30 Mar, 4 May, 29 Jun, 10 Aug, 14 Sep, 5 Oct, 19 Oct, 9 Nov, 16 Nov, 23 Nov, 7 Dec, 21 Dec
About our Mexico vacations
History & culture
When it comes to Mexican culture, give the all-inclusive resorts and the tarnished glitz of Cancun a wide berth. Instead, travel with responsible vacation companies that can give you an insight into Mexico's thriving indigenous communities. There are some 60 indigenous groups here, most of whom place nature, earth and landscape at the center of their beliefs. To explore Mexico's history, there's no better launch pad than the 2,400km Mayan Trail, an essential introduction to key sites including the famous Chichen Itza and Uxmal as well as many other lesser-known – and therefore quieter – ruins.
Wildlife vacations in Mexico
The diversity of the landscapes makes Mexico a joy for wildlife watchers, though most
wildlife vacations
actually stick to the water most of the time. The reason is big, grey and bound to amaze: Mexico's superb whale population. Humpback, finback, grey and even blue whales plunder the plankton off the Baja Peninsula. Whale sharks swim serenely beneath the surface alongside dolphins and manta rays off the Yucatan Peninsula. Birdlife and sea lions cram the Isla Espiritu Santo biosphere reserve. To witness the epic monarch butterfly migration, meanwhile, head to the forests west of Mexico City from late October onwards.
Whale watching
Grey whale watching off the Baja Peninsula is one of the most intimate and enthralling wildlife encounters you can find. So comfortable are the whales with boats that they will nudge up against the hulls, and push their often just days-old calves towards you as if to show them off. Our friends at the World Cetacean Alliance have no problem with this kind of behaviour so long as the
whale watching
is done with responsible tour operators capable of understanding and respecting the whales' behaviours. For that reason, this is one of the only close wildlife interactions we recommend on vacation.
Family vacations in Mexico
Traveling in Mexico with kids
has practically endless potential. Older children will get a kick out of the gruesome stories that emanate from Mayan ruins, while all the family will love the opportunity to dive into cenotes for refreshing swims on hot days – of which there will be many. Naturally, there's no end of beaches to explore – those off Tulum are ideal for some easy-going snorkelling. And be sure to throw in a whale watching tour too, bound to be a highlight since the giant mammals are so prolific here that sightings are pretty much guaranteed.
Day of the Dead festival
You might not know the story behind Mexico's
Day of the Dead festival
, but you'll certainly recognise the costumes. The
Dias de Muertos
, which coincides with Halloween, has a 3,000-year history, having risen from a pagan indigenous commemoration of passed-on relatives to a UNESCO-listed cultural highlight. Family graves are piled with photos and trinkets, children knock on doors for gifts of sweets or money, and colourful parades throng around towns and cemeteries. While it may seem strange to join Mexicans in events like this, remember that the Day of the Dead is actually all about celebrating life.
Types of tours & vacations in Mexico
Our
small group vacations
in Mexico are packed with variety. You might join a foodie tour for a taste of authentic Mexican cuisine, explore Mayan civilisation with a tour combining Mexico, Belize and Guatemala, or mix up your cultural excursions with time on the beach on the Yucatan Peninsula. And for those to whom a vacation spent lying on the beach is a week wasted, Mexico has plenty of
adventure vacations
. Take your pick from sea kayaking off the Baja Peninsula, whale watching trips, or – if you have the time – joining an epic overland tour across North and Central America.