Best time to visit the Balkans

I didn't associate North Macedonia with heat, I was thinking mountains and medieval meanderings. Wrong. August was sizzling. Luckily chilled, local white wine is always on tap

The Balkan region spreads over 500,000km², so climate does vary, particularly between the mountains and the coast. There are a lot of both. Anywhere on the coast can hit 30°C in summer, so hikers and cyclists beware. Many Balkan countries are small, too, such as Montenegro or North Macedonia, so they get busy in Jul-Aug. Generally spring and autumn are perfect for cultural and national park visits. In many countries you can go rambling happily as late as Nov. In countries dominated by mountains, such as Serbia or BiH, you rarely get over 17°C up high in summer. And do pack raingear.
Our top Balkans Vacation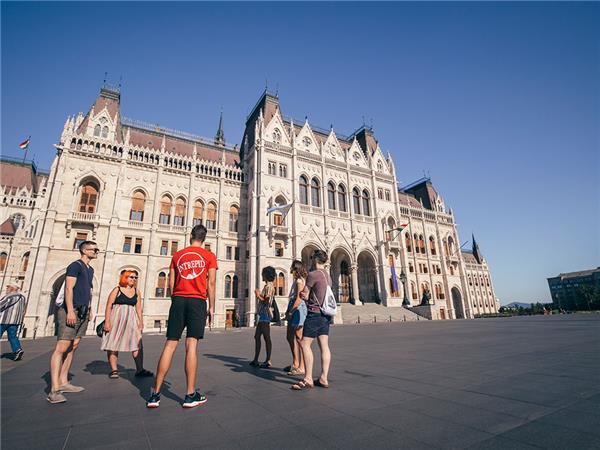 Explore Hungary's capital to medieval towns
From US $1380 to US $1475 10 days ex flights
Small group travel:
2022: 3 May, 31 May, 7 Jun, 5 Jul, 2 Aug, 6 Sep, 13 Sep, 20 Sep
2023: 2 May, 30 May, 6 Jun, 4 Jul, 1 Aug, 5 Sep, 12 Sep, 19 Sep
If you'd like to chat about Balkans or need help finding a vacation to suit you we're very happy to help.

Things to do in the Balkans
Things to do in the Balkans...
Culture vultures swoop on down, because the Balkan basket is packed with ancient civilisations and contemporary revelations. Visit UNESCO sites such as the fortified city of Dubrovnik or lesser known Kotor in Montenegro. Tirana in Albania has the most superb juxtaposition of Italian and Ottoman architecture, marvellous minarets versus crumbling communism. Ljubljana is one of Europe's prettiest capitals, with 19th century wooden shops, medieval architectural treasures and cobbled courtyards. And then there are the moving 1990s war memorials, such as Mostar Bridge in Bosnia and Herzegovina. Built during the Ottoman Empire and destroyed in the war, it has been restored and is now considered the greatest symbol of Muslim, Croat and Serb reunification.
National parks in the Balkans are very off radar, which means there is a lot of space for outdoor enthusiasts to play in. To discover some of the lesser known Balkan beauties, hike through Montenegro's Durmitor National Park or North Macedonia's Baba Mountain massif in Pelister National Park. North Macedonia is also home to Mavrovo National Park with 52 peaks higher than 2,000m. And Europe's oldest primeval forest can be found in Sutjeska National Park in Bosnia and Herzegovina, as can Donje Bare Lake, a wonderful place to go for a dip. Pack everything for the Balkans; there are so many unexpected adventures to be had.
Things not to do in the Balkans...
Expect five star tourism, except in Croatia's coastal resorts. The Balkan countries are still relatively new to tourism and, in many ways, this is why we love them. Many countries such as Montenegro and Bosnia and Herzegovina (BiH) have a delightfully rural culture. These are countries where slow travel is innate, people are still striving to make a living from the land, and religion plays an important role. Please respect local people and their cultures and don't go looking for Moët in the mountains.
Be insensitive about ethnicity in countries like Serbia, Kosovo and Bosnia and Herzegovina (BiH) and read up on the conflicts of the 1990s before you go. Know that in BiH, for example, there are three main ethnicities and religions: the Bosnian Serbs, who are mostly Orthodox; Roman Catholic Bosnian Croats; and Muslims who are known as Bosniaks. In many countries the 1990s war still feels very recent, so don't come armed with opinions. People lost loved ones and still bear the scars and, although they do engage politically, leave it to them to bring it to the table. That usually happens with a bottle of local wine.
Unfortunately, some of the Balkan countries are going down the all inclusive resort and vast cruise ship route. We see this kind of thing as cul-de-sac tourism that brings few tangible economic benefits to local people, and plenty of negatives. Responsible tourism is the only way to put these monsters into reverse.
Adventure tips
Stefan Hellmuth from our leading Balkans tour operator, Intrepid Travel:
"My favourite adventures in the Balkans would be cycling and hiking in the Velebit (Croatia), which is great and most people don't know about it. Otherwise, Durmitor National Park (Montenegro) is great for hiking."
Bosnia & Herzegovina tips
Stefan Hellmuth from Intrepid:
"My absolute favourite place is Sarajevo. This city is poised to become a major destination in south-eastern Europe in the coming years. So best to go now before the secret gets out." "Visitors to Bosnia and Herzegovina and The Balkans should go there without prejudice in regards to the causes of the 1990's war. Listen to stories from different angles and from people of different ages in different regions, and stay open minded. After all, the majority of the people suffered, and no one wanted this to happen in the first place."
Rosanna Neophytou, from our supplier Tucan Travel:
"Bosnia and Herzegovina is perfect for those wanting a cultural adventure and is an excellent place to start for those who have not explored Eastern Europe. Visitors should not miss the vibrant capital of Sarajevo, often described as a living museum full of churches and cathedrals, or the Kravice Waterfalls, found on the Trebižat River. Another must-see is the iconic Stari Most Bridge in Mostar, widely considered to be the most attractive city in Bosnia and Herzegovina. With such a mass of beautiful architecture, passengers should not forget their camera in this region of Eastern Europe!"
Mark Huggins, from our Kosovo vacations supplier, Undiscovered Destinations:
"Kosovo is a small country and one of the most undiscovered in Europe. It has lots of interesting sites including UNESCO Decani Monastery and the architectural heritage of picturesque Prizren. Anyone who is interested in both modern and ancient European history will be fascinated by Kosovo. One can also enjoy beautiful scenery and walking in the Rugova Valley and also do some wine tasting at a local vineyard. We would recommend combining visiting Kosovo with Albania and North Macedonia for a wider look at the region."
Serbia tips
Stefan Hellmuth from Intrepid:
"I think that Belgrade is consistently underrated. It's very bohemian, with beautiful architecture, and a young student population that keeps the city very lively."
John Penge from our supplier, Exodus Travels:
"I think that Belgrade is well worth a visit. On the journey from the airport it may not look like the prettiest of cities but when you get into the center things vastly improve. Belgrade Fortress & Kalemegdan Park is a very nice place to explore with some good views of where the Sava & Danube rivers meet. Outside of Belgrade, I enjoyed the train ride to Mokra Gora and my stay in the village of Sirogojno. Sirogojno is a little village to the west of the country where you can enjoy the tranquil setting as well as learn about how the community used to live."


"When eating, make sure you order a side salad. They don't do a lot to it but the produce is fantastic (especially the tomatoes) and you get pickled shredded cabbage every time which is also delicious on the side of whatever grilled meat you're ordered for main."
Montenegro tips
Joanna Simmons, travel writer at Responsible Travel:
"Don't come expecting Montenegro to be sleek and well organised. It's a small country with a tiny population and beyond the coast people live a pretty simple, basic life. It's not like a vacation to France, say, where the roads are great and you will always find a hypermarket or massive local market where you can stock up on food. Here, there isn't much in the way of shops (people are quite self sufficient), petrol stations can be miles apart, road signs non-existent and roads narrow and perilous. You don't tend to meet a lot of women, either, as the culture seems to be fairly male-orientated.
Towards the Albanian side you'll find mosques alongside churches, reminding you that this is a multi-ethnic country with a very Balkan, rather than familiar European, flavour. It is, though, a fascinating place, incredibly beautiful – the scenery is spectacular and dramatic – and the local people we met working within the tourist industry were friendly, warm and helpful. You're routinely greeted with a tot of homemade brandy and a gigantic meal, too – what's not to like?"
Albania advice
Olly Pemberton, from our supplier Exodus, shares his Albania travel tips:
"The passion's evident from all our guides. All of them are really passionate people and they're so concerned about people leaving Albania having had the best time of their life. They really want people to realise how great it is. So they'll go overboard talking about the history and taking them to places that visitors wouldn't normally go to. Albanians wear these white felt hats, and in the rural areas people wear more traditional dress, you see it every now and again. They like to cling onto their culture – and quite rightly so. No one's been able to see their culture for so long, and they're not about to change it any time soon just to cater for tourists. The fact that you're still in Europe and you've got so much culture and tradition is always quite nice to see. They're very proud of it, and so they should be."
Macedonia tips
Rosanna Neophytou from our supplier, Tucan Travel:
"Macedonia is a fantastic country to visit because of how diverse it is. There is a real mix of architectural beauty, with Mediterranean, Turkish, Slavic and Albanian influences. The capital of Skopje has a mix of historic sites such as the 6th century Kale Fortress as well as many restaurants, bars and art galleries to explore. Anyone visiting Macedonia should definitely visit Matka Canyon and Lake Ohrid too."
At Responsible Travel, we think the best people to advise our travelers are often... other travelers. They always return from our tours with packing tips, weather reports, ideas about what to do - and opinions about what not to.
We have selected some of the most useful Balkans travel tips that our guests have provided over the years to help you make the very most of your vacation – and the space inside your suitcase.

And, do visit Albania now... By visiting and touring and enjoying - and spending of course - you will benefit the young and old...

"Travel light and take warm clothes for the mountains as well as cool clothes." – Sue Reynolds on an Albania, Kosovo and Macedonia vacation

"I loved the whole vacation but the people on the vacation were so great that they will remain in my memory for a long time. The places we visited were in the main superb. Sarajevo was perhaps the place I liked best for many reasons. Budva was beautiful. Go for it and enjoy. Make the most of every minute, you won't regret it." – Katie Coates on a Balkans explorer vacation

"If you are nervous being driven on narrow mountain roads with sheer drops this tour may not be for you, but I always felt perfectly safe. If you do not like very hot weather choose to go in the spring or autumn. Good trip for solo travelers." – Carol Tremaine in Montenegro and Bosnia and Herzegovina

Travel light and take warm clothes for the mountains as well as cool clothes.

"Make sure you have Euros with you. Many places will accept Euros, if you run out of local currency." – Sara Detmer on a Balkans explorer vacation

"It can bit quite chilly during the Easter vacations! Take cash because typically restaurants etc don't take cards although you won't need too much because prices are very low compared to other European countries." - Hazel Edwardson an activity vacation in Montenegro

"Enjoy the contrasts, the people, the experience and go with the flow – you will love it. And, do visit Albania now, as it is just getting into the tourism business. Unemployment in Albania is high. By visiting and touring and enjoying – and spending of course – you will benefit the young and old. The young wish to expand their English language skills – help them along, it will give them future opportunities." – Michael Cain on an Albania, Kosovo and Macedonia vacation
More about Balkans
This collection of complex and culturally rich countries is packed with national parks, lakes, mountains and coastal gems that few have heard of...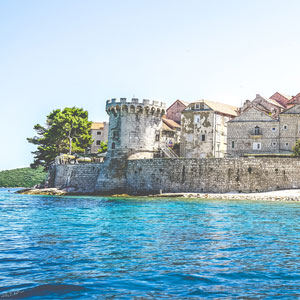 Make the most of the Balkans as you visit not one, not two, but three countries.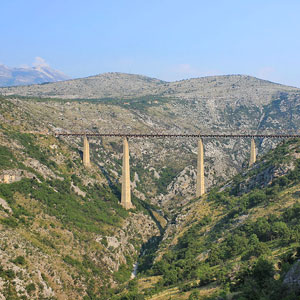 Balkans rail vacations take you on a winding route from Slovenia to Kosovo via a string of utterly underrated cities.