Bird watching vacations in Belize
---
BIRDS IN PARADISE
For every species of fish sought after in Belize's barrier reef by divers, there are as many species of bird spied on by wildlife enthusiasts. In fact, there are 547 species of bird and about 500 species of fish. In fact, you will lose count completely on bird watching vacations in Belize when you are stopped in your tracks by
blue-crowned motmots
in the rainforest,
Yucatan nightjars
at Lamanai, or the
keel billed toucan
, the national bird, just about everywhere.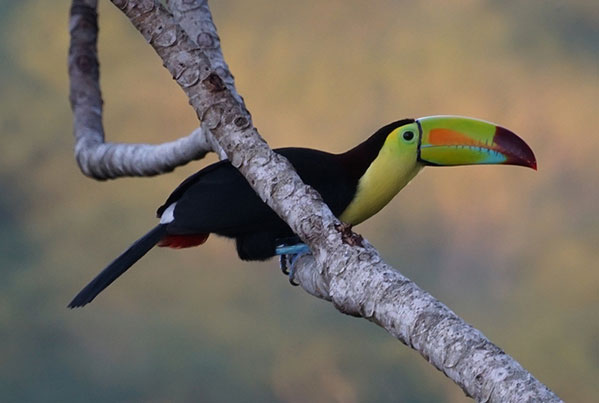 Belize's avian Arcadia is thanks to its biodiverse habitats with savannahs, rainforests, broadleaf forests, pine forests and wetlands of course, as well as full on littoral loveliness. Due to the country's size and accessibility, you can easily flit from one to the next. Although there are some locations, such as the Crooked Tree Wildlife Sanctuary (CTWS) that pack many of those habitats into one vast landscape. A must visit on any bird watching vacation in Belize and founded in 1984 by the internationally renowned Belize Audubon Society, CTWS is made up of 16,400 acres of lagoons, creeks, logwood swamps, broadleaf forest and pine savannah. But it is the savannah that is home to one of Belize's most spectacular species: the
jabiru stork
, Latin America's tallest flying bird, which chooses this beauty spot to nest, arriving in November and staying until newborns take flight around April or May.
Bird lovers could spend days on end at Crooked Tree alone, the wetlands being wonderful to explore by boat, especially during Belize's dry season, February to May, when it becomes an ornithological oasis. The lakeshores are prime birding locations for beauties such as the
black-collared hawk
,
pygmy kingfishers
,
rufus-tailed jacamars
and, if you are lucky, the
sungrebe
and
agami herons
.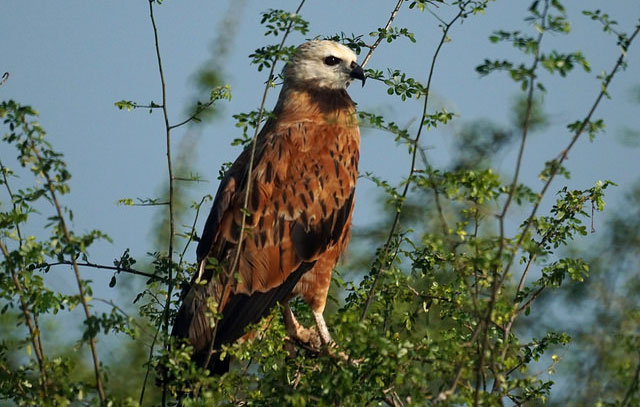 Tropical birds abound in Belize, but to be fully immersed in rainforest habitat, bird watching vacations will often head south to the Mayan Mountains. The Jaguar Reserve in the Cockscomb Basin, for example, as well as its eponymous resident, is home to over 300 bird species, thriving in tropical fauna such as mahogany and Santa Maria trees. These birds in paradise include the prolific
keel billed toucan, endangered scarlet macaw, emerald toucanet
and great raptors too, such as the
king vulture
.
More centrally located, the rainforests of St. Herman's Blue Hole National Park are also managed by the Belize Audubon Society. These rainforests feature walking trails that lead you to not only the types of birds of paradise mentioned above, but also plenty of other multicoloured wonders such as
white hawks, red-legged honey creepers, crested guans, lovely cotinga,
and
slaty-tailed trogons
.
However, one of the most stunning aspects of bird watching vacations in Belize, is that you can peruse prizes from the country's natural and cultural heritage in one day. The journey to the ancient Mayan site of Lamanai, for example, is on a boat along the New River, or Rio Nuevo, the longest river to solely run through Belize, in a north easterly direction, with its mouth in Chetumal Bay. Near the Bay, the river forms a lagoon which became home to a Mayan civilisation as far back as 1500 BCE. So, although you will need to stand back to take in the greatness of Lamanai when you get there, you will have your binoculars glued to you en route, as you purvey the waterside cypress trees for the likes of the
black-collared hawk, northern jacana, mangrove swallow, olive-throated parakeet
and the more elusive
purple gallinule
. Once you get to the splendid Mayan marvels, more parrots, motmots and toucans join the party. Although birdsong can be upstaged considerably by the famous howler monkeys here.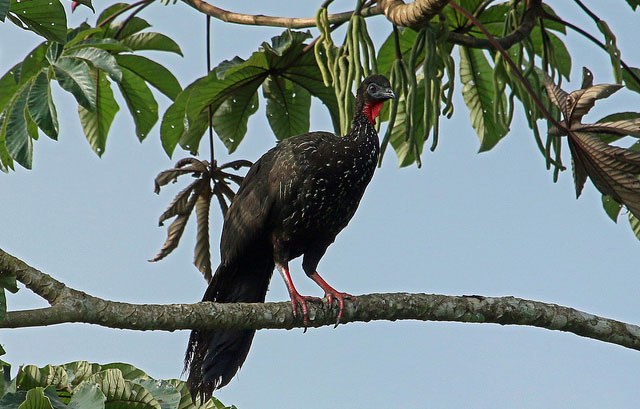 Last but not least, more Mayan and avian wonders await at Caracol, which is enveloped by the Chiquibul Forest Reserve. Although it is believed that much of Caracol is still to be unearthed, the majority of its secrets concealed under the rainforest floor, the birdlife is out in the open and well recorded, including rarities such as the keel
-billed mot mot
as well as the
crested guan, great curassow
and the
ocellated turkey
. Climbing to the top of Caracol's great pyramid at Caana makes sense of its Mayan meaning "Sky Palace", towering 40m over the rainforest canopy. Although for birding fans, every corner of Belize is like a sky palace really, with natural kingdoms that are highly protected, respected and revered.