Marine conservation vacations in Belize
---
BELIZE'S BARRIER REEF RESERVE SYSTEM COMES OF AGE
It takes a lot of work to be given UNESCO World Heritage Status and for a country to protect and manage its precious heritage so that it can be a leading ambassador of marine conservation in the world. And so, as the Belize Barrier Reef Reserve System (BBRRS) comes of age, celebrating 21 years of UNESCO World Heritage Status in 2017, we are raising a glass to each year that it has committed to ongoing conservation of its fine natural heritage, and sharing 21 of its wonders with you.
Marine conservation vacations
---
The barrier reef is a top spot for marine conservation vacations in Belize, particularly in the far south. Head to Sapodilla Cayes Marine Reserve, for example, to get your PADI qualification, and then go straight to 'Masters' level to monitor and do data collection exercises for conservation purposes.
Manatees There are two species of manatee in Belize: the Florida and Antillean manatee, both gentle, curious creatures that are magical to spot from boat trips around Swallow Caye, Southern Lagoon or Corozal Bay. The Antillean manatee is listed as endangered and both species must be approached with great care and in the hands of expert, responsible boat owners, especially as they swim so close to the surface, preferring shallow waters to deep.
Whale sharks Marine conservation vacations in Belize work to protect many aspects of its barrier reef, but if you time it right you can focus on whale shark conservation efforts. Between March and June these bespeckled beauties frequent the southern waters of Belize to feed on the eggs of the black or cubera snappers. They show up on cue and because they are not dangerous to humans, divers and swimmers love to frequent the waters at this time. Caribbean reef sharks, bull or hammerhead sharks will often come to join the carnival of cetaceans at this time too.
Sea turtles Although sea turtles spend their lives in the ocean, they return to the same sandy beaches to nest and lay eggs. Belize's barrier reef is a favourite for green, hawksbill and loggerhead turtles. There are cayes, atolls and coves at every turn. Favourite turtle watching spots, which are carefully monitored by marine conservation experts between June and December, include Robles Point to Rocky Point on North Ambergris Caye, Bacalar Chico National Park and Marine Reserve, Long Caye, Half Moon Caye on Lighthouse Reef Atoll and St. George's Caye.
Ambergris Caye
Ambergris is ambrosia when it comes to beach life. You don't have to be a diver to appreciate its splendour. Breathing in the fresh air, as opposed to the bottled version, will give you the greatest natural high. Swim, snorkel, and enjoy the fine seafood, especially in the town of San Pedro. For a true Belizean baptism get in a bit of fishing too and cook it by the beach. While sipping a local rum.
Bacalar Chico National Park & Marine Reserve
A fusion of surf and turf stretching from Ambergris Caye to the Mexican border. The turf consists of marsh, littoral and tropical forest and unspoiled grasslands, home to all of Belize's native cat species including jaguars and pumas. At sea, this is some of Belize's most remote, stunning diving scenery, with inlets and islets packed with coral and fish species, grass beds and patch reefs. This is also a great spot for
lionfish spearing
, one of the more unusual activities on a marine conservation vacation in Belize.
Blue Hole Natural Monument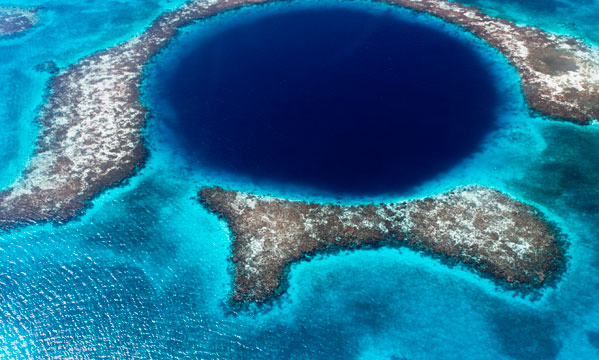 Who wouldn't want to glimpse, gawk at or get into the most beautiful bowl of blue in the world? A giant sapphire sinkhole over 300m wide and 137m deep, and surrounded by a ring of corals, it is the world's largest blue hole in an ocean. A diver's delight as well as a natural container for myriad fish, there are giant stalactites, dripstone sheets and coral columns. Making it not only a natural monument, but a national treasure.
Sapodilla Cayes Marine Reserve
Another southern belle, you are talking about 125km2 of coral reef, sandy cayes and all round Caribbean crystalline perfection. It is particularly popular for marine conservation vacations in Belize, because it's a remote spot. Perfect place for identifying marine species including whale sharks, manta rays, dolphins, and sea turtles.
Caye Caulker
A very cool, shoot the breeze sort of an island where hammocks swing, beer cools, water soothes and life is all about chilling. No cars, no chaos, no problem. Nothing is a problem on Caye Caulker. Imagine the vibe of an island with plenty of resident artists and musicians. This coral atoll, only 8km by 1.8m, definitely knows the meaning of hassle free living.
Gladden Spit & Silk Cayes National Park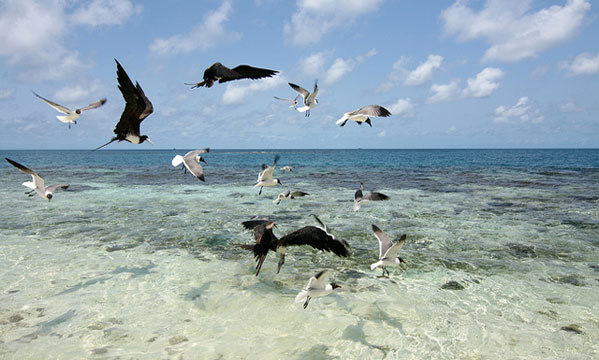 Just off the coast of Placencia, its most famous sight is the spawning snapper fish between March and May, and whale sharks coming in to, ironically, snap them. It's a mishmash of fishermen, whale sharks, divers, conservation experts, wildlife watchers all competing for their needs to be met. For the rest of the year, this is a paradise of sandy, silky spits segueing into coral shelves and shimmering sea life.
Half Moon Caye Natural Monument
A sandy idyll at the south east of Lighthouse Reef was the first marine protected area in Central America in 1981. It's a famous diving spot commonly referred to as "6,000 feet of vertical abyss" (or bliss, depending on your love of diving). The littoral forests are also bliss and highly protected habitat to red-footed booby, as are the southeastern beaches which are nesting grounds for loggerhead, hawksbill, and green turtles.
Laughing Bird Caye National Park
About 17km off the coast of Placencia, this beautiful island will bring a smile to your face. The southernmost island in the main lagoon of the BBRRS, it is named after the laughing gull which used to breed here, but has now moved onto quieter cayes. Laughing Bird is separated from the mainland by deep channels and underwater worlds that keep that smile firmly in place.
Glover's Reef Marine Reserve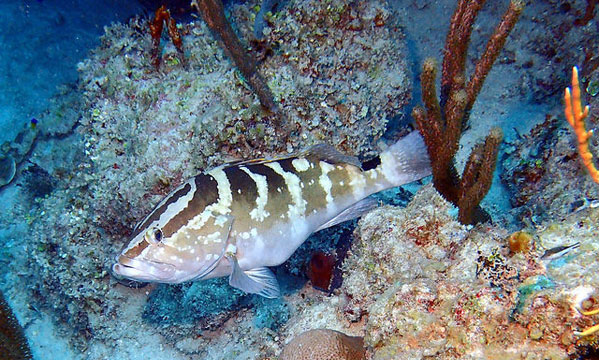 An oval-shaped atoll that has an interior lagoon peppered with reef patches and pinnacles. As if this pretty patchwork isn't enough, there are several cayes scattered along the coast too. It is also a habitat for the endangered Nassau grouper fish, just one of many to be spotted in this diving nirvana. There is also a beautiful resort to stay at on Northeast Caye.
Lighthouse Reef
One of three large coral atolls, with cayes, caves, diving holes and walls, including the Blue Hole and Half Moon Caye. It's one of the big diving areas, with easy access from San Pedro and plenty of live aboard vessels floating around this natural nirvana.
Hol Chan Marine Reserve
Hol Chan is Mayan for "little channel". Although when you sail, scuba or snorkel through its 7km2 it doesn't feel so little, as every patch is packed with sea life. The reserve was originally a community based initiative, due to concerns about overfishing especially for its conch and lobster, as well as irresponsible diving. It is now well protected with four main areas of reef, seagrass beds, mangroves and Shark Ray Alley.
Turneffe Atoll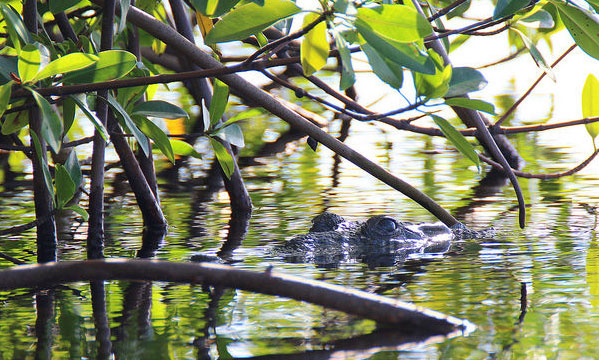 Actually a collection of islands with a collection of wonderfully named places such as Shag Cay and Deadman's Cay, Snake Point and Rendezvous Point. The biodiverse islands range from mangrove swamps where crocodiles, conch and lobster thrive, and other sandy spots with coral, sea turtles, manatees and dolphins wading through the waters.
St. George's Caye

Just 12km off the coast of Belize City, St. George's Caye was Belize's first capital in the 1700s. It was also the site of the Battle of St.George's Caye when the British 'baymen' fought off Spanish invaders. This battle is remembered every year with a national vacation. What tourists remember, however, is the ultra romantic setting with cabins poised over the water, superb scuba diving, the mangrove reserve and myriad marine wildlife, from seahorses to snappers. More resort-y than some cayes, it is the closest paradise to the mainland for sure.
South Water Caye Marine Reserve

The largest protected marine reserve in Belize, the main port of call is South Water Caye island, 24km off Dangriga town. Particularly popular with kayakers paddling from one fish-filled paradise to another is staying in caye cabins at night and pootling past coral reef, mangroves, seagrass beds and littoral forests by day.
Lobster Festivals Lobster season runs officially from 15 June until 15 February, however Ambergris Caye and Caye Caulker have special festivals to celebrate the season in June and July respectively. With lots of lobster, of course, the reef is also reverberating with music and revelry to celebrate one of its more sought after seafoods.
Underwater photography Although Belize is a wonderful place for total digital detox, photography is an exception to the rule. Underwater photography that is, with this whole other world of marine wilderness just waiting to be caught, snapped, cropped and blown up. Such violent language for such a peaceful activity in a seascape where you will need neither Photoshop nor filter. Underwater photography also plays a role in marine conservation, with photographs being used for identifying and recording species seen.
Sea kayaking The wonderful thing about sea kayaking in Belize is that, even as a beginner, you can paddle for days. Accessing quieter beaches than the diving boats, you can visit different islands every day and sleep on them by night. Fish from your kayak, put sails on it, or moor up and dive in. This really is Belize at its most blissful.