Inland wildlife vacations in Belize
---
From howler monkeys to harpy eagles
Marine life often takes center stage in Belize, with images of the Blue Hole making for many a screensaver around the world; however, the beauties of Belize Biodiversity spread way beyond the Caribbean and out into the rainforests, wildlife sanctuaries, nature reserves, national parks and even roaming around Mayan sites.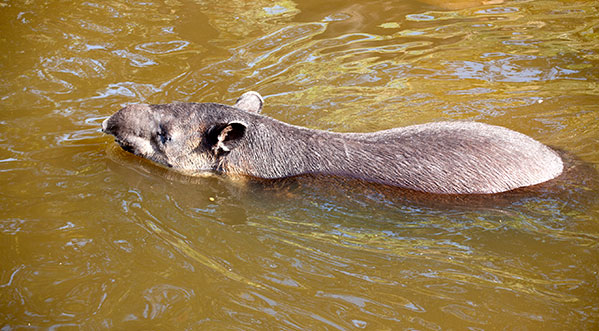 On inland wildlife vacations in Belize, even the names of the creatures evoke a fantasy world of jungle jamborees. The
Baird's tapir
, the country's national animal and Latin America's largest land mammal, was named after an American naturalist who studied them in the mid 1800s in Mexico. Known locally as a mountain cow, these huge brown creatures have splayed hoofed toes, perfect for foraging through subtropical and tropical forest floors but also for walking on river beds. Which is their wont – strolling around underwater like natural submarines foraging the river bed for goodies. They are quite rare, vulnerable to extinction, but highly protected in regions such as in the environs of Chan Chich Mayan Ruins or Chiquibul National Park, where both the Chiquibul Forest Reserve and the Upper Raspaculo River proffer perfect habitats. They are very unusual to see in the wild, although if you stay in a jungle eco lodge, night time safaris with expert naturalist guides may reveal trails used regularly by tapir, or even the great mammals themselves.
Equally elusive are the
jaguar
and
puma
which continue to inhabit the rainforests, as long as they are kept intact. The Cockscomb Basin Wildlife Sanctuary in the north of the country is, however, the world's first jaguar preserve with a range of 250,000 acres for jaguars to roam in natural habitat in the Maya Mountains, including the Bleden Nature Reserve with which it is now connected.
Less elusive but definitely more audible on Belize wildlife vacations is the
howler monkey
population, their booming presence in the jungles around the Belize River, New River and Mayan archaeological sites such as Lamanai upstaging other creatures that may be lurking. One good place to see them is the pioneering Community Baboon Sanctuary managed by a cooperative of seven villages along the Belize River, an area where farming and logging have destroyed the howlers' habitats. As has hunting for the illegal pet trade, all of which must have made them howl even more loudly. These communities have committed to conservation efforts along their stretch of the river and by accommodating guests and leading expert guided tours, the monkey population is on the increase, and villagers are generating an income from wildlife vacations in Belize. Which is why this is a superb example of responsible tourism in Belize, whereby communities realise there is more money to be made watching wildlife than destroying it.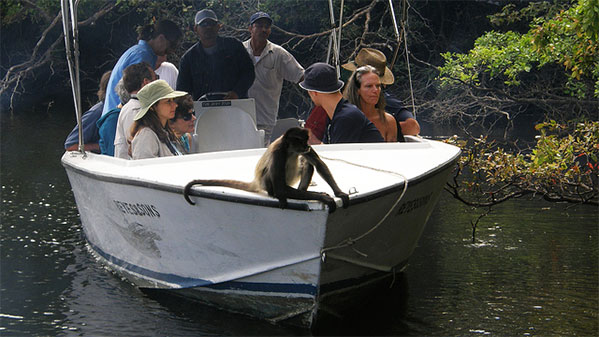 Geoffroy's spider monkeys
are a lot more visible, hanging off cypress branches along the New River, trying to grab snacks out of your hands as you travel upstream en route to the Mayan marvels at Lamanai roaming around Chan Chich Mayan ruins and the eco lodges nearby. One creature you don't really want to grab food out of your hand on Belize's rivers, however, is the crocodile. Ancient creatures, they were worshipped by many of the Mayan communities centuries ago, as we know from their carvings and sculpting at Belize's ancient sites. The most common is the
Morelet's crocodile
which lives in slow flowing rivers such as the Sittee or New River and inland lagoons. The American crocodile favours the coastal saltwater lagoons, making its way out as far as some of the islands such as Ambergris Caye and Caye Caulker where conservation efforts, particularly against illegal feeding of crocodiles, are prolific.
In terms of proliferation,
Belize's birdlife
is what stays in most people's minds when they explore the country's jungles, rivers and forests. Wildlife vacations in Belize will undoubtedly bring out the binocular wearer within, with dawn and dusk skies or rain forest canopies all a chatter with the likes of
red-lored parrots, crested guan
and
bare-throated tiger heron
just a few of the treasures to be spotted. No one was chirping louder than conservationists, when the
harpy eagle
was discovered in 2008 in the Bladen Nature Reserve. Until then, it was thought that this massive raptor was near extinct in Belize.