Responsible tourism issues
---
Travel right in Belize
You have to love the story about the famous TV series Breaking Bad making a reference to sending someone 'on a trip to Belize' which was code for bumping someone off. Rather than get all uptight about the potentially denigrating reference to their country, the tourist board invited the cast to an all expenses paid trip to beautiful Belize. This sums up tourism here: they love to live, they love to laugh and they are also switched on to sustainability.
People & culture
---
GARIFUNA CULTURE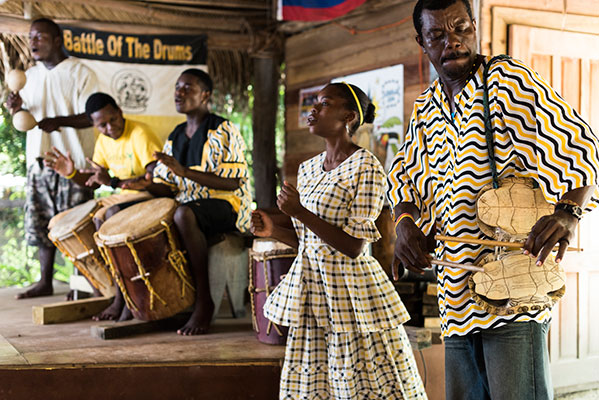 Creole or Kriol culture dominates in Belize, and wonderful it is too. However, it is worth remembering that four percent of the population is of Garifuna ethnic heritage, mixed race descendents of West African, Central African, Island Carib and Arawak people. And said to be direct descendants of a group of slaves who escaped two shipwrecked Spanish slave ships in 1635. As well as living along the Caribbean coasts of Honduras, Nicaragua and Guatemala there is a small population in Belize, particularly around Dangriga, Hopkins, Seine Bight, Punta Gorda and Barranco. Their culture is celebrated in many ways, through their language, dance and music in particular, all of which were recognised and protected as 'Masterpieces of the Oral and Intangible Heritage of Humanity' by UNESCO in 2001. The most popular dance form is Punta, with a lot of hip movements going on, accompanied by drumming, a prolific aspect of Garifuna music.
What you can do
Travel to the Garifuna areas and talk to your tour operator about opportunities to support these community tourism ventures, which are growing in number. Aware that their culture could disappear with the next generation, community leaders are keen to show young people that visitors are interested in their unique history. And if you do get to visit, please remember to respect cultural protocols. Don't just grab your camera and invade the place with selfies/selfish behaviour.
Responsible tourism tips
---
Travel better in BELIZE
Don't ignore responsible diving codes of practice. The best way to do this is to find a responsible tour operator for your trip. Most of these avoid the overcrowded diving areas, and go more off the beaten track. They will give strict instructions on how to dive responsibly and respect the fact that you are encountering the marine life in its natural territory, and not try to dominate that with human presence. See our Scuba Diving Travel guide for more details on responsible diving.
There is a lot of bottled water around, as tap water is not potable. Which means a lot of plastic. Buy the giant bottles and refill your own reusable if possible or, even better, use filter tablets.
Buying coral is generally illegal, although black coral harvesting is legal. It should display the government label saying that it comes from a licensed source. Better still, just leave coral where it should be. In the water.
Tortoiseshell is, in fact, the shell of a sea turtle - usually the hawksbill turtle. Tortoiseshell is illegal in Belize - so don't buy any jewellery or other decorative items made from it, and if possible, report any vendors selling it - to the Fisheries Department on +501 223 2623, or emailing species@btl.net. Don't buy anything made from fur or feathers, either.
Jade, or specifically jadeite, was the precious and sacred stone of the Mayan people, and today it is one of the world's most precious gemstones. Only buy ancient jade from a licensed dealer.
Seeing endangered sea turtles is a big part of tourism in Belize but you should ensure that any organised trips are tied in with a marine conservation initiative. Check out the Belizean sea turtles conservation organisation, ECOMAR, for more information or to make a donation.
Belize has strong artisan traditions. If you want to bring home local souvenirs we encourage you to buy it directly from a community, such as in the Mayan or Garifuna villages.
If you are going dolphin watching, please take a look at our responsible travel guide to dolphin watching to ensure you choose a responsible operator.

Responsible Travel would like to thank Belize for their sponsorship of this guide