Mayan vacations in Belize
---
Belize's temple at Lamanai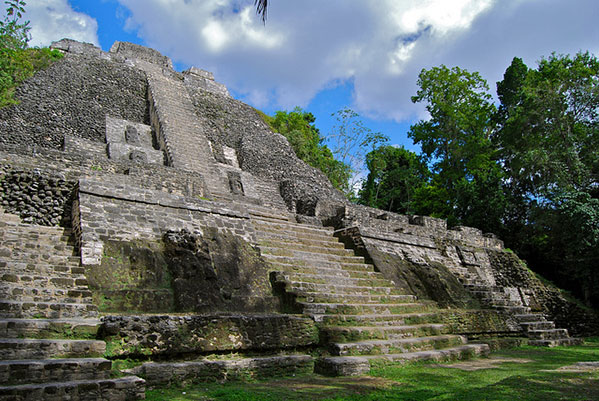 Mayan vacations in Belize proffer some extraordinary temples and palaces to visit, but the journey along the New River to visit the unique site of Lamanai takes you back in time into the heart of Belizean jungle. Located in the northern Orange Walk District, it is apt that Lamanai's Mayan name translates as 'submerged crocodile' as baby crocs are just one of various species you are likely to encounter on your journey.
The New River, or Rio Nuevo, is the longest river to solely run through Belize in a north easterly direction, with its mouth in Chetumal Bay. Near the Bay, the river forms a lagoon which became home to a Mayan civilisation as far back as 1500 BCE who created a city with palaces and pyramids, temples and tombs, until the Spanish arrived in the 16th century. Followed by the British in the 19th century who, oblivious to the region's history at the time, swapped civilisation for sugar production, resulting in the rather odd juxtaposition of a sugar factory alongside this archaeological arcadia and natural nirvana.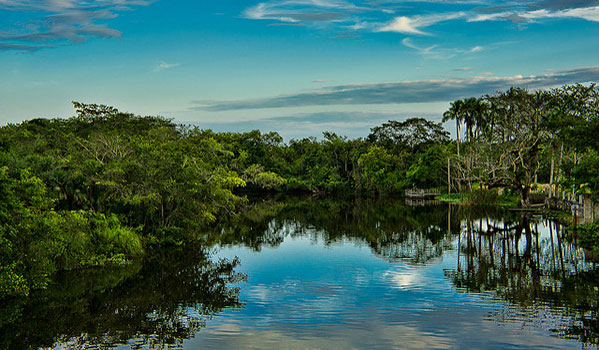 Although there are speedboat options to dash down the river from Orange Walk town to Lamanai on Mayan vacations, we recommend the slow boat down the New River. Using flat bottomed aluminium boats, often skippered by Mayan people with an innate knowledge of wilderness wonders that jump out to greet you en route through their ancestral lands. For an hour and a half, you will slowly immerse yourself in jungle life, with howler and spider monkeys carousing around the river's edge and bats tucked into waterside cypress trees. Or elegant snake birds that spear their catch in the river, toss it into the air and catch it. Fast food au naturel.
Excavations began here in 1917, with jungle being slowly but surely peeled back, layer by layer to reveal greats such as Mask Temple, Jaguar Temple, and High Temple set into the jungle covered limestone cliffs. There is still, however, much left to be unearthed here, as with many of Central America's Mayan sites, all of which just adds to their appeal. Because as you climb to the top of High Temple, for example, you find yourself wondering if you are at the highest point, or if there are many more lurking in the undergrowth. And then suddenly you hear the howler monkeys screaming in the jungle, sending messages to each other while sending your heart racing. Often you can hear them and not see them, adding the perfect sympathetic background to the mysterious Mayan magnificence of it all.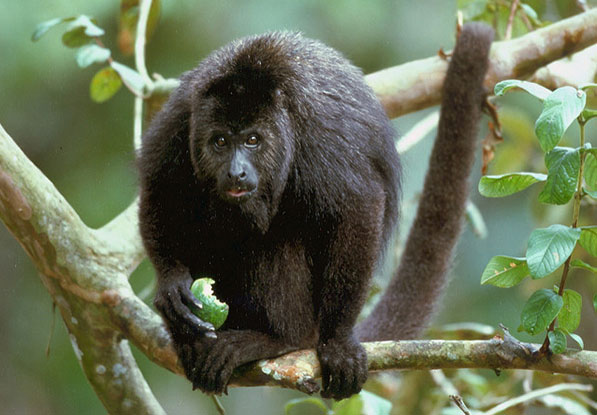 It's not only Lamanai that does beautiful backdrops, however, when it comes to Mayan vacation spectacles, and ones that are influenced by water too. After all, water and fertile land was as important to Mayans as it is today. So, as well as the plethora of ancient plazas, 20-something temples and an impressive museum at Xunantunich, tourists can try their hand at kayaking or rafting some of the rapids on the nearby Mopan River, just 1.5km away. And for those who want to literally immerse themselves in Mayan history, Actun Tunichil Muknal, sometimes referred to as ATM, gives out Mayan gold when it comes to archaeological and natural highlights. A giant limestone cave system, this is a Mayan sacred spot where you need to wade through an ancient cavernous world where humans were once sacrificed and where remains still glisten, calcified and crystallised in the limestone. The most famous of these is "The Crystal Maiden", although it is now thought that the sacrificial victim was actually an adolescent boy. And here too, the river runs through it, adding to the adventure as expert guides take you swimming, climbing and caving through time, nature and some of Belize's longest standing, outstanding, or hair standing on end – depending on your fear levels – legacies.