Borneo luxury travel map & highlights
---
MAKE THE MOST OF YOUR TIME
Luxury vacations to Borneo focus on the Malaysian states of Sabah and Sarawak. Luxury travel in Indonesian Borneo – Kalimantan – isn't yet a 'thing', as this area is still new to tourism and not especially developed. Sabah has many interesting sites concentrated into a fairly small area, so you can explore it well in a fortnight and some luxury vacations combine Sabah with slightly less developed Sarawak, too, home to wildlife-packed parks and traditional Iban culture. Most itineraries schedule in two nights or more in each location, with internal flights trimming out time consuming journeys on poor roads.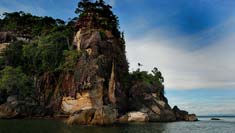 Bako National Park
Sarawak's oldest national park has been protected for over half a century, so its wildlife is accustomed to being spotted. Proboscis monkeys are its famous inhabitants, but monitor lizards, otters, bearded pigs and long-tailed macaques live here, too. Wildlife is most active at dawn and dusk, when you might also spot pangolins and flying lemurs. Sarawak Cultural Village, a fantastic 'living museum', is nearby.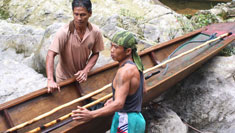 Batang Ai National Park
A wonderful example of community-led conservation, the Iban tribes, descendants of the legendary headhunters, are the custodians of this lush national park and its rare wildlife. At this remote spot, transport is via boat along the rivers. Spend a day observing the wildlife and visiting the Iban families who live here, with the option to spend a night or two in their traditional longhouses.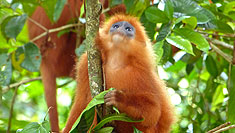 Danum Valley
This virgin tropical forest shelters endangered orangutans, proboscis monkeys and pygmy elephants. There are numerous waking trails, a 300m suspended walkway and a panoramic viewpoint giving a bird's eye view of the entire Danum Valley region. Nighttime safaris reveal the nocturnal creatures that call this forest home. Recently unearthed ancient burial sites add yet more intrigue to this conservation area.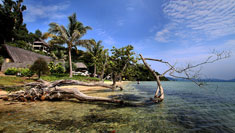 Gaya Island
A speedboat ride from Kota Kinabalu takes you to Gaya Island, where accommodation in a luxury resort with a spa is just one element of this pretty island's appeal. Relax on the beach, swim or snorkel in the clear blue waters, go kayaking through mangroves and trek through lush jungle, where birds, butterflies and cicadas flit about.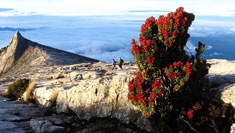 Kinabalu National Park
This UNESCO site protects half of Malaysia's bird, mammal and amphibian species in the forests beneath Mount Kinabalu. Nature trails reveal 500 orchid species and the world's largest flower – the rafflesia – plus waterfalls, a botanical garden, a canopy walk and a butterfly farm. Just outside the park, the sulphur pools at Poring Hot Springs are the perfect place to relax after summiting the mountain.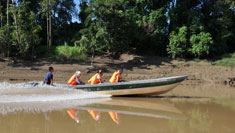 Kinabatangan wildlife sanctuary
These lakes, mangrove swamps and forests comprise one of the planet's richest ecosystems. Ten primate species live here, plus crocodiles, proboscis monkeys, hornbills, river sharks, orangutans and pygmy elephants. Explore on foot or by boat on the Kinabatangan River – take an early morning cruise to Pitas Lake to see wildlife emerging or a night cruise to spot nocturnal creatures and fireflies.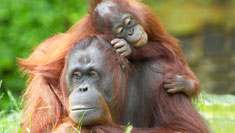 Sepilok Orangutan sanctuary
This 43km2 sanctuary is the largest of its kind in the world. Trafficked, orphaned and injured orangutans are taught to survive in the wild by pairing younger individuals with older ones – this may take up to seven years, just as it would in the wild. Visits generally take place during feeding sessions; other rescued species here include sun bears, gibbons and Sumatran rhinos.


Borneo luxury travel advice
---
TIPS FROM OUR FRIENDS IN BORNEO

Felicia Severns, from our supplier Odyssey World, has this advice on luxury travel in Borneo, from the benefits of paying a little more, to what you can expect.
The benefits of a luxury vacation
---
"Getting back to nature and exploring the jungle doesn't mean you have to sacrifice luxury and comfort! Paying a little extra for your tour offers extras that, given the extreme climate, you will not want to be without. During the 'jungle' part of your tour, you won't have the choice of extra restaurants and shops, so it's important that you choose your tour provider and accommodation wisely. A luxury jungle lodge will have high quality mosquito nets where needed, laundry service, a wide range of fresh food to suit varied tastes and dietary requirements, and some even offer a swimming pool for that much needed refreshing dip! After spending a few hot, sweaty days in the damp jungle, you will never forget the delightful feel and comfort of receiving a clean, dry, folded and ironed pack of freshly laundered clothes. It's as good as Christmas morning!"
What to expect
---
"Borneo is not an easy place to travel around independently, without a tour operator. Public transport is virtually nonexistent and infrastructure makes traveling between different locations very difficult. Luckily, flights within the country are easy and quick. Your tour operator can advise on taking the right flights to maximise efficiency and ease as part of a tour."
Factoring in some relaxation
---
"The beaches are not the greatest in all parts of the country, with the exception of Palau Gaya and the coast around Kota Kinabalu, where there are some heavenly luxury resorts, some with excellent conservation programmes. A good tour operator will be able to advise which of these resorts would be best for you to enjoy a few relaxing days at the end of your tour, based on your mobility, preference, budget and travel style. It might feel like an indulgence but there's nothing better than sipping a cocktail by a sparkling pool on a cozy sun lounger while you digest all the wild wonders of Borneo you've just experienced."
Packing tips
---
"Even on a luxury tour, Borneo is extremely casual. You do need to be prepared with modest clothing if entering religious sites, but generally, comfort is key. This is not the vacation to look your best – but you will feel alive! Leave your jewellery and expensive watches at home. Don't take your best new summer dresses and pack as light as possible, as there will be regular movement between lodges and your luggage is handled frequently. I often advise clients to consider taking only worn T-shirts and items they are willing to leave behind – you won't relish wearing anything more than once after a day in the jungle, and if you leave clothes behind, these can be gifted to local villagers which will lighten your load for the next part of your journey."
Tips from our travelers in Borneo
---
ADVICE FROM THOSE WHO HAVE BEEN THERE
At Responsible Travel, we think the best people to advise our travelers are often... other travelers. They always return from our tours with packing tips, weather reports, ideas about what to do – and opinions about what not to.

We have selected some of the most useful Borneo luxury travel tips that our guests have provided over the years to help you make the very most of your vacation – and the space inside your suitcase.
"Learn a few local words and interact with the Malay people – they are friendly and welcoming. If you stay at Sepilok, walk 20 minutes down the road to the rainforest center. It's a great chance to wander around the rain forest and also walk up in the canopy – look out for flying squirrels. And if you visit the birds nest caves, avoid wearing flip flops!" – AC

"Definitely include Sarawak as well as Sabah, be prepared for all types of weather, stay at least a month and enjoy Borneo and its people to the fullest." – Richard Erskine

"Take really lightweight clothing and plenty of insect repellant. The sand flies are ruthless." – Gill Ash

"Allow time to relax afterwards – early starts, multiple flights and living out of a suitcase can be very tiring. The leeches are manageable without socks if you are careful and not nearly the 'horror' I was expecting! Don't expect to do any shopping unless you plan this in to your trip, but this wasn't important to us." – Elizabeth Barratt

"Spend three nights in each location so that you get the maximum out of each. Be prepared for the high humidity. Take an umbrella with you – it's much easier than a raincoat in the heat." – John Williams

"Keep an open mind and try to keep a journal of each day. We did and I'm glad we did, too... We did so much, that trying to remember it all has been difficult." – Helen Garrad

"Take and use plenty of insect repellent including time spent at the hotels near Kota Kinabalu where sand flies can be a menace. If visiting the Danum Valley leech socks are essential. Make sure that your camera has a large capacity memory card and carry binoculars." – Tony Bacon

"If you have a few weeks don't spend them all in one place. Take the opportunity to see at least two different islands. Diving wise they are all so different." – Christina Savage