BUDGET CUBA MAP & HIGHLIGHTS
Cuba stretches east to west for over 1,000km, making it the largest island in the Caribbean. This means traveling times between destinations can be lengthy, but domestic flights won't be included on budget trips, to keep costs down. All budget itineraries start and complete in Havana. Shorter durations – a week or less – won't take you much further than the farmlands and tobacco fields of Viñales in the west or the beaches around the Bay of Pigs and Trinidad to the southeast of Havana. Stay for a couple of weeks and you'll have time to explore the whole island, with Santiago de Cuba and beautiful Baracoa both in the east and accessible on a budget tour.
1. Camaguey
Centrally located Camagüey was built with deliberately winding streets to confuse piratical raiding parties. They can be a bit of a head scratcher, but a guided tour by bike taxi makes the medina-like maze much more amenable. Come to Camagüey for the churches and artisan workshops, but stay for the best darn dance school this side of Havana.
2. Cienfuegos
If you're traveling to Cienfuegos be sure to take in the coral reefs and the Bay of Pigs Museum, about 70km west of the city. After a dip into both the Caribbean and Cuba's Cold War relationships, it's time to discover Cienfuegos' collection of French colonial and palatial properties which have earned it the Paris of the Caribbean moniker as well as UNESCO World Heritage status.
3. Havana
Hang out in Old Havana and discover your hidden Hemingway amidst a pastel-peeling portrait of Art Deco awesomeness. Usually, Havana bookends a tour, but it's certainly not a place to rush through. Its spacious Spanish squares, cobbled streets and 8km seaside esplanade – the Malecón – make it a classic Cuban highlight no matter what your budget.
4. Las Terrazas
Cuba and coffee go together like classic jazz and twisting cigar smoke which is why a trip to Las Terrazas, where the country's coffee is grown amidst waterfall-filled forests, is the best way to escape the urban crowds. On the slopes of the Sierra del Rosario Mountains, Las Terrazas is an eco-community set up in the 1960s, and still a thriving home to artists, sculptors and artisans.
5. Trinidad
After spending a night in Che Guevara's spiritual home, Santa Clara, you'll find a casa particular in Trinidad the perfect accommodation from where to salsa and sway a night away in one of the best preserved historic districts in the whole of the Caribbean. Waterfalls, tobacco plantations, sugar mills and silken sands – such as Playa Ancon – can all be found on foot or on horseback on a free day in Trinidad.
6. Valle de Vinales
There's only one thing to do in Valle de Viñales and that's roll with it. The agricultural countryside, the tobacco production and the guajiros working the land in timeless style all make the Valle de Viñales an easy-going and beautiful place to explore. Horse ride to the coast, trek over limestone hills or kick back and relax on an organic farm with a coffee, cigar and a smile.
Our Cuba budget Vacations
If you'd like to chat about Cuba budget or need help finding a vacation to suit you we're very happy to help.

BUDGET CUBA TRAVEL ADVICE
Daniel Stretton from our Cuba vacation experts, Locally Sourced Cuba Tours, explains more about experiencing the real Cuba on a budget vacation:
Getting around
"Our tours tend to focus on the west of the island ie, Havana, Viñales, Trinidad, Cienfuegos and Santa Clara. There is also Varadero, on the Caribbean coast, which is only a two hour drive from Havana. If you have more than two weeks in Cuba, you can travel east to Camaguey, Santiago de Cuba and Baracoa. An internal flight back to Havana is normally required. It is important to note that Cuba is a large island and long car journeys are unavoidable sometimes."
The beauty of budget
"It's all about experiencing the 'real' Cuba at affordable prices. There is a nice balance of included 'must-do' activities and free time to explore independently or choose from a range of optional activities. Our affordable group tours stay in casa particulares (Cuban B&Bs and homestays), allowing for a grass-roots cultural experience. I think the most important part of our affordable group tours, is that they offer the chance to meet and interact with Cubans. The people of Cuba are warm and embracing and a very important part of what makes the island so unique."
Tips on staying in a casa
One of our expert from vacation company Latin America Journeys, shares his Cuba travel advice:
"People say they absolutely don't want to stay in a casa. They think that they have to socialise and are obligated to do things. But really you have your own room, and if you don't want to have any conversation with the owners it's no problem - but they are of course open - and the more you put into in the more you'll get out."
BUDGET CUBA ADVICE FROM OUR TRAVELLERS
At Responsible Travel, we think the best people to advise our travelers are often... other travelers. They always return from our tours with packing tips, weather reports, ideas about what to do, and opinions about what not to.

We have selected some of the most useful Cuba budget vacations travel tips that our guests have provided over the years to help you make the very most of your vacation, and the space inside your suitcase.

Take gifts for your hosts at the casa particularis; all small items are SO appreciated. Exchange enough money to CUCS early on, because the banks are so tough to find.

"It was a wonderful trip! We went to 4 destinations in Cuba. We loved Vienales with the mogotes mountains. It was beautiful. The food was amazing everywhere! Mostly, we had the best tour guide named Saul. He was fun and brought everyone on the tour together. We had people from the age of 25 to 77 years old from 4 continents and Saul made it fun for everyone. The casa owners were kind and helpful. We had many activity choices from snorkeling or swimming in the Bay of Pigs (beautiful water) hiking, zip lining, going to the beach in Trinidad, mojito making class, salsa lessons, Plaza Vieja in Havana. Beautiful squares in Havana. Learning all about the real Cuban people and what their lives are like in terms of their very educated population and their health care system. This was one of my best trips." – Joann Wellbrock

"Be open minded most of the casa particulars were nicer than expected but they are not plush hotels. It helps if you know some spanish but not necessary." – Wayne Bloom

"The Cuba immersion tour was a life changer for me. In each city we visited, there was such a paucity of economic and material resources and yet a population that was happy and welcoming. Material possessions are not the secret to a joyful life. Pack gifts for your casa landlords, bring a big appetite, be prepared to laugh and dance, and keep an open mind." – Janet Kelley

Take advantage of the mix of organized time and free time. We enjoyed the fact that we had time on our own to wander the cities. We never felt threatened.

"The Cuba immersion tour was a life changer for me. In each city we visited, there was such a paucity of economic and material resources and yet a population that was happy and welcoming. Material possessions are not the secret to a joyful life. Pack gifts for your casa landlords, bring a big appetite, be prepared to laugh and dance, and keep an open mind." – Janet Kelley

"Visit the Gran Theatro in Havana and try to see a performance. There are guided tours of the very beautiful building during the day which last about 45 mins and are well worth the trip." – Janet Rook

"The whole trip was memorable with many different experiences every day, our guide Mondolo was excellent and being in a small group was great. Personally I loved Vinales as a town and the casa we stayed in there had the best of hosts. Come with an open heart and mind and be ready to have fun, soak up the culture. Bring comfy walking shoes." – Carole Thompson
More about Cuba budget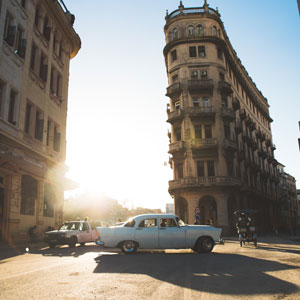 Despite being the largest island in the Caribbean and, reputedly, trapped in time, Cuba's not quite as 'cheap' as some travelers may be expecting.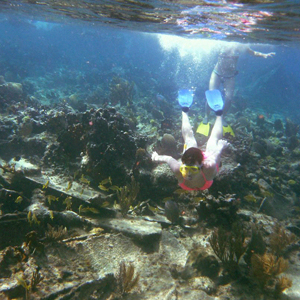 Budget adventures in Cuba are easy – the island abounds with areas untouched by tourism or development.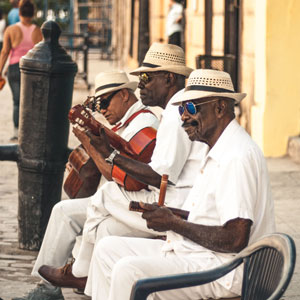 Cuba is home to the original Airbnb, casas particulares, offering visitors a unique view into typical local life; the food, music, language and history of the island.