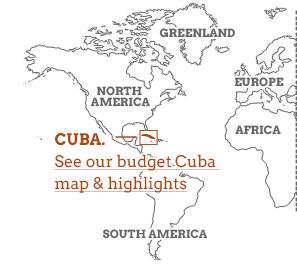 Cuba is one Caribbean island that's got a lot more going for it other than just sand, sea and sunshine; although it does have that too, in bucket loads. This is a country where Communism meets Catholicism; rolling tobacco fields collide with cool, crumbling cities such as Cienfuegos and Camagüey; and you're just as likely to learn how to salsa, speak Spanish and mix a mojito as you are to listen to tales of Che Guevara, Fidel Castro and the unsuccessful US invasion of the Bay of Pigs.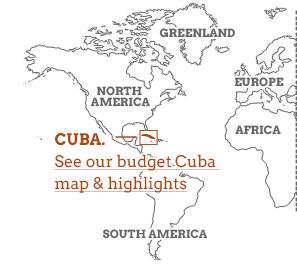 Being on a budget vacation doesn't mean that you miss out, quite the opposite; you'll actually unearth a much more authentic side to Cuba that cruise ship crowds, thankfully, never ever reach.

Join a local Cuban guide as part of a small group or on a tailor made tour as you explore the island overland and stay with local families, in casas particulares, where your Cuban Convertible Pesos (CUC) go further and provide helpful income for your hosts. From classic car rides around Old Havana to snorkelling in the Caribbean and salsa dancing the night away in Trinidad, a Cuba budget vacation includes the iconic highlights, but also takes you behind the scenes so you get to find out whos' really pulling the strings.
Before you equate budget with corner cutting or huge groups, think again. A budget vacation in Cuba is less about skipping the sights and more about experiencing an authentic side to island life that fancier, more expensive tours sadly miss. Not only will you get to explore the island with an English speaking local guide, but you'll also be invited into the homes of Cuban families. There's no better way to learn about the lives of everyday islanders, and get a few local tips on the side, than meeting and chatting to local Cubans in their own homes.
Airport transfers, B&B accommodation, private transport and guided orientation tours, will all be included alongside activities, such as
Cuban salsa lessons
, snorkelling, classic car rides and mojito mixing classes. More activities will be included the longer the duration of the trip, and there will be optional activities, too, alongside free time to explore independently.
SMALL GROUP OR TAILOR MADE?
Small group tours of Cuba take place on set dates and include a group leader. An eight day budget vacation opens up everywhere from Old Havana and the Bay of Pigs to the tobacco farms of Viñales and Playa Ancon in Trinidad, but without exuberant accommodation, travel and all-inclusive price tags.

Maximum group sizes are for 12 people and sometimes tours will still take place with a minimum of just two people. The benefits of joining a small group is that you'll get to share experiences – and costs – with newfound friends as well as having a group leader on hand to help you know where, when and what you're doing next. These types of tours are also really beneficial to solo travelers as they provide a readymade group of pals to have fun with, and typically have no additional cost for having your own single room.

Although Cuba's safe, sometimes being part of a group gives us that little bit of extra confidence to explore independently and go into places that we might not consider, or even find out about, on your own. Having a local guide that also doubles as a translator can be extremely handy too, especially when you want to ask a few questions of your hosts or find out how to speak a few words in Spanish other than "una cerveza por favour".
Tailor made budget vacations bridge the gap between a group tour and independent traveling. You'll still benefit from local guides and B&B – casas particulares – but you'll be given the option to travel around by hire car or opt for local transport or private transfers. The advantage of a tailor made vacation is that you can choose your own adventure with as much beach time and cultural sightseeing as you wish.
Daniel Stretton from our Cuba vacation experts, Locally Sourced Cuba Tours:
"Generally, a small group trip is a more affordable option and a great way to experience Cuba without the large financial outlay a private tour would require. This is especially the case for singles and couples. You also get the added advantage of meeting like-minded people from around the world and learning about their backgrounds and cultures as well. Hopefully you leave Cuba with a group of new friends!"
Our Cuba budget Vacations
If you'd like to chat about Cuba budget or need help finding a vacation to suit you we're very happy to help.

Where will I be staying?
You'll be staying with local people in their own homes, in the
casas particulares
that are dotted throughout Cuba. These are comfortable, air conditioned properties, and sometimes bedrooms have en suite bathrooms. Breakfasts are included and there's nothing like an impromptu language lesson over eggs, tomatoes, fruit and Cuban coffee to start the day as you mean to go on. You might also be given the option to stay in a hotel in Havana. Find out more about
staying in Cuba's casas particulares
.
Keep control of CUCs
Cuba's currency comes in two forms: the CUC (Cuban Convertible Peso) and the Cuban Peso (CUP).
One CUC = approx 75p or one US dollar
25 Cuban Pesos = one CUC
Visitors to the island can use CUCs and Pesos. CUCs can be spent on anything, but tend to be used for buying restaurant meals, drinks at the bar, overnight accommodation, hire car and bicycle rentals and tourist excursions – that sort of thing. Pesos are the currency that Cubans, outside the tourist industry, use the most. Everyday goods from the market, street food, public transport, taxi shares – normal stuff. A CUC goes a long way compared to the Peso and tips in CUCs are always gratefully received.
A small group or tailor made tour that includes breakfast, transport and an English speaking guide will help you manage your budget. Included excursions and activities also allow travelers to keep vacation funds in check and maybe save some CUCs for an optional activity or two whilst away. Where you choose to eat and drink will impact on your budget. Look for Peso prices at street food diners and cool cafés serving Cuban comfort food. These will be far less than high end tourist restaurants and fancy cocktail bars.

Some casa hosts, especially outside of Havana, will offer to cook you an evening meal for a small fee. This is not only a great way to keep costs down but you'll also get to sample some genuinely delicious home cooked Cuban cuisine. Some casas will also have a garden or a terrace area and there's nowhere better to kick back with a Bucanero beer or home made mojito and listen to cicadas as the sun sets.
Budget small group or tailor made vacations run year round in Cuba and prices don't tend to fluctuate too wildly whatever time of year you're traveling. Cuba is cooler from December to March and drier, too, which means you'll have every chance of avoiding the crowds as well as the clouds. April, which is springtime, is often considered the best time to go to Cuba. It's warm and sunny without the humidity and inevitable storms associated with the summer, especially in the southeast of the island. Carnival time in Santiago cranks up the heat in July, as well as the prices, however Havana's December jazz festival offers a cooler alternative, in every sense.
Christmas and Easter vacations in Cuba coincide with drier and cooler conditions; just don't expect any budget air deals in December as this is peak season for flights to Cuba from the UK and US. Easter air prices may also increase due to European and North American vacation seasons. August is another expensive time of year to travel to Cuba, due to the school vacations. However, high humidity with the threat of storms can turn summers into a bit of a washout, especially in the southeast. The southeast is generally hotter and stickier all year-round. January and February are the best time for budget travelers coming to Cuba as it will be dry and sunny without the March masses associated with Easter. Late March and April (providing you avoid Easter) are not quite as crowded as January and February. April signals the start of spring showers and warmer temperatures with the end of April and the beginning of May the best times to go to Cuba before it gets hot, hot, hot, from June through to November. August, September and October is hurricane season in Cuba so not the best time to visit. Humidity will be high and tropical rain storms can hit at any time in short sharp bursts. These storms are far more likely than major hurricanes that only hit the island around once every decade. Often, once a storm's done and dusted, blue skies and much more comfortable conditions will be on the horizon for the rest of the day. Hurricanes will be tracked and reported so everyone knows what to expect long in advance of an arrival. Many of Cuba's cultural festivals and events are held early in the year – Havana's cigar festival, jazz festival and the international book fair, for instance. The carnivals in Camaguey, Trinidad, Santiago de Cuba and Havana are mainly summer events and take place during June, July and August.
Daniel Stretton from our Cuba vacation experts, Locally Sourced Cuba Tours:
Cuba is fortunate to have a subtropical climate meaning that you can visit during any time of year and appreciate the country. In saying this, temperatures can vary significantly depending on where on the island you are. Although Cuba is situated firmly in the tropics, it experiences a Northern Hemisphere weather pattern with cooler (and drier) winters (December through April) and hotter (and wetter) summers – July is when it is at its hottest."
More about Cuba budget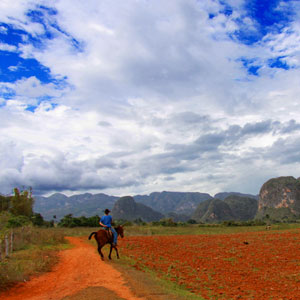 Check out our Cuba map & highlights page that provides plenty of ideas for travelers looking to make the most of the largest island in the Caribbean.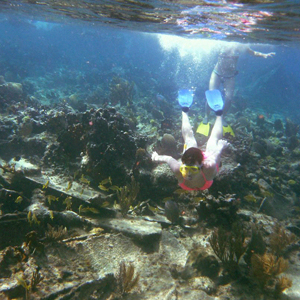 Budget adventures in Cuba are easy – the island abounds with areas untouched by tourism or development.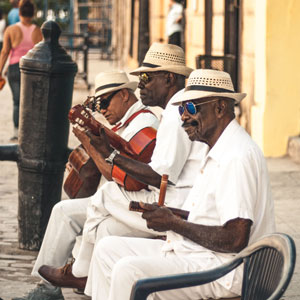 Cuba is home to the original Airbnb, casas particulares, offering visitors a unique view into typical local life; the food, music, language and history of the island.