Cuba's casas particulares
Cuba is extraordinarily, famously, enigmatic. Communist yet Catholic, Latin American as well as Caribbean, highly educated yet painfully poor: the island is filled with contradictions and the recent warming of relations with the US, as well as the death of Fidel Castro, have not made the Cuban mindset any less mysterious. For anyone wanting to spend time with Cubans, to learn about their culture, history and what daily life is like, casas particulares are the way to go. The literal translation is simply "private house", and they're effectively the original Airbnb. Hosts rent out one or two rooms in their homes, typically with a double, twin or triple beds. They're basic but clean, and tend to feel a bit more personal than a guesthouse or traditional bed and breakfast.
As tourist numbers swell in Cuba, the casas are now essential in providing enough beds for the quantity of visitors to the island. And while they are far from luxurious, they are generally considered to be a lot more pleasant than many of the 3* hotels, with much more attentive service. But the biggest selling point is the insight they give into Cuban life. You're not just getting a good look at the inside of someone's home, you're listening to their music, eating their food, and finding out what they do for work and play. And just as importantly, in a country whose citizens are not permitted to leave, you're giving them a way to discover the rest of the world, as you share your own stories in return. These homestays are the highlight of any
cultural vacation to Cuba
.
Frequently asked questions
Do the hosts speak English?
Generally, no. Those that do will likely speak functional rather than conversational English; bring your phrasebook!
Can I have an en suite room?
Some rooms will have en suite facilities, although most share a bathroom with other guests, rarely with the hosts themselves. The earlier you book, the more chance you have of finding an en suite room.
This depends on the layout of the house. Casas where the bedrooms lead off a central living space – in traditional colonial style – will offer less privacy than those where your room is away from the family's living area, or has its own annexe. Sometimes you will have your own key, other times you will have to knock on the door (although someone always seems to be home!). But your hosts will be respectful of your personal space. For the most part, guests enjoy the interaction with the family, and this is usually one of the unexpected highlights of their Cuba vacation.
Which facilities are available?

There will usually be a fan in your room, air conditioning is rarer (especially as the large shuttered windows of the older houses don't seal off the rooms). You'll be provided with sheets and a towel; it's a good idea to bring an extra towel for the beach. Bring all toiletries, be prepared to walk up a flight of stairs or two, and don't expect a computer, internet or WiFi; this is typically accessible via outdoor hotspots, often found around the main plazas (your hosts can advise). Hosts will often offer a laundry service. Some casas will have a garden, or maybe a roof terrace to kick back on with a chilled Bucanero beer as you watch the sun set.

Are meals served in the casas?

Breakfast is usually prepared by your hosts and is included in your room rate (though it is likely to have been included in the cost of your tour; check with your vacation company). In larger cities such as Havana, people tend to eat out for lunch and dinner, but in more rural areas where there are few or no meal options, many casas will offer to cook – usually dinner – again, at extra cost.
Homecooked casa meals are some of the best you will find in Cuba – a country notorious for its otherwise rather grim cuisine. Breakfast will be fresh tropical fruit such as papaya or pineapple, along with bread, eggs and coffee, and sometimes cheese and guava jam. Main meals tend to be a choice of pork, chicken, fish or lobster – pretty much always accompanied by a simple salad, rice and black beans, plantain or cassava.
Are they suitable for families?
Casas are a great option for families, although have a chat with your vacation company to explain what sleeping arrangements are available. Older children can have their own twin or triple room, or it may be possible to share the parents' room. For babies and toddlers, bringing your own travel cot may be preferable – again, you'll need to discuss to find out what facilities are available, and to ensure your room will be large enough.
Are the casas particulares safe?
Staying a casa is as safe as staying in any hostel or guesthouse. The hosts are very dependent on this business, and will go out of their way to keep guests and their belongings out of harm's way – even outside the casa. Some rooms may have safes, and every guest is required to register with their passport on arrival – this information is passed onto the immigration office.
Our top Cuba Vacation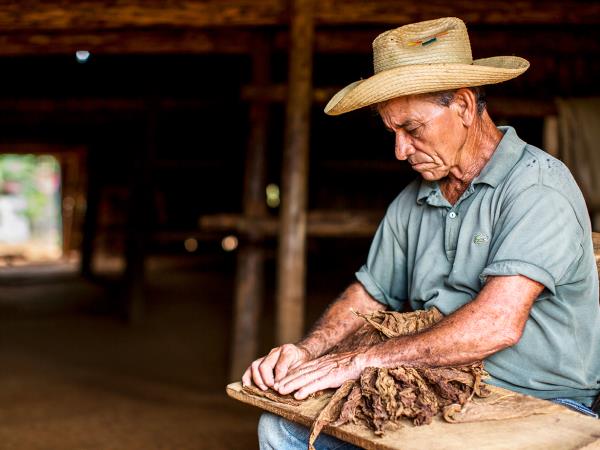 Immerse yourself in Cuban culture on this 8 day adventure
From
€

690

to

€

760
8 days
ex flights
Small group travel:
2023: 11 Jun, 18 Jun, 25 Jun, 2 Jul, 9 Jul, 16 Jul, 23 Jul, 30 Jul, 6 Aug, 13 Aug, 20 Aug, 27 Aug, 3 Sep, 10 Sep, 17 Sep, 24 Sep, 1 Oct, 8 Oct, 15 Oct, 22 Oct, 29 Oct, 5 Nov, 12 Nov, 19 Nov, 26 Nov, 3 Dec, 10 Dec, 17 Dec, 24 Dec, 31 Dec
2024: 7 Jan, 14 Jan, 21 Jan, 28 Jan, 4 Feb, 11 Feb, 18 Feb, 25 Feb, 3 Mar, 10 Mar, 17 Mar, 24 Mar, 31 Mar
If you'd like to chat about Cuba or need help finding a vacation to suit you we're very happy to help.

Should I book an organised tour?
Of course, you can book your own casas across Cuba – but there are a number of reasons why we'd recommend organising your trip with a tour operator. Firstly, few hosts speak English – so if your Spanish is not up to scratch, making arrangements and ensuring you have the room and facilities you want can be tricky. Secondly, you will then need to find and arrange transport to your casa – these are not well known places like hotels. And of course, as internet is limited in Cuba, this makes booking and planning much harder.
In addition, the rapid increase in the number of tourists traveling to Cuba means that it is harder to find good quality casas as these will get booked up fast. In places such as Havana, this has also opened the door to people opening casas illegally (ie without a licence). Staying in one of these puts you at risk; a vacation company will ensure only legally registered casas are used.
Another thing to consider is that prices are per room, rather than per person. If you are on a budget, booking a small group tour means you can share your room with another person of the same sex from the group, therefore avoiding the extra cost.
History of the casas particulares
As Cuba's communist regime began to soften and tourists began arriving again, small opportunities for entrepreneurship were permitted, where previously everything had been government owned and run. These opportunities for self employment included taxi drivers, the opening of private restaurants, called paladares, and, in 1997, the possibility to rent out up to two rooms in a private house to tourists.
This small move was a game changer for Cubans. Those in cities popular with tourists – particularly Havana, Viñales and Trinidad - now had the opportunity not just to make an additional income, but to earn the far more valuable Cuban convertible peso (CUC), a currency only used by tourists, equivalent to the US dollar, and worth 25 times as much as the regular Cuban peso (CUP). While the government charges high fees for the tax and monthly licence, even a few of these CUCs were enough to make huge differences in the lives of Cubans, who would previously have earned the standard government salary of 15-25 CUCs per month, even as teachers, doctors or engineers.
This economic anomaly has had predictable results: highly skilled workers have given up their jobs to focus on renting out rooms in their homes – and are earning far more each month. It has also meant that a class system has once again been created in Cuba, after decades of relative equality under communism, as those with larger houses in the city centers have access to tourist money. Meanwhile, those off the beaten track are struggling to get by on the monthly rations and have no alternative to the pitiful government income.
Responsible Travel's writer and editor, Vicki Brown, stayed in casas particulares across Western Cuba. She found it to be a great way to meet local people – as well as to gain a sometimes uncomfortable insight into Cuban life:
"Our first host was an architect named Roberto. He and his wife had set about restoring his stunning colonial house, dating back to the 1700s, and he was able to earn far more that way than he had as an architect. We then stayed with his brother in law who had given up his job as a petrochemical engineer to become a host. We were treated like long lost family members throughout our stay, nothing was too much trouble. On the very last day, it rained – and we saw him gratefully pumping water using an old, 1950s pump. We had no idea that the water we'd been using wasn't limitless, and that he and his wife had gone without to ensure my friend and I could shower. We were then shown their ration books – and the realities of living in modern Cuba kicked in. It's not obvious on the surface as they are all so highly educated and had high level jobs – but they really had nothing."
As with any homestay, there are certain unwritten rules to abide by when staying in a casa particular in Cuba, which will make your stay more pleasant for both you and your host.

Do make an effort to speak some Spanish. It will be much appreciated, and any words you attempt to learn will make things easier for you, as you can make meal requests, ask for tips on what to see, ask for your laundry to be done, and so on. Even if you have a Spanish speaking tour leader with you, it's still much nicer to build up a personal relationship with your casa family. Be conscious of the amount of water you are using. In many areas, water is pumped manually following the rains; in dry periods there may be very limited supplies and your hosts might have to go without so you can shower. If you have dinner at your casa, you will be served a huge amount of food. Don't feel guilty if you can't eat it all – nothing goes to waste in Cuba. Food left on communal dishes will be eaten by your hosts, other scraps can be fed to animals. Bring some gifts to give your hosts – or leave behind anything you don't need. Speak to your vacation company to find out what will be most useful – we're not talking a bottle of wine or a bunch of flowers here. Families with school-age children will appreciate pens, exercise books and pencils (all strictly rationed and expensive), other families can make use of clothes, towels, over the counter medicines and so on.
Vicki Brown, from Responsible Travel:
"We virtually emptied out our suitcases before we left Cuba. We offered our host family a few items of clothing for their teenage daughter. They had got some small marks on them during our trip, but this was not a problem – clothes are difficult and expensive to obtain, and these were good quality. We gave them a broken umbrella – the host mother was delighted as she explained 'the man who fixes umbrellas comes on a Tuesday!' We also gave her a box of tampons, and after explaining what they were, she was thrilled – they are not available on the island."
Be respectful when it comes to making noise, especially late at night – you are staying in someone's home! Admittedly, many Cuban cities are not particularly quiet places, given the ancient car engines and the salsa music, but if your hosts are being quiet, you should try to be too. Be sociable. If you have been getting on well with your hosts and you come back one day to have a beer or juice on the terrace – invite your hosts to join you, and offer them a drink. Even if your Spanish is limited, it's amazing how much you can manage to communicate if you're keen.
Go easy on the politics. Cuba has one of the world's most intriguing political positions, and politics is important to Cubans. They are incredibly knowledgeable and educated, and all will have an opinion on their situation – but it's far better to ease into this topic once you get to know your hosts, rather than ask direct questions, or demand to see a ration book, for example. There is a pervading sense of "Big Brother" in Cuba, and many people will be reluctant to talk in public; the privacy of their own homes is one of the places where local people will feel safest, so staying in a casa particular opens up the possibility to have deeper and more honest conversations.