Cuba's leader may have been a controversial figure, but when it comes to his praise of the marine life that surrounds his island home, you'd be hard pushed to find anyone who disagrees.

Fidel Castro was famously a scuba aficionado – the CIA exploited this fact on one of their many, many failed assassination attempts, which involved a poisoned wetsuit and an explosive-rigged conch. But they were not the only ones to take advantage of his love of the ocean. When Jacques Cousteau visited Cuba in 1985, the two men turned out to be kindred spirits. The marine explorer sent many months sailing his ship Calypso around the island's coastline, and he was welcomed with open arms by Castro, who admitted to have been hugely influenced by Cousteau's marine research, which encouraged him to preserve Cuba's waters.
And these waters are well worth preserving. Cuba is almost entirely ringed with coral reefs, with some 50 species of coral thriving in the warmer Caribbean coast to the south, and the slightly fresher Atlantic to the north. The island's lack of industrialisation has meant that the reefs, and the creatures that inhabit them, have remained largely undisturbed – a phenomenal treat for scuba divers, and a rare success story at a time when pollution, trawling and rising sea temperatures are threatening coral across the globe.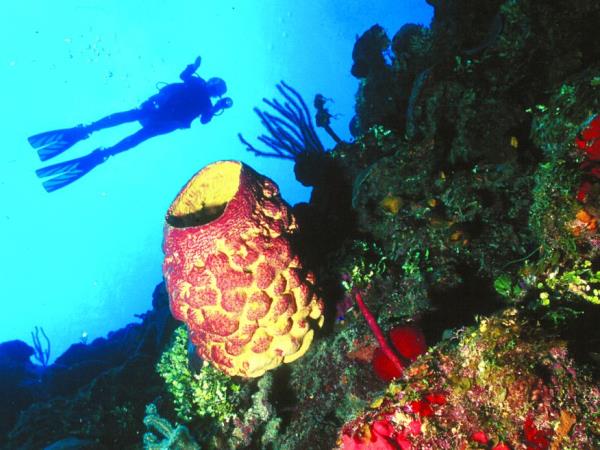 Scuba diving and roundtrip Cuba with homestays and/or hotels
From
€

995

to

€

1790
15 days
ex flights
Why go scuba diving in Cuba?
However, Cuba is not the best place for unqualified divers. PADI is a US qualification, and as such, is not taught in Cuba. Some dive centers, including the one at María la Gorda, offer the CMAS qualification – the French equivalent – which takes around four days, while some resorts offer ACUC (American Canadian Underwater Certification) courses, which are good introductions to diving. If you are looking for something more informal, some instructors will be happy to take out newbies for a try dive, but this will be done at their discretion and you are unlikely to be able to book this in advance.
There are also occasionally issues with diving equipment not meeting international safety standards. While more experienced divers will be able to perform basic checks on their regulators, BCDs and so on (or may have their own gear), new divers are far more at risk as they won't recognise faults.
Cuba has a whopping 5,700km of coastline, and virtually all of it is a gateway to dive sites – with sunken wrecks, vertical walls, colourful reefs and tiny cays providing endless opportunities for exploration – both directly from the shore, and from dive boats. The water temperature averages around 24°C throughout the year, tending to be warmer on the south coast, with visibility of 30-40m – these are dreamy dives indeed.
Where to go scuba diving in Cuba
Many dive sites in Cuba are located close to its towns and cities or off stunning beaches, which means that scuba diving trips can be easily built into a regular tour of the island; pretty much everywhere you stop along the coast will have access to a dive site. This is also convenient for those who are traveling with non-diving partners or friends, as while the diver bubbles about the reefs, their traveling companions can soak up the sun or the local culture – or perhaps enjoy a snorkel. It also means you can enjoy dedicated dive vacations here along the length of the island, exploring a different ocean ecosystem pretty much every day. For a more immersive diving vacation, head out to one of the offshore cays, or splash out on a liveaboard yacht to reach Cuba's most sought after dive sites such as Jardines de la Reina – the Gardens of the Queen. There are hundreds of places to scuba dive in Cuba, and your tour operator can speak about them in more detail – but here are a few of our favourite locations, each containing several individual, mapped dive sites.
Playa Ancón
Over 40 coral species form the huge reef just off Playa Ancon, bursting with colour and attracting hundreds of reef fish. Many of the dives are done directly from the shore, and the local Cayo Blanco International Dive Center has boats available too to take divers out to sea. There are huge walls of black coral, sponges and gorgonians. 25km offshore, Cayo Blanco is a tiny islet surrounded by 23 dive sites. Playa Ancón is easily reached from Trinidad.
Our top trip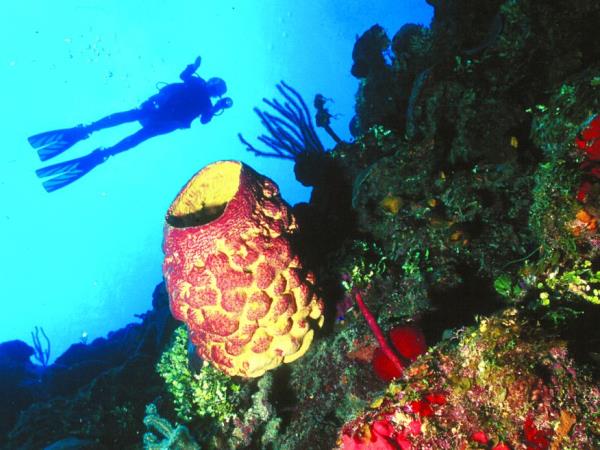 Scuba diving and roundtrip Cuba with homestays and/or hotels
From
€

995

to

€

1790
15 days
ex flights
Tailor made:
This trip can be tailor-made and departures can be arranged all year. The sample itinerary below can be modified to your personal wishes including departure date, duration, accommodation used & how long you spend in each destination.
If you'd like to chat about Cuba or need help finding a vacation to suit you we're very happy to help.

Bay of Pigs
Playa Girón leads into the infamous Bay of Pigs, which has over 30 dive sites and several dive centers. Shore based dives in the bay are suited to beginner and more experienced divers, with depths from 10-40m. There are sunken wrecks, such as the Jaruco – which sank in 1984, and an immense wall, starting from 30m offshore, which sinks to depths of 300m and offer black coral, swim throughs and a wealth of marine life. 8km from Playa Girón, Caleta Buena has its own dive center. Here, the brackish water supports an array of unusual sponges, tucked away in coral ridges and underwater caves.
Guajimico
On the way from Cienfugos to Trinidad, the little village of Guajimico is a great place to stop for a boat dive, as its indigenous name suggests; Guajimico translates as "The place for fish"!
María la Gorda
On mainland Cuba's westernmost tip, María la Gorda is one of the more popular locations for divers. Be aware there is little else to do here; the setting is wild and remote – with the west facing beaches offering unrivalled sunsets. The 50-odd dive sites will keep you occupied though – including Yemayá, where you'll be descending down a huge wall before entering a cave-like tunnel which brings you back out.
Jardines de la Reina
This remote Caribbean archipelago, some 80km from mainland Cuba, was gazetted as a marine park in 2002, and it is hailed as having the beat diving in Cuba. The coral cays and mangrove swamps stretch out over 150km, and can only be explored on a liveaboard, making this a pretty exclusive destination. In addition to the pristine environment, making for 40m visibility, divers are drawn here by the huge number of sharks that inhabit these waters, including nurse, hammerhead and black tip – as well as the unusual chance to swim with crocodiles that lurk by the mangroves. Whale sharks migrate here from July to November – an encounter not to be missed, although this is the peak of Cuba's rainy season, with hurricanes possible.
Cayo Largo del Sur
The "Long Key" is actually pretty tiny – but this just means its attractions are more densely packed in. Many of the reefs are set in shallow waters around the island, and there is an established and well equipped dive school here – meaning it is a great place for less experienced divers to build up skills as they fin through the labyrinthine coral. The appropriately named El Acuario offers plenty of reef fish, rays, turtles and sharks at a depth of just 15m. For more advanced divers, steep walls covered in black coral, sea fans and sponges plummet as deep as 200m, creating a thrilling vertical ecosystem for reef fish. Cayo Largo del Sur is best reached from Playa Girón, on the Bay of Pigs.
Santa Lucía
Just over an hour's drive from Camagüey, this 21km-long beach – and the dive resort – is the departure point for dives around the world's second longest coral reef. This natural barrier, just 200m from shore, means the waters are sheltered – and toasty warm. There are some 40 dive sites just in this one area, with 10m-high coral ridges, wrecks of Spanish merchant ships, and bull sharks, which lurk at around 30m.
Isla de la Juventud
The Island of Youth has a whopping 56 dive sites, and is one of the top dive locations not just in Cuba, but in the whole of the Caribbean. The island sits in a protected marine reserve, and most of the dive sites are located off it south coast. The underwater landscapes are impressive, and will provide challenges for novice and experienced divers with coral caves and tunnels, an immense wall and a vertigo-inspiring blue hole that drops over 1.5km down to the sea bed. Bring your underwater camera to capture colourful coral species, sponges and gorgonians. Tarpons, yellowtail snappers and barracudas are all commonly seen – along with eagle rays, turtles and the odd shark.