Cycling vacations in Cuba travel guide
As oil became harder to obtain in this communist nation in the 1990s, the "bicycle revolution" saw bikes shipped in from China; even today, cycling is the main means of transport for many. So if you book a cycling vacation in Cuba, you really will be traveling like a local – albeit on a rather more comfortable bike.

Forget the idea of visiting Cuba "before it changes". Instead, cycle round this enigmatic island to discover a culture and landscape that are impervious to the passing of time and shifting of politics.

Cuba may be famous for its classic cars, yet one of the most delightful things about cycling here is the absence of vehicles once you pedal beyond Havana. Along the way, you'll stay in hotels and local homes – allowing you to spend time with Cuban families, sharing their homes, their meals and their stories. While other travelers bus between Havana and Trinidad and Santiago, you'll discover the plantations, pueblos and music-filled plazas along the way, where the buses don't pass. With tour leaders on hand to repair punctures, translate and offer encouragement, we really do think this is one of the best ways to explore Cuba.
Our Cuba cycling Vacations
Is a cuba cycling vacation for you?
Go on a cycling vacation in Cuba if…
… you're not a hardcore cyclist. While some vacations are challenging, most are leisurely – more a way to admire the scenery and get from A to B than to really test your calves.
… you're not confident with bike maintenance. Expert tour leaders are with you to ensure everything's in working order – you just need to be able to ride it! Support vehicles also follow you 100 percent of the way.
… you want your teens to have a vacation with a difference. Family focused departures are suitable for anyone aged 14 and up – a great way to inspire a love of outdoor activities and new cultures.
… you're not keen on traffic. Cuba is as famous for its classic cars as its cigars, but outside of the main cities the refurbished Chevys are few and far between. You're more likely to be sharing the road with other cyclists and donkey carts.
Don't go on a cycling vacation in Cuba if…
… you're not happy in tropical weather. Midwinter offers cooler, drier air, but this is still the Caribbean – and cycling is sure to keep you warm.
… you're a diehard foodie. Cuban cuisine gets a bad rap - and it's certainly not a destination you'd choose because of its food. Hotel buffets score lowest for inedible cuisine, closely followed by state-owned restaurants. However, the homecooked casa meals are delicious - with fresh seafood, black beans and tropical fruit - as are the locally-owned paladar restaurants. All the more reason to keep it small, responsible and local!
… you're racing to the finishing line. A Cuba cycling vacation is just as cultural as any other trip here – it's just that you're cycling from highlight to highlight instead of driving. So take your time, stop to chat, keep your camera close by and enjoy the ride.
Our top Cuba cycling Vacation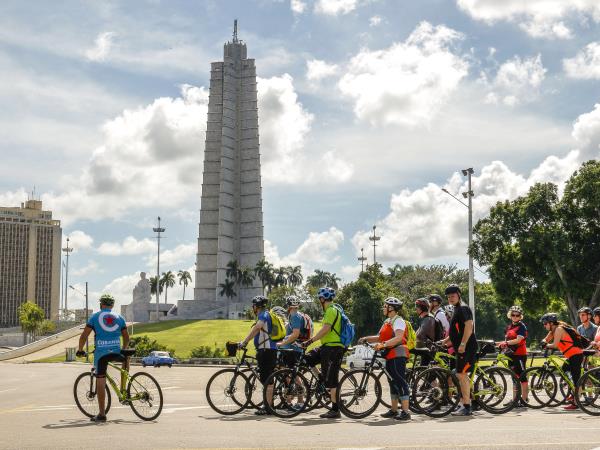 Cycle Cuba - Beaches, Mountains and Revolution!
From
£

1899

to

£

1999
15 days
ex flights
Small group travel:
2019: 14 Dec
2020: 18 Jan, 15 Feb, 7 Mar, 4 Apr, 9 May, 13 Jun, 18 Jul, 15 Aug, 19 Sep, 17 Oct, 14 Nov, 19 Dec
If you'd like to chat about Cuba cycling or need help finding a vacation to suit you we're very happy to help.
Best time to go on a cycling vacation in Cuba

Escape the northern winter from late Nov-April and seek sunny cycling conditions in Cuba.

This is the best time to go on a cycling vacation to Cuba as temperatures are cooler (particularly Dec-Jan), humidity is low and it's generally dry – just be sure to book well ahead if traveling in the peak Christmas or Easter vacations. May-October are characterised by rain, heat, humidity and the odd hurricane; this is not the ideal season for cycling unless you're tied to the school vacations. The eastern regions are the warmest and wettest; waterproof bags and rain ponchos are highly recommended! Vibrant festivals and events take place year round, so you're bound to stumble across music, dance, theatre and general celebrations whenever you travel.
More about Cuba cycling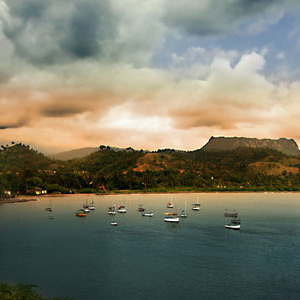 Click on our interactive map to see our Cuba cycling highlights, on routes that take you far from the busy cities and into landscapes dominated by limestone mogotes, tobacco plantations, jungle clad mountains and the turquoise Caribbean Sea, ready for you too cool off in at the end of each day in the saddle.
Back to the top
Convert currencies