Cuba in 1961 was under attack. A group of exiled Cubans and US militia landed on Playa Girón, a beach on the Bahia de Cochinos, aka: the Bay of Pigs. Although this failed invasion would send shock waves around the world, at the same time, on the outskirts of Havana, a less seismic event was taking place – an 18 year old sugar cane worker bought his first bicycle. His name was Sergio 'Pipián' Martínez.

Three years later, Pipián would win the inaugural Vuelta a Cuba multi-day bike race. He would win again in '66, '68, and '69, and would also compete in the individual road race and team pursuit at the 1968 Mexico Olympics. Cuba's love affair with cycling as a sport was well and truly underway.

Lucy Davies set up our Cuba cycling tour specialists Cubania in 2003 and has been running trips on behalf of Responsible Travel since 2009: "Sport is massive in Cuba and Cuba's sporting achievements are phenomenal for a small country of 12 million. There's a cycling culture here, equal to what you'll find in other Latin American countries like Colombia. It's a natural place to come to if you're a keen cyclist because of the respect Cubans have for high level sportsmanship."
Although the Vuelta de Cuba is no longer running – it stopped in 2010 – a two week road cycling trip takes in some of the best of the race highlights, including a monument of Martínez situated at the top of a really challenging 19km ride. The road to the statue leads up and up, very steeply, before descending equally as steeply on the other side. It's known as: curva de los Muertos (bend of the dead) as cyclists, upon reaching the summit, would relax and let their brakes off only to whizz over the edge on the way down. It's an intense and very dramatic climb, but not quite as deadly as the name suggests.
Cycling with an experienced local guide, of course, prepares you for what lies ahead. They'll usually cycle at the front of the group if cycling downhill and at the back if cycling uphill. This is so they can be sure that everyone in the group is ok and no one is getting left behind or going off too far in front.
Most of the local cycling guides in Cuba are employed by the state and contracted to privately owned companies. Training in first aid and road safety is often paid for by the tour company. This sort of employment offers young people an opportunity to work within the tourism industry by doing something that they really enjoy.
Liesner Crespo has been working as a guide for our Cuba cycling specialists, Cubania, since 2015: "Before I became a cycling guide I played football and was a teacher in phonetics and psychology. In 2015, my boss called me up and asked if I'd become a cycling guide for a company called Cubania. When he explained what I had to do, I was really excited and couldn't wait to get started. I love what I do. I'm in love with bikes. I get to travel out of the city, I get to translate and speak English; make photos, chat to guests. No problem.
Our Cuba cycling Vacations
Pedal power
Other areas of employment that have been created through cycling vacations include trained bike mechanics, support vehicle drivers and the owners of privately owned guesthouses (casa particulares) and restaurants (paladares).

Lucy Davies, from our tour providers Cubania, explains how road cycling is benefiting small businesses that larger tour companies very rarely reach: "From an LGBT couple who run a B&B in Santa Clara to Alberto and Osmary who own their own guesthouse in Old Trinidad, the hosts of our casas particulares give you a chance to see what the real Cuba is like. If you're looking for a 5-star hotel then you'll be better off looking somewhere else. We're not really interested in offering luxury vacations because we think that Cuba has something much more interesting to offer – a window into a different world. Our B&B owners invite you into their home. Twenty years ago everything was state owned. It's not like that now. Local people are empowered and that's a very positive thing. It's something that we're proud to be a part of."
Ex pros
Alongside the guides, the hosts, the mechanics and the backup vehicle drivers, road cycling tours also provide employment for another group of Cubans who would otherwise have been forgotten – Cuba's ex-professional cycling greats.
Many of Cuba's pro cyclists have won the Vuelta a Cuba and competed in races – including the Olympic Games – around the world. These phenomenal athletes face just one problem – what to do once their career has finished? Our
road cycling tour
offers employment to the Cuban Masters cycling community. People like track cyclist, Yoanka González, who won a silver medal at the 2008 Beijing summer Olympics. By inviting an ex-pro cyclist to accompany our small groups (no more than 16) you're cycling straight away with at least four Cubans: the pro, the guide, the driver, and the mechanic. It sets the tone for the whole vacation. You're actually in Cuba, cycling with Cuban people.
Our top Cuba cycling Vacation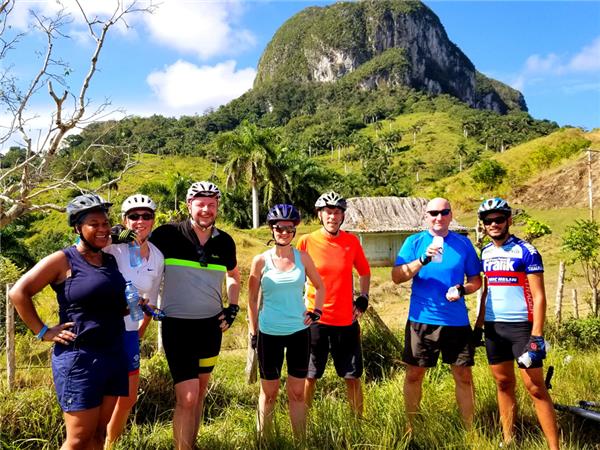 Explore Cuba on two wheels in one week
From
US $

1060

to

US $

1624
7 days
ex flights
Small group travel:
2023: 9 Oct, 13 Nov, 11 Dec, 18 Dec
2024: 8 Jan, 12 Feb, 25 Mar, 8 Apr, 10 Jun, 1 Jul, 7 Oct, 4 Nov, 18 Nov, 9 Dec, 23 Dec
If you'd like to chat about Cuba cycling or need help finding a vacation to suit you we're very happy to help.

Long distance road routes
Following sections of the Vuelta de Cuba takes you way out east to Baracoa, and beyond. Baracoa was all but wiped off the tourist map following the cancellation of internal flights from Havana in May 2018. Hurricane Matthew had already devastated Baracoa two years earlier. They lost their homes and then their entire economy from tourism, almost overnight. They're still trying to recover and our cycling tours are one of the few areas of tourism that are helping with that process.
The road that now exists in and out of Baracoa was engineered in the 1960s. There's a 34km climb through the Nipe-Sagua-Baracoa mountain range that features lots of tunnels on the route to Santiago de Cuba. We also ride along a road which is featured in the song
Chan Chan
, which provides the opening scenes to the classic Cuban documentary: Buena Vista Social Club. The tune instantly sums up the character and vibe of the island's east coast communities. This stretch is covered on Day 6 of our road cycling tour.
The sleepy fishing village of Gibara on the northeast coast is another area that road cycling tours visit but hardly anyone else does. It's right out in the sticks and almost cut off to tourists because of the lack of domestic flights from Havana. The funny thing is that every year, in early July, Gibara hosts an international low budget film festival. The place gets packed. But outside of film week it returns to being the sleeping fishing village it always was, right on the sea. It's a really quirky place, the perfect spot to try freshly caught and grilled fish like mahi mahi.
Be prepared
Cuba has perfect conditions for road training. Most cyclists will have conquered the cols (the lowest point between a mountain ridge) and coastal routes of Spain, including Majorca, and a long haul flight to Cuba offers a chance to cycle against a completely different type of tropical scenery. Make sure you've undertaken plenty of regular rides in the build up to the trip. It's a great excuse to keep fit, but just don't bite off more than you can chew. Be honest with yourself: would a less challenging cycle on a hybrid bike from
Havana to Trinidad
or along the Western Skyline be more your thing? It's a vacation after all.
"Every day we explain what our guests can expect from the ride ahead. Safety is very important and we have been trained in first aid as well as bike mechanics. Depending on the road, I will usually cycle at the front of the group if we're cycling downhill and at the back if we're cycling uphill. This is so I can be sure that everyone in the group is ok and no one is getting left behind or going off too far in front. We also always cycle with a support vehicle and a trained bike mechanic." - Liesner Crespo
The whole route is a real challenge and suits cyclists who are regular road bike users back home. In fact, this is one of the few cycling vacations where you should think about bringing your own bike. Good to know: Virgin flights count bikes as an extra piece of luggage. That's why the start of our road bike trips coincide with Virgin flight schedules from the UK to Havana.