Cycling from Havana to Trinidad
There's a reason why Cuba's older generation won't be seen dead on a bicycle. It's not just that the country's bone shaking cobbled city streets might prove too much for elderly limbs. Or that public transport provides a much more comfortable alternative; local buses are cheap but hot, unreliable and always overcrowded. No, the reason why Cubans over 50 won't consider sitting on a saddle is because of what, to them, the bike represents: suffering, hardship, unemployment and starvation.

The collapse of the Soviet Union in the 1990s left Cuba with nothing. Electric, water and fuel supplies dried up, almost overnight. Oxen replaced tractors in the fields. Horse and carts replaced cars. Factories ground to a halt, leading to widespread unemployment. Paper fans, instead of electric alternatives, offered scant respite from the heat of summer. Famine followed and thousands fled the island on makeshift boats. Castro's 'Special Period' had begun.
A US embargo on trade tightened the stranglehold, but some imports made it through. One million Flying Pigeon bicycles from China, for instance. Two wheeled transportation made it possible to get around without the need for petrol. Workshops popped up to support cyclists in need of repairs, spare parts or modifications. Make do and mend became the mantra. Patch up and get on with it. Cuba was moving once more.
Cuba as a Communist state survived thanks to the resilience and strength of the people. Eventually, Venezuela and China filled the void left by the Soviet Union. And Trump has continued where Eisenhower, Kennedy et al left off. But if you think the period from 1991-2000 is remembered fondly by Cubans in some sort of nostalgic whimsy then you might well be told to 'get on your bike!'
Our Cuba cycling Vacations
Cycling connections
Fast forward to modern day and you'll find bikes are once again in vogue with Cuba's youth. Two wheels are less a necessity but more fashionable for friendship groups who meet at weekends to keep fit and socialise. Charitable and free enterprise workshops – some run solely by women – are rare but can still be found tucked away in backstreets. The little concrete grease-stained garages are community hubs where local people can get their bikes fixed for free or for just a few pesos.

Lucy Davies set up Cuba cycling tour specialists Cubania in 2003 and has been running trips on behalf of Responsible Travel since 2009: "Privately owned bike workshops are few and far between in Cuba. We had to import all our bikes and spare parts. This is why we visit and support a social enterprise cycle workshop – Velo Cuba – on our city cycling tours of Old Havana, where local people can bring in their bike and get it fixed for free. It's owned and run by Naidi Nayvis and staffed entirely by female mechanics. A women-only workforce is quite a rarity in Cuba, even though gender equality laws have been in place since the end of the 1950s. In reality, behind closed doors, it's a different story. Cuba is still a typical Latin American country, where men are meant to be macho and women are expected to do the majority of the work at home."
Cycling as a sport has been a really big deal in Cuba since the days of the Vuelta a Cuba (multi day bike race) in the early 1960s. There's a strong cycling culture here, particularly in the island's younger generation, equal to other Latin American countries like Colombia. Word about Cuba's cycling scenery, however, is only just starting to spread, enticing a different sort of traveler to the island's Caribbean shores. Cycling tours are starting to take off. It's a natural place to come to if you're a keen cyclist. Small group tour companies are employing local cyclists as guides. People like Liesner Crespo, who's been working for Cubania since 2015: "I was asked if I'd become a cycling guide for a company called Cubania. I was really excited and couldn't wait to get started. I did some training in first aid and bike safety. And now I get to travel out of the city, I get to translate and speak English; make photos, chat to guests. There are no problems. I love what I do."
Not only do cycling vacations in Cuba offer employment opportunities for local guides, but privately owned guesthouse (casa particulares) and restaurant owners also benefit. This is a really important aspect of cycling vacations in Cuba. You're exploring without barriers and meeting Cubans, on their level, in out of the way locations, without impacting on the environment or the traditional culture.
"Over the years we've connected with local people who've opened up their doors to guests. I came here 20 years ago as a cycle guide for a charity cycle challenge and got to know the country really well on the back of a bike. I've cycled all of the routes that we recommend on our tours and know many of the guesthouse owners. When I set up the company, the whole purpose was to benefit local communities. Every single service that we offer is in some way supporting local Cuban people." - Lucy Davies
Our top Cuba cycling Vacation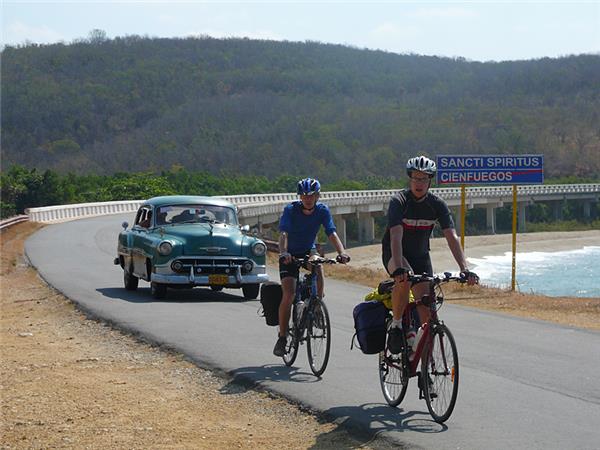 The main sights & stunning scenery
From
US $

3379

to

US $

4079
15 days
ex flights
Small group travel:
2023: 8 Jul, 14 Oct, 11 Nov, 2 Dec
2024: 24 Feb, 23 Mar, 13 Apr, 6 Jul
If you'd like to chat about Cuba cycling or need help finding a vacation to suit you we're very happy to help.

Havana to Trinidad
The Havana to Trinidad cycling route is ideal for anyone looking to see the sights without straying too far from the capital. It's a large island, so unless you're traveling by road bike you just won't be able to cover it all in two weeks. It's a less challenging tour than some of the rides to the east of Havana, but still requires a fair level of fitness, particularly when cycling in the sun. Bikes used are mainly Trek 8.3DS hybrid bikes that can easily handle a few potholes and rough tarmac.

"I prefer hybrid bikes for getting about as the front suspension is much better than road bikes. This way you can be prepared for any bumps or holes in the road. Anyone coming to cycle in Cuba needs to realise that the roads can be quite bumpy. But it's no problem with a guide. We know everywhere that we cycle to and are able to tell guests in advance what they can expect." - Liesner Crespo

Small groups are no more than 16 people as well as your local guide, back up vehicle driver and mechanic. You cycle for an average of 50km a day for ten days out of two weeks. Overnight accommodation often features twin room shares with another group member of the same sex or the chance to splash out on a single room supplement, if you prefer your own space. From the eco resorts and backwater communities of Las Terrazas Biosphere Reserve to the cobbled colonial streets of Santa Clara, Trinidad and Cienfuegos, staying at casa particulares is the best way to really understand Cuba and get a feel for the genuine hospitality of the people.
The route from Havana to Trinidad also features a stay on a tobacco farm in Vinales Valley. Far from being filthy rich estate owners, tobacco farmers aren't earning the big bucks associated with some of the world's finest quality cigars. All of their tobacco goes to state owned factories. They're doing ok, but still see relatively small returns on their harvest. That's why they subsidise their income through tourism.
"My home town is Bejucal which is on the outskirts of Havana. It's well known for having the oldest train station in Cuba and Latin America, which was built in 1831. When I'm cycling with guests I like to tell them about the history of Cuba as well as explaining more about the importance of tobacco and sugar cane farming in places like Vinales Valley and Trinidad. Cuba is so different to the rest of the world and a bike vacation is a great way to learn more about the culture of our country." - Liesner Crespo
That's the thing. No sooner than you've been fitted for your bike and set off over the cobbles of Old Havana, you're cycling with Cubans: the guide, the driver, and the mechanic. It sets the tone for the whole vacation. You're in Cuba, cycling with local people and staying the night in their homes. It's very hard to replicate this type of experience on any other type of tour.