Cuba is surprisingly large; it's tough to see it all even if you are traveling on four wheels, let alone two. But getting around by bike is not about seeing more of the country; it's about seeing it better. You'll get a feel for the size of the island, visit the unexplored pueblos between the main cities, stop off at little farms and fruit stalls and see what life is like in Cuba away from the tourist hubs. Buses are used to transport you on some of the longer stretches, so you can still cover plenty of ground. And you're rarely far from a tropical beach to kick back on at the end of a long, hot day in the saddle.
1. Baracoa
Baracoa's only 90km from Haiti and much of the town's culture and food is influenced by the island's Caribbean Creole and French colonial heritage. Baracoa was all but wiped off the tourist map following the cancellation of flights from Havana in May 2018. Hurricane Matthew also devastated the region in 2016. They're still recovering and our road cycling tours are helping with that process.
Las Terrazas Biosphere Reserve
2. Las Terrazas Biosphere Reserve
This unique eco village was created in the 1960s by Fidel Castro and designed to be a self contained and sustainable community. Today, it's home to artists and poets, surrounded by bird-filled forests and the overgrown ruins of ancient plantations. A pleasant 5km ride takes you to the idyllic Rio San Juan, where turquoise pools and mini waterfalls provide a popular bathing spot for residents and visitors.
3. Matanzas province
Characterised by the island's largest swampland, the Cienaga de Zapata, Matanzas is enjoyably flat, making for an easy ride through rural villages, sugar cane plantations and citrus farms. Most routes end at the infamous Bay of Pigs, which includes beaches such as Playa Girón and Playa Larga, alongside hidden coves. Relax off the saddle as you swim, snorkel and soak up the Caribbean sunshine.
4. Sierra Maestra Mountains
This densely forested mountain range was the hidden HQ for Castro and Guevara. The Sierra is stunningly beautiful and rich in birdlife – partly due to the difficult access which made it so appealing to the guerrillas. Cycling here is challenging yet exhilarating, as you pass towering peaks, chug up steep hills and whizz back down them in the stifling jungle heat, surrounded by revolutionary history.
Topes de Collantes National Park
5. Topes de Collantes National Park
This little-known national park is one of Cuba's cycling highlights. Our recommended ride has all the beauty of a mountain ascent – but without the calf-burning climb. Your support vehicle drops you off at the top of the sierra slope, leaving you to cruise down through bird-filled forests until you eventually reach the huge Hanabanilla Lake, surrounded by waterfalls, hiking trails and swim spots.
6. Trinidad
The region around Trinidad is a favourite for cyclists. Undulating coastal roads rarely let the shimmering Caribbean Sea out of sight, taking you past unexplored bays, remote fishing villages and farmers' fields. Finish up at the UNESCO-rated city of Trinidad, or the idyllic Playa Ancon, a white sand beach where you can sunbathe, snorkel or take a catamaran tour to a nearby cay.
7. Viñales
Vinales Valley is ringed with karst rock formations and leafy banana plantations, making it a must for cyclists seeking seclusion. There's plenty to see here and all of it's easily accessible by bike – from vast cave networks to tobacco farms via oxen-ploughed fields. The town itself is small and friendly; meals (and piña coladas) are prepared using the freshest produce from the surrounding farmland.
Our Cuba cycling Vacations
Cuba cycling vacations travel advice
Thirsty work
Liesner Crespo has been working as a guide for our Cuba cycling specialists, Cubania, since 2015: "We tell our guests to always keep hydrated. We don't run trips in July and August but still, at other times of the year, it can get very hot in Cuba. People need to know this before they come. Bring long sleeves, sun block and refillable water bottles. Our support vehicle always has a big tank of water where you can fill up. We ask guests to drink every ten minutes, even if they don't think they need to. It's very important to remember that the heat can be a real problem when cycling here."
What to pack
Andy Ross, from our supplier Exodus, recommends packing less than you think:
"Pack light. You don't really need that much stuff! The weather's generally very consistent, so you just need your beachwear, a couple of pairs of cycling shorts and a few t-shirts or tops. If you cycle at home, you can bring your own saddle. The hire bike is included, and the guides can fit individual saddles. Also, you can bring your own clip-less pedals and shoes. This just makes things a bit more familiar."
Lucy Davies set up Cuba cycling tour specialists Cubania in 2003 and has been running trips on behalf of Responsible Travel since 2009: "When I visit our head office in Cuba I always bring some chocolate. In fact lots of chocolate. Big bars. It's impossible to find good quality chocolate in Cuba. It's not illegal to bring it into the country. Not like Cuban cash. You can't import or export Cuban cash. Most of our trips include bike rental and cycling gear. Our road bike trip is probably the one where cyclists should think about bringing their own bike. Virgin flights just count bicycles as an extra piece of luggage. That's why we time our road bike trips to coincide with Virgin flight schedules from the UK to Havana."
Serious cyclists
Andy Ross: "Lots of people that come on these vacations really are not serious cyclists; it's more that they just want to be a bit more active. So you're going to still see all the same sights as you would on a regular Cuba vacation, but you're not going to spend as long looking around them. It's important not to take the cycling too seriously. Sometimes on vacation you see people and they're just intent on riding quickly like they might do at home – it's very easy to miss what's going on. The key is really to take it down a notch and enjoy the Caribbean pace of life."
Our top Cuba cycling Vacation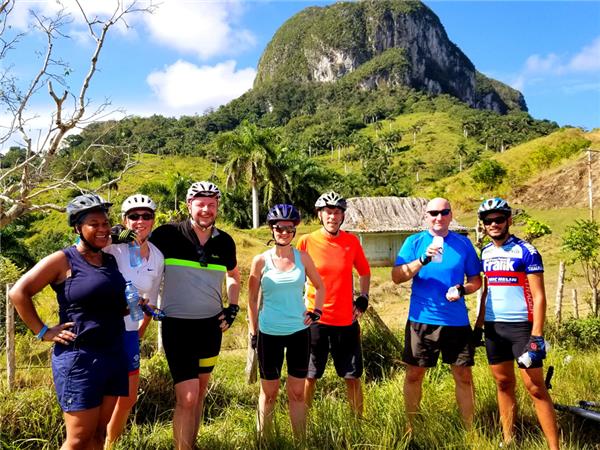 Explore Cuba on two wheels in one week
From
US $

1284

to

US $

1620
7 days
ex flights
Small group travel:
2023: 9 Oct, 13 Nov, 27 Nov, 11 Dec, 18 Dec
2024: 8 Jan, 12 Feb, 11 Mar, 25 Mar, 1 Apr, 8 Apr, 15 Apr, 22 Apr, 27 May, 10 Jun, 1 Jul, 15 Jul, 7 Oct, 4 Nov, 11 Nov, 18 Nov, 25 Nov, 2 Dec, 9 Dec, 16 Dec, 23 Dec
If you'd like to chat about Cuba cycling or need help finding a vacation to suit you we're very happy to help.

Tips from our cyclists in Cuba
At Responsible Travel, we think the best people to advise our travelers are often... other travelers. They always return from our tours with packing tips, weather reports, ideas about what to do – and opinions about what not to.

We have selected some of the most useful cycling in Cuba travel tips that our guests have provided over the years to help you make the very most of your vacation – and the space inside your suitcase.

It is a great way to see Cuba – cycling is hard and hilly at times but we were always looked after by the mechanic cycling at the back of the group and the bus following with water and snacks. People loved to see us and we stayed in small casas.

Excellent, extremely well organised, informative and enjoyable. Great group of people and fantastic local tour leader. Felt safe throughout the vacation. Definitely benefited local people. One thing: be aware that you will have very limited Internet access and facilities are at a different level to what is normal in the UK." - Jane Dutton

"We cycled through the Cuban countryside surrounded by beautiful landscapes and stayed in casa particulares throughout the trip rather than hotels. Definitely need to do some training if you aren't cycling on a regular basis." - Marc de Souza

"Cuba is NOT flat! Very doable, but check out the distance and topography to make sure it is right for your fitness level – though the bus is a nice option to have :-). Bring snacks with you as these are difficult to buy in Cuba. I think the vacation did benefit the local people as we stayed at small casas and ate at local restaurants." - Nicole Ebert

Most memorable for me was the window into the lives of Cubans. I learned a lot from our guide and the staff, but I had the chance to talk to many Cubans throughout the course of the tour.

"Our trip to Cuba was a wonderful blend of spectacular scenery, historical and cultural learning, active exploration, and seaside relaxation. Staying in the casa particulares is an excellent way to get to know Cuban people and to support their entrepreneurial initiatives." - Catherine Feniak

"Most memorable for me was the window into the lives of Cubans. I learned a lot from our guide and the staff, but I had the chance to talk to many Cubans throughout the course of the tour. I will remember Cuba as a place with great untapped potential for economic development and growth. I also loved the music. It is everywhere!" - Cynthia Gilliam

"The cycling was exhilarating, even if there were a few challenging hills. It was also wonderful to learn about the history of Cuba and how Cubans currently feel about the country. Alex, our tour leader, was a wonderful guide. Bring comfortable cycling clothes and clothing for very hot and humid weather. The trip notes are really helpful and an excellent guide to the vacation ahead, and it is well worth reading all the documentation very carefully. Always carry toilet paper and drink lots and lots of water." - Helen Barr

"Our guide Mauro was an excellent ambassador and made the trip interesting and showed us the human side of Cuba. Whether it was biking, eating, music, dancing, tours, or on the bus, he made the trip extra special. Cuba is a beautiful country full of nice people and interesting history. Come with an open mind and a smile. You'll have a great time." - Stanley Hills