CATHOLICISM AND CATHEDRALS IN CUBA
Cuba's cathedrals are free to enter and will often be included on a guided orientation tour as part of a budget vacation itinerary. You don't have to be Catholic to visit and opening hours are usually daily with Sunday morning Mass regularly attended by Cubans and visitors alike.
Havana, Cienfuegos, Santiago de Cuba and Santa Clara all boast beautiful cathedrals and provide prime examples of Cuba's architectural heritage and, once hidden, Catholicism. Baroque, neoclassical and Spanish colonial styles dominate, but it's the little Cuban touches, such as locally-crafted wood decorations and crystal candelabras, and the history of each structure – pirates, earthquakes, disappearing statues – that will make a visit all the more enlightening.
The history of Cuba's Catholic Cathedrals
Cuba was discovered by Christopher Columbus and Catholicism quickly established here, in the early 1500s. Consequently, cathedrals dot the island – 11 in total. Fast forward to the 20th century and Catholicism under Communism in Cuba still existed, but just not out in the open. From 1959 Fidel Castro effectively banned Catholic celebrations, including Christmas – the beast! – and went on to stop Church-goers from joining the Cuban Communist Party as per their atheist ideology; pretty much alienating Catholics from the rest of Cuban society including being banned from jobs such as teaching. Priests and other religious influencers were jailed or exiled and schools stopped teaching religious education. This led to thousands of Cubans leaving the island and starting up new communities in America and Europe.

In the 1980s it was thought that fewer than two percent of Cubans living on the island regularly attended Roman Catholic Mass and discrimination was still widespread. However, fast forward a decade and Catholicism in Cuba was making a comeback with the visit of Pope John Paul II in 1998 helping to thaw relations with Fidel Castro; and a subsequent visit by Pope Benedict in 2012 continuing in the same vein with Raúl Castro. By the time Pope Francis held Mass with tens of thousands of Cubans in Havana's Revolution Square in 2015, there could be no denying that Catholicism in Cuba was no longer underground.
Our top Cuba Vacation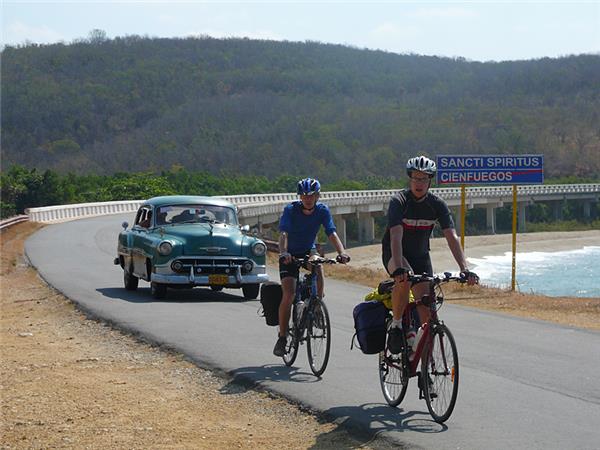 The main sights & stunning scenery
From
US $

3379

to

US $

4079
15 days
ex flights
Small group travel:
2023: 8 Jul, 14 Oct, 11 Nov, 2 Dec
2024: 24 Feb, 23 Mar, 13 Apr, 6 Jul
If you'd like to chat about Cuba or need help finding a vacation to suit you we're very happy to help.

Where to see Cuba's Catholic Cathedrals
Catedral de San Cristobal, Havana
Prior to 1898, when they were moved to Seville in Spain, the remains of Christopher Columbus had been kept in Havana's Cathedral for just over a century. This beautiful Baroque church was renovated in the 1940s and black and white marble flooring, alongside frescoes, paintings and sculptures of saints and Spanish bishops, provide a neoclassical interior that's just as impressive as the façade. Open to visitors on a daily basis including Roman Catholic morning Mass every Sunday.

Where is it? Plaza de la Catedral in Old Havana.

Look out for: Tiny fossilised marine creatures that remain embedded in the coral stone bricks used to construct the original exterior.
Our Lady of the Immaculate Conception Cathedral, Cienfuegos
Originally opened in 1833, under the reign of the Spanish, Cienfuegos Cathedral has become the city's most recognised and best-loved landmark with twin belfries, of differing heights and ages, providing easily identifiable markers. French-inspired arches, neoclassical columns and stained glass windows, featuring the 12 apostles, stand out alongside the main alter, whilst huge ceilings create amazing acoustics. A recent refurb, in 2019, was organised by local patrons to coincide with the 200 year anniversary of Cienfuegos.

Where is it? Historical center of Cienfuegos opposite the Parque Jose Marti.

Look out for: Crystal and silver inlaid candelabras and polished wood decorations lovingly carved by local cabinet makers and carpenters.
Cathedral Basilica of Our Lady of the Assumption, Santiago de Cuba
Previous incarnations of Santiago de Cuba's main Roman Catholic Church being sacked by pirates and damaged by earthquakes on numerous occasions, but the current building has stood since 1922; and the most recent restoration work actually ended in 2015 to coincide with the visit of Pope Francis. A beautiful Baroque facade is matched by immaculate frescos and a painted domed ceiling, and if you're looking for the best vantage point from where to see the city then climb the steps to the terrace or higher, to the tower, for a couple of CUCs, and you won't be disappointed.
Where is it? Plaza Carlos Manuel de Céspedes – aka Parque Céspedes – in central Santiago de Cuba

Look out for: The views over the whole of Santiago de Cuba from the top tower.
Catedral de Santa Clara de Asís, Santa Clara
This neogothic style Roman Catholic Cathedral was built in 1940 as a direct replacement for the colonial Grand Church that had previously stood in the Parque Vidal since 1738. Elegant arches, Art Deco-esque interiors and upper balconies are flanked by stained glass windows to great effect, especially when they catch the light. Keep an eye out for an ancient marble font (pilón) that has been used down the generations to baptise Santa Clara residents – who are subsequently referred to as pilongos.

Where is it? On Calle Marta Abreu, adjacent to the El Mejunje de Silverio LGBT cultural center and just a short stroll from Parque Vidal.

Look out for: The giant statue of the Virgin Mary that was taken from the road to Havana during the Cuban Revolution. The statue disappeared for three centuries until it was finally unearthed from the soil and undergrowth of a ditch in the 1980s and placed at the entrance of the Catedral de Santa Clara de Asís some 15 years later.
Respectful visits to Cuba's cathedrals
When entering a cathedral in Cuba or any place of worship, you'll be required to be as quiet as possible, certainly whilst a ceremony is taking place. Main Mass is held each Sunday morning. Both men and women should dress conservatively, and women may be asked to cover their heads; men's heads should remain uncovered. Standing at the back of the church and observing a service is permitted, but be patient if a service is already under way as you might be requested to wait to enter until an appropriate break in proceedings. Eating, drinking or chewing gum in any church is not respectful.