Walking in Cuba travel guide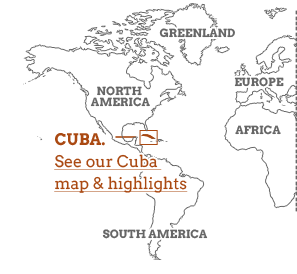 Walking vacations in Cuba are becoming more popular as previously off-limits parts of the island are opening up to tourism, and specialist, English speaking guides are available to reveal the secrets of these stunning natural landscapes. 25 endemic bird species, eerie ruins of slave-built plantations, sombrero-wearing tobacco farmers and Fidel's former HQ can all be found tucked into rainforests, mountain slopes and valleys that buzz with the sound of waterfalls and hummingbirds. Multi day treks ascend to the island's highest peak; day tours explore coffee fincas and natural pools; and two-week walking vacations can take you across the country, hiking each of the highlights along the way, or following in the footsteps of the revolutionaries from the Sierra Maestra to Havana.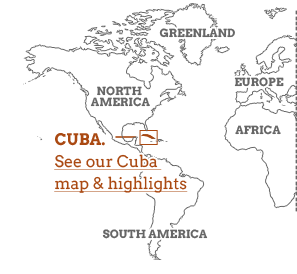 The Caribbean's largest island has three mountain ranges, tropical valleys and bird-filled forests; the best way to explore them is by stepping away from the vintage cars and lacing up your walking boots.

There will be plenty of time to kick back in the colonial cities in between treks, as well as soothing sore feet in the warm Caribbean waters with a day or two at the beach. Find out more in our walking vacations in Cuba travel guide.
Our Cuba walking Vacations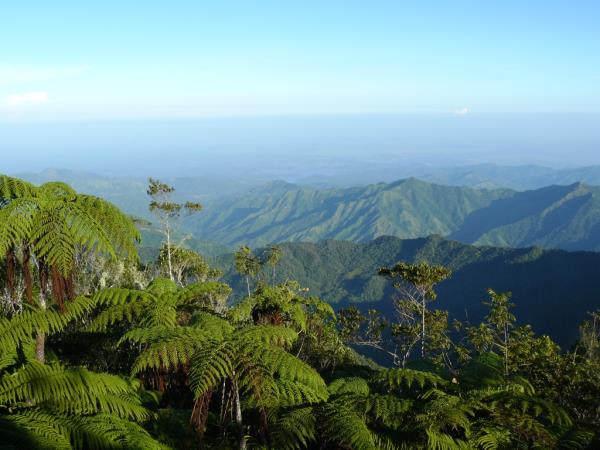 Hiking and exploring the unspoiled national parks of Cuba
From
£

450
4 days
ex flights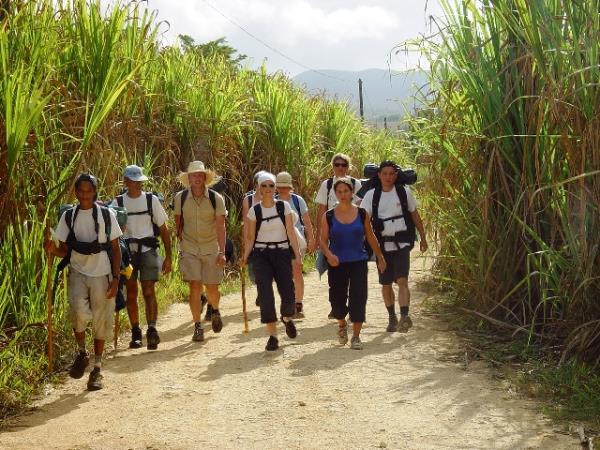 Cuba off the beaten track: Private guided walking vacation
From
£

2725

to

£

3125
14 days
ex flights
BEST TIME TO GO ON A WALKING HOLIDAY IN CUBA

Trekkers will appreciate the cooler climes of November to March, when the Caribbean winter brings blue skies and lower humidity.

As the best time to go on a walking vacation in Cuba is also the busiest season, booking a good six to nine months ahead is advisable. Things start warming up in April, with rains arriving towards the end of the month, or in early May. May can be a good option however as you may still have decent weather, along with fewer crowds and lower prices. Summer sees rising temperatures and discomfort, particularly in the southeast, where some of the best walking trails are located. Heavy downpours, although not daily, can make treks unpleasant – and hurricanes are more likely to occur between August and October.
Our top Cuba walking Vacation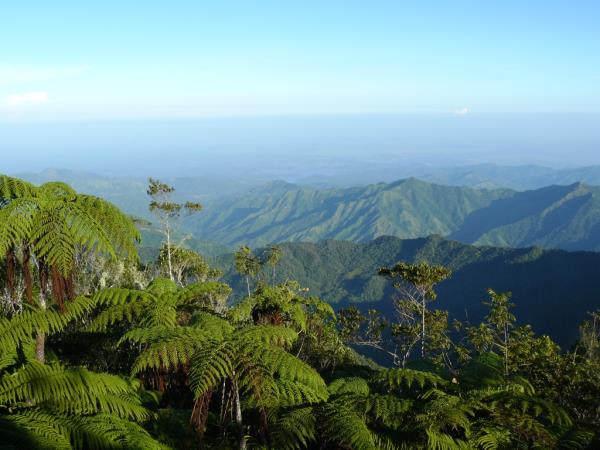 Hiking and exploring the unspoiled national parks of Cuba
From £450 4 days ex flights
Tailor made:
This trip can be tailor made throughout the year to suit your requirements
If you'd like to chat about Cuba walking or need help finding a vacation to suit you we're very happy to help.

THINGS TO DO ON A WALKING HOLIDAY IN CUBA
Things to do…
The Sierra Maestra is a hiking Mecca, and spending a few days exploring these soaring tropical mountains is a must on a walking vacation in Cuba. Shorter itineraries take you through the tropical forests of the valleys to Fidel's former hideout. Three- or four-day treks take you up and over the summit of Pico Turquino – Cuba's highest peak – staying in mountain refuges along the way, and appreciating what the revolutionaries endured during their time ensconced in the sierra.
You won't just be exploring natural landscapes on your Cuba walking vacation; these mountains, forests and valleys have sheltered revolutionaries including Che Guevara and Fidel Castro, along with escaped slaves, meaning that as you trek you will be following in the footsteps of history. Discover abandoned plantations, where slaves were forced to build their own tiny shelters, and the thatched, wooden, Comandancia de la Plata, which was Castro's jungle HQ during his guerilla days.
Cuba's forests and mountains shelter a number of particularly pretty birds. The striking Cuba trogon, known locally as tocoloro, is the island's national bird, and it appears to have been painted in the colours of the Cuban flag. The trogon is one of 25 endemics found here; others include the bee hummingbird, Cuban oriole and Cuban parakeet. A total of 368 bird species have been observed in Cuba; bring your binoculars if you're keen to get a closer look.
Things not to do...
Be ill prepared. Supplies are few and far between in Cuba – particularly in some of the remote areas you may be walking in. Pack sunscreen, sunglasses and a wide brimmed hat, as well as long sleeved shirts and suitable walking shoes or boots, depending on the level of trek you're undertaking. And we'd recommend bringing energy bars or trail mix too – these won't be available in Cuba. Expect people to speak English. Although most guided tours or day trips will include the services of an English speaking guide, English is not widely spoken in Cuba. You should do your best to learn a few words of Spanish in order to be able to communicate with your hosts if staying in casas particulares, to order food, or to chat with people in bars or cafes. Be inflexible. In Cuba, things don't always go to plan – but Cubans believe that everything is possible. That is to say, if a car breaks down, if there is a storm, if something you want is not available – they will find a way around it. This may mean your trip does not go exactly as planned, or some things may take a little longer than anticipated – but this is Cuba, and understanding this process is a big part of learning about Cuban culture. Tranquilo…
More about Cuba walking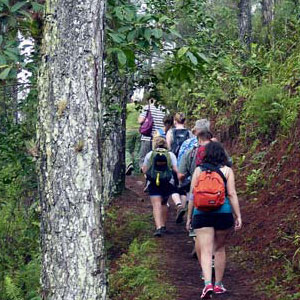 From Sierra Maestra peaks to the tobacco plantations of Vinales, via waterfall-drenched slopes of the Sierra Escambray, discover our top walking routes...