Cuba family vacations guide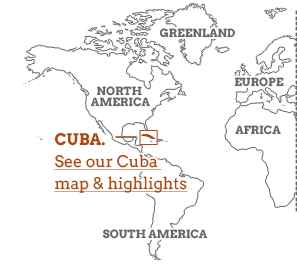 Traveling in Cuba with kids is easier than you might imagine. Self-drive vacations are popular and suit family travel Ė just sling the luggage in the boot, pop the kids in the back and go. A two-week visit reveals historic cities, iconic 1950s cars, giant caves and lush forests with tempting river pools. There is music everywhere, birds and butterflies, and gorgeous, Caribbean beaches lapped by warm seas. All this intertwined with Cubaís fascinating culture and past, from Che to Castro, salsa to cigars. And forget plodding through museums, children can absorb Cuban life organically, by joining dance classes, playing with local kids and staying in casas particulares.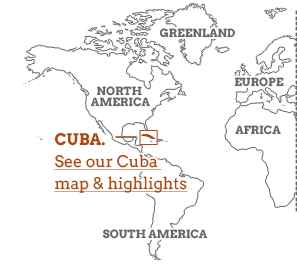 As your kids grow, so do your family travel ambitions. Ready for somewhere adventurous and exotic, where culture meets kid-friendly activities? Try Cuba!

This is a poor country with a rich history. Its people are educated and welcoming, and love children. The infrastructure is shaky, the shops run out of provisions and there isnít much WiFi, but what Cuba lacks in material wealth it makes up for in spirit and beauty. Your kids will get a vacation and an education. Worth a plane ride, surely?
Read on to discover more in our family vacations in Cuba travel guide.
Our Cuba family Vacations
Best time to go on a family vacation to Cuba

With temperatures hovering between 20įC and 35įC and the sea bathtub warm all year, Cuba has a classic Caribbean climate.

Spring is the best time to visit Cuba, in time for the Easter school vacations. Mar-mid Apr is most pleasant: warm and sunny without summerís humidity or storms. A Christmas getaway is good, too, with highs of 27įC (18įC at night), and only six or so days of rain. Prices drop in Jan-Feb, when itís fractionally cooler, too. Be prepared for very high temperatures during the school summer hols. Jun-Aug are hot and humid (32įC on average), with tropical rains. Latin, African and Caribbean cultures combine to ensure festivals happen throughout the year; whenever you come there will be music and dance.
Our top Cuba family Vacation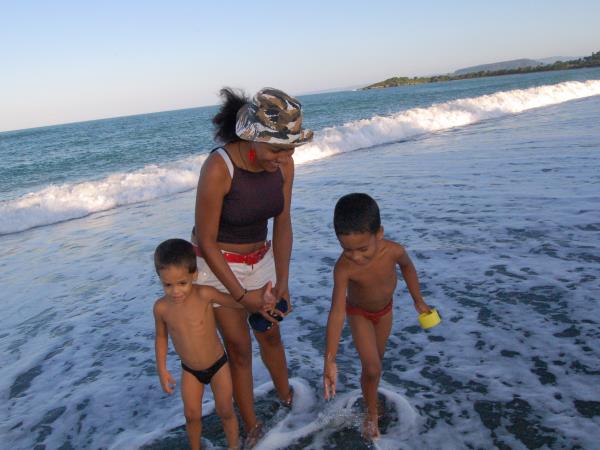 Family vacation Cuba for parents & children
From Ä1450 15 days ex flights
Tailor made:
This trip can be arranged at a time to suit you, and adapted to your requirements
If you'd like to chat about Cuba family or need help finding a vacation to suit you we're very happy to help.

THINGS TO DO ON A FAMILY HOLIDAY IN CUBA
Things to do on a family vacation in Cuba...
A well planned itinerary will help you see the best of Cuba, but once here, be prepared to go with the flow. Let Cubaís relaxed, sociable vibe dictate your pace and try to shrug off any small hiccups or details that donít quite go to plan Ė Cubaís infrastructure is not advanced to Western standards.
Cuba has a fascinating history, but march the kids down too many cobbled streets or Revolution museums and youíre touting for a tantrum. Balance culture with nature, exploration with relaxation. Luckily, in Cuba, thatís not hard. Cave visits, ziplines, beaches, snorkelling and wild waterfalls offset cultural visits to cigar workshops or coffee plantations, and the right tour leader can give even a tour of Havanaís Old City a kiddie-pleasing twist, stopping at the best ice cream places and shady piazzas.
Traveling by car makes a family trip easier Ė no hanging around at bus stops or heaving luggage about, plus you can pull over whenever you see a great beach or fancy a snack break Ė so consider a self-drive vacation. Cubaís roads may have the odd giant pothole and can be poorly signposted, but theyíre never busy and the driving here is, on the whole, straightforward.
Things not to do...
Don't stay in a sleek, characterless all inclusive resort if you want an authentic taste of Cuban life. Instead, book into the small, family run casas particulares that are everywhere. Your vacation company can even book casas with families that have children, too, so your kids have in house Cuban buddies.
Bring your Spanish phrasebook and donít be shy. Cubans are friendly and enjoy a chat. While jineteros hassle tourists for money, particularly on the streets of Havana, the vast majority of Cubans just want to say hello. If youíre staying in a casa particular, a bit of Spanish goes a long way, as owners often donít speak English.
Taking a ride in a classic American car is a Cuba must do, but donít opt for a long trip. Beautiful as they may look, these cars are six decades old, donít have air con and lack seatbelts. Booking one for a short city tour is the best bet.
If you have space in your suitcase, donít forget to bring items to pass on to local people. The US trade embargo still exists, and Cuba suffers from a lack of basic supplies. Pencils, toiletries, clothes, shoes, over-the-counter medicine, sticking plasters and feminine hygiene products will all be gratefully received.
More about Cuba family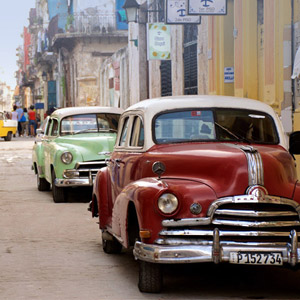 Find the best family activities in Cuba, from snorkelling in the Bay of Pigs and ziplining through a forest to cruising round Havana in a vintage car...