HOW TO TRAVEL AROUND CUBA
Think of traveling around Cuba, and the image of a classic American car might pop into your head, all polished paintwork and chrome, as Cuban as cigars and salsa. But when it comes to planning your Cuban vacation, there are a number of different ways to travel around the island – each with its own pros and cons depending on your budget, interests and group size, as well as how intrepid you're feeling. The buffed-up Buick, it turns out, may not be the best way to get around Cuba after all – but how do you choose between public buses, self drive, private drivers and minivans – combined with taxis and planes?
We've shared a few of the top travel options with you below, with the pros and cons of each. The good news is that you can mix and match these methods of transport on your itinerary, driving some of the shorter stretches, flying or being driven on some of the longer ones, taking city tours in classic cars and choosing to bring a guide with you – or not – depending on your preference and budget.
Self drive
This is one of the most popular ways to get around Cuba. You can see the country at your own pace, stop off where you choose (quick dip in the Caribbean? Don't mind if I do…) and avoid walking around with your luggage. It's also hugely popular with families as it offers plenty of flexibility and an easy way to carry all those extra bags. This is not a budget option though – it is much more expensive than renting a car in Europe, for example. And research is vital. Cuba is big, and if you're planning to cover a lot of ground, you're going to be doing a lot of driving. Some self drive vacations balance out the longer travel days by swapping the car for a bus, or for a flight, and if crossing the whole island it's common to drive one way, then fly back to Havana from Santiago. Have a good chat with your vacation company – they can advise on routes and distances, as well as booking your car rental and accommodation to help things run smoothly.
Road signage in Cuba is notoriously bad; however, GPS means that a self drive vacation in Cuba is no longer as daunting as it once was. Visitors should note that while phones with GPS are allowed in the country, standalone GPS devices require a licence to be imported, and are likely to be confiscated as you go through customs. The
FCO website
has more details. Your vacation company will be able to suggest good and free navigation apps with maps to download onto your phone before you set off; do practice using them at home. It is not recommended to drive at night in Cuba. The roads are sometimes potholed and unlit, and horses and carts, bicycles and pedestrians will all be on the road – and near impossible to see.
Bear in mind that as self drive vacations are becoming more popular, there is a shortage of rental cars on the island; book as far in advance as you can, especially if traveling during peak months. We would recommend booking with an operator that has staff in Havana and that can secure a car delivery in person. Reservations made online rental agencies are considerably more likely to fall through.
Pros
No fixed timetable, easy to stop at points of interest, especially convenient for families.
Cons
Requires booking many months in advance, the designated driver will have to go easy on the mojitos.
Public buses
Cuba's buses are a very pleasant surprise. Viazul is the national bus company and it was designed to cater for tourists, although a few Cubans now use these coaches too, in preference to the rickety local options. The modern coaches are air conditioned with comfortable seats and toilets (of varying standards). They're also incredibly affordable.
You are of course tied to a set timetable (which, unusually for Latin America, is strictly observed) and you can generally only travel between cities and towns – they're unlikely to serve national parks, for example. If you're on a tailor made trip without a guide and are staying in casas particulares, your hosts can meet you off the bus in smaller towns, or will send their own taxi driver in larger cities. Tip: Take plenty of snacks with you for longer journeys, as well as warm layers – sometimes the air conditioning is cranked up just a bit too high. Seats do not fully recline, so overnight journeys are not generally advised.
Pros
Economical, efficient, comfortable.
Cons
Fixed timetables, best for intercity travel, can't stop on the way.
Our top Cuba Vacation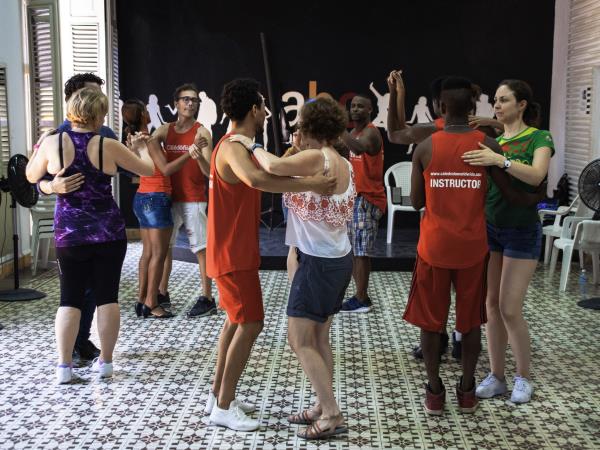 Learn to salsa in Santiago de Cuba
From
£

1875

to

£

1975
15 days
ex flights
Small group travel:
2023: 26 Nov, 15 Dec
2024: 14 Jan, 11 Feb, 8 Mar, 31 Mar, 28 Apr, 30 Jun, 24 Nov, 15 Dec
If you'd like to chat about Cuba or need help finding a vacation to suit you we're very happy to help.

Classic cars
Few things are as emblematic of Cuba as a classic American car, lovingly restored and polished by the owner over decades of embargo-fuelled isolation. Dating back to the 1950s, these pre-Revolution racers include old Chevrolets, Chryslers and Dodges, and in the ensuing decades their ailing engines have been ripped out and replaced, exhaust pipes strapped back on, doors wired shut to stop them falling off, and windows often stuck – either permanently open, or permanently closed. Some vehicles appear to be a number of different cars welded together.
Riding in one of these rust buckets is, of course, a Cuban rite of passage, and one that you must enjoy at least once on your vacation. But do so wisely. Beautiful as they may look, these cars are six decades old – and they feel like it. Cruising along the Malecón of an evening in a convertible Chevy is a dream come true; but fail to do your research and you could find yourself rumbling between Havana and Trinidad, on potholed roads, in a non-air conditioned classic Ford whose windows can't be opened – the stuff of nightmares.

What's more, you'll be paying a premium, the pollution churned out by these engines is phenomenal and they are not legally obliged to have seatbelts – a no no for most family vacations. Hiring one for a day, or booking a classic taxi for a city tour, would be our top tip.
Pros
Super cool profile photos – you won't need to tell anyone where you've been.
Cons
Slow, costly and uncomfortable. Plus, they're environmental disasters.
Vicki Brown writer and editor at Responsible Travel:
"I'd already bought my bus ticket to go to the beach, and was envious when another group of friends told me they'd just booked a classic taxi. I got on my bus the next morning – air conditioned, with comfy seats seemingly pre-reclined, and made it to the beach in no time, feeling very relaxed. My friends turned up red faced and sweating. They'd just spent a couple of hours in the car sliding around on the knackered leather seats, with no air con and windows that wouldn't wind down. They were already dreading the return journey!"
Private driver
The comfiest, quickest and simplest way to travel is, of course, the priciest – but if you can afford to be chauffeured around, or are on honeymoon, for example, this might just be the best option.
There are two taxi options in Cuba: 'official' taxis which are government-owned cars driven by freelance drivers, and 'private' drivers with their own cars. The official cars come with breakdown insurance, so the vehicle will be replaced if you experience problems. The drivers will follow your itinerary to the letter – so if you want any stops at the beach or to take beach or photo stops, these need to be pre-planned. Official taxis are costly as you are paying for the driver, car hire, insurance, petrol and the meals and lodging of your driver if you opt to have him stay in town – but you can arrange for one driver to drop you off and another to pick you up the next day to reduce costs significantly.
Privately owned cars can be modern or vintage. There is no breakdown insurance, so if there is a problem with a car, you'll be relying on Cuban ingenuity to find a replacement; this may not be possible in high season. Your driver will be with you from 9am to 9pm – this time is free for you to do what you wish, stopping wherever you choose. This is a cheaper option, especially if using it over a number of days, though air conditioning costs extra. You'll be expected to pay your driver on arrival, and your vacation company is unable to take liability for this arrangement.
Be aware that your driver is not a guide, and will probably speak only Spanish. You can request an official, English speaking driver guide at extra cost, or you can arrange for registered guides to meet you at each location. If you are traveling in a larger group, there is the option of a private minivan carrying up to between four and nine passengers. These help split the cost, and are much more practical for groups than either public buses or self drive.
Private driver
pros & cons
Pros:
Flexibility, independence, no need to worry about finding your way, minivans available for larger groups.
Cons:
More expensive than other options, weighing up pros and cons of official vs. private.
Combined driver and self drive
Rent a car with a guide or a driver guide, but register your name on the car rental as well so that you have the option of driving the vehicle on some days.
Bus & taxis
If you're opting largely for public buses, then you can also supplement these with taxis to get you to more off the beaten track areas where the buses don't go, or to travel at times of day when there are no buses scheduled. This will still keep costs down, but builds flexibility into your itinerary.
Motorbike
It is not possible to rent a motorbike while in Cuba – but tourists can join organised Harley Davidson motorbike tours with guides. Ask your vacation company for more information.
Larger group travel by private bus: Groups of 10 or more are legally required to travel in a private bus with a National Cuban guide. The buses are very comfortable and of Chinese brand. For this option, homestays are only allowed in a couple of locations, most places require you to stay in a hotel.