National & State parks in California
Rich in stories, colour and excitement, Californiaís National and State Parks contain and preserve the stateís finest landscapes and habitats. Start exploring and youíll discover the state is crammed with the weird and wonderful Ė ancient mountains and fresh plumes of geothermal steam, enormous sequoias and tiny kit foxes, scorchingly arid deserts and cool underwater caves, spiny cacti and delicate California poppies.
The National Park Service has enhanced many of the most beautiful areas with sympathetic, informative visitor centers, trails and campgrounds, making them superb destinations for hiking, kayaking, skiing and other outdoor activities.
Californiaís blockbuster parks are the Redwood National and State Parks, Lassen Volcanic National Park, Joshua Tree National Park, Yosemite National Park, Sequoia National Park, Kings Canyon National Park, Death Valley National Park and the Channel Islands National Park. But the state also has many hidden gems, some of which we highlight below. For detailed information about all the parks, visit
www.nps.gov
The best of Californiaís lesser-known parks and forests
Shasta Cascade - Lava Beds National Monument
Shaped by volcanic eruptions which have rocked this region to the core over the last half million years, Lava Beds is an eerily deserted landscape of lava caves, volcanic tubes and Native American rock art sites. Bats, coyotes, kangaroo rats and many migratory and resident bird species are found here.
Shasta Cascade - McArthur-Burney Falls Memorial State Park
Situated within the volcanic Cascade Range, this is Californiaís second oldest state park. The lovely and very accessible Burney Falls are only 129ft (39m) high but are composed in a graceful arc, with trees above and a clear, misty pool below. Thereís a short, easy-going and well-signposted nature trail in the vicinity of the falls and longer trail around the rim of shimmering Lake Britton.
North Coast - Humboldt Redwoods State Park
This large coastal park includes over 17,000 acres of untouched redwood forests. Leading through it is the Avenue of the Giants, a 32-mile scenic highway lined with massive trees. Among the wildlife found here are tree voles, black-tailed deer and northern spotted owls, whose presence confirms that this is an ancient environment, since old-growth forest is their preferred habitat.
>North Coast - Mendocino Headlands State Park
The grassy, bramble-covered headlands, beaches, islands and sea arches surrouding the town of Mendocino have a wildness thatís typical of the North Coast. They have been protected since the 1970s, to prevent development in this unusually pristine region. Trails lead over the cliffs, which in winter provide a good vantage point from which to spot migrating grey whales.
San Francisco Bay Area - Golden Gate National Recreation Area
Situated just over the Golden Gate Bridge from downtown San Francisco, this highly accessible park is tremendously popular. It covers just over 80,000 acres and is surprisingly diverse, containing bay and ocean shoreline, grassy bluffs and Muir Woods, a forest filled with redwoods, maples, oaks and Douglas firs.
San Francisco Bay Area - Point Reyes National Seashore
This peninsula north of San Francisco is unique: though physically joined, itís geologically separated from the rest of California by a rift zone of the San Andreas Fault. Washed by crashing Pacific waves, its beaches support northern elephant seals and many seabird species. Tule elk are easy to see on its grasslands.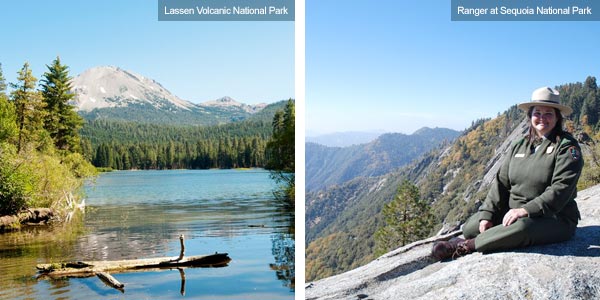 San Francisco Bay Area - Samuel P Taylor State Park
In lovely, rolling, green Marin County, this popular park protects 2700 acres of grasslands and redwood forests. Itís named after the founder of the Pacific Coastís first paper mill, established in 1856. Its most popular hiking route, the Pioneer Tree Trail, leads through old-growth forest, while another trail, the six mile Barnabe Peak Loop takes you to a stepped cascade, the Stairstep Falls.
San Francisco Bay Area - Henry Cowell Redwoods State Park
Beautiful hiking trails lead through the redwoods in this accessible park in the watershed of the San Lorenzo River, near Santa Cruz. While some trees are young, others are well over 1500 years old. A fast-flowing stream, Fall Creek, runs through the park all year round. Lime used to construct houses in San Francisco and San Josť used to be made here and the 1870s limekilns can still be seen.
Gold Country - Plumas National Forest
This large expanse of forest, north of Sacramento, is watered by lively, pretty streams, home to trout and other wildlife. One of the forestís loveliest features is a 640ft waterfall, Feather Falls, a silvery plume of water with a masterfully positioned viewing platform nearby. Thereís a hiking trail to the falls which is a pleasant four hour round trip.
High Sierra - Tahoe National Forest
Thickly forested and laced with river canyons and dotted with hundreds of lakes and reservoirs, this is a region of outstanding natural resources. Straddling the crest of the Sierra Nevada, the forest includes Big Bend, a historic Native American and wagon trail route, and a section of the Pacific Crest Trail.
High Sierra - Ansel Adams Wilderness
Ansel Adams was not only a great landscape photographer, he was also an advocate for the Californian wilderness. The granite mountainscapes named in his honour are steep, craggy and uncompromisingly beautiful, with several glaciers clinging to the uppermost north-facing slopes. This hiking region lies adjacent to the John Muir Wilderness, between Yosemite and Sequoia National Parks.
High Sierra - John Muir Wilderness
Covering a vast, 650,000 acre expanse of snow-capped mountains, lakes and canyons, the John Muir Wilderness is a fitting memorial to its namesake, the 19th century naturalist who spent much of his life campaigning for the preservation of the Sierra Nevadaís unique landscapes. Itís laced with hiking trails which can occupy you for anything from a couple of hours to a couple of weeks.
Central Coast - Pinnacles National Park
The Pinnacles, located near the San Andreas Fault, are the jagged, deeply eroded remains of an ancient volcano which erupted 23 million years ago and has since moved north along the fault line. The park contains an extensive system of caves, formed in the last Ice Age. Prairie falcons and other raptors breed in the area.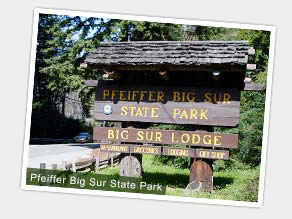 Central Coast - Pfeiffer Big Sur State Park and Julia Pfeiffer Burns State Park
Located about ten miles apart on the most scenic stretch of this dramatic coast, these parks feature shady redwood groves, waterfalls and impressive coastal vistas. In Julia Pfeiffer Burns, the smaller of the two, is McWay Falls, the only major California waterfall to tumble into the Pacific.
On calm winter days, you can sometimes catch a glimpse of grey whales out in the blue.
Los Angeles County - Antelope Valley California Poppy State National Reserve
Late winter rains turn Antelope Valley into a riot of colour each spring. Part of the Mojave Desert, the park features rolling grasslands which look scorched and brown in summer but are lush and carpeted with California poppies and other wildflowers from mid-February to late May. Though close to the city, itís peaceful, which benches to allow you to relax and absorb the scene.
Los Angeles County - Malibu Lagoon State Beach
Formerly known as Surfrider Beach, Malibu Lagoon State Beach was declared the first World Surfing Reserve in 2010 in a move to protect this stretch of coast and the topography that creates its superb waves. As well as being one of Californiaís prime surfing destinations, this is an important habitat for migratory birds, which stop over in the lagoon at the mouth of Malibu Creek.
Orange County - Crystal Cove State Park
Protecting the woodlands, headlands, cliffs, sands and tidepools of a beautiful, three mile stretch of coastline, this park faces a 1400 acre marine conservation area. For visitors, itís a great place for leisurely horse riding, mountain biking and watersports. Wildlife-watchers can find many reptile and amphibian species here, including Pacific tree frogs and San Diego horned lizards.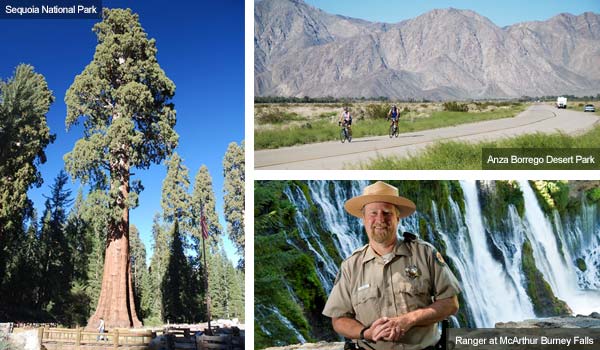 The Deserts - Mojave National Preserve
Situated between Los Angeles and Las Vegas, this is a diverse, sweeping expanse of arid canyons, mountains and singing dunes. Arid though it is, there are just enough natural springs to support hardy plants such as cholla cacti and Joshua trees. On the few occasions that rain comes, the plains burst into flower.
The Deserts - Anza-Borrego Desert State Park
Named after the Spanish explorer Juan Bautista de Anza and the borrego or bighorn sheep, a species that thrives here, this park is a section of the Colorado Desert. Itís characterized by wide open vistas of rock-strewn, scrubby slopes under huge skies. As well as native sheep, kit foxes, roadrunners, coyotes and golden eagles can be seen here.
San Diego County - Torrey Pines State National Reserve
Itís easy to forget youíre minutes away from the city of San Diego in this wild and beautiful coastal park near La Jolla. Around 2000 acres in extent, itís an expanse of coastal sage and chaparral, dotted with the rare, fragrant, open-crowned pine trees that give it its name. Rangers and volunteers organise short guided nature walks on Saturdays, Sundays and public vacations.
Responsible Travel would like to thank the California Tourist Board for their sponsorship of this guide