Nature and wildlife in California
The spectacularly diverse landscapes of California's wilderness areas, parks, farmlands, coasts and gardens provide habitats for an impressive variety of sea life, land animals and birds. Many of these creatures are conspicuous and easy to spot if you get the timing right.
Habitats
Ocean and California beaches.
California's waters and shores offers superb wildlife-watching opportunities, including whale-watching, birdwatching, scuba diving and tidepooling. The cool but nutrient-rich Pacific ocean supports healthy populations of fish, crustaceans and molluscs which in turn feed an abundance of seabirds and marine mammals.
Estuaries and wetlands
. Only a few of California's major river mouths and wetlands have been left undeveloped, but some are protected, providing feeding and breeding areas for migratory and resident birds. Good examples inlcude Bolinas Lagoon in Marin County, Palo Alto Baylands Nature Preserve in San Francisco Bay, Elkhorn Slough near Monterey, Bolsa Chica Ecological Reserve in Orange County and San Elijo Lagoon Ecological Reserve in San Diego County.
Coastal meadows and hills
. The grassy coastal meadows and tangled, ferny woodlands of laurel, oak and alder harbour butterflies, weasels, foxes and deer. Tule elk, once critically endangered, were introduced at Tomales Point at Point Reyes National Seashore in the 1970s and are now flourishing.
Desert grasslands
. Though plain and brown for much of the year, it doesn't take much spring rain for the arid grasslands to burst into glorious technicolor. When the wildflowers are in bloom, between February and May, the grasslands are abuzz with insects, reptiles and birds. To see a sea of iconic California poppies in full bloom, head for the Antelope Valley California Poppy Reserve near Lancaster in northern Los Angeles County.
Rivers and lakes
. The Sacramento and San Joaquin rivers and their tributaries run through California's agricultural heartland, but despite widespread development many parts of their banks still support ducks, geese, teal, kingfishers and other freshwater birds, along with mammals such as skunks and raccoons. Lakeshores are good places to see bald eagles and other raptors. Mono Lake, east of Yosemite, is one of several lake habitats which have been threatened over recent decades by plans to divert water for domestic or agricultural use. Following a successful conservation campaign, its water supply is now protected.
Sequoia forests
. California's mighty sequoias, Sequoia sempervirens (the coast or California redwood, common on the North Coast and parts of the Central Coast) and Sequoiadendron gigantem (the giant sequoia, found on the western slopes of the Sierra Nevada), are the state's most distinctive trees. Sequoia forests are very shady and harbour fungi, ferns, snails, porcupines, mink, deer, mountain lions, ospreys and owls.
Mountains
. The majestic Sierra Nevada contains several climate and altitude zones, featuring alpine wildflower meadows, chaparral and forests of pines, oaks, dogwood and willows, home to ground squirrels, marmots, jays, owls and black bears.
Deserts
. Conditions are harsh in the desert, but plenty of hardy plants survive here. They include cacti; sagebrush, a fragrant herb; creosote, a shrub with puffy yellow flowers; and Joshua trees, a distinctive yucca with clumps of spiky leaves. In spring, the deserts are carpeted with wildflowers. California's desert-adapted wildlife species include kit foxes, coyotes, bighorn sheep, desert tortoises and kangaroo rats.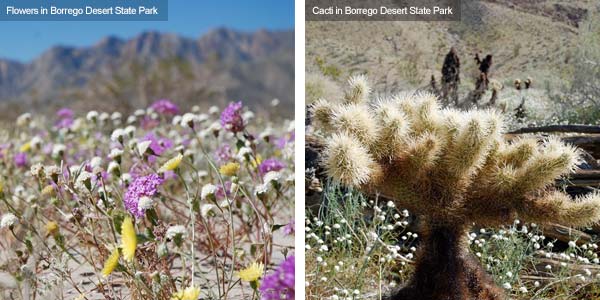 Birds
Parrots
Of California's six species of wild parrot, none are native to the state. Lilac-crowned parrots, yellow-chevroned parakeets and red-masked conures are well adapted to city life: San Diego, Santa Barbara, and San Francisco, they travel in loud, squawking flocks that can usually be heard before they're seen.
Condor
. With a wingspan of up to 10 feet, the California condor is the largest flying bird found in the state. This endangered species was recently on the verge of extinction but, thanks to an ambitious conservation programme run by the US government and San Diego Zoo Safari Park, condors are slowly making a comeback. Captive-bred birds have been released in the mountains of the Central Coast from Big Sur to Ventura County and are beginning to increase in number.
Albatross and pelicans
. These sea birds can be found throughout the coastal region. The albatross is more elusive than the pelican. Pelicans can usually be spotted on piers and beaches popular with fishermen.
Egrets and herons
. These elegant, long-legged birds look very similar, but their coloring is the easiest way to tell them apart. Herons are usually gray and egrets are white. They hunt fish in the tall reeds of marshes, lakes and sloughs all over the state.
Woodpeckers
. Found in wooded areas and forests, woodpeckers can usually be seen clinging to the side of a tree hammering away at the tree bark. Their distinctive tapping noise makes them easy to spot.
Turkey
. These non-native birds were originally brought over from Texas to be used for hunting. They can now be found in less populated places and wooded areas all over the state.
Who pays for conservation? The answer is partly you, through your Park fees and the local businesses you support that justify conservation at the tax payers expense
Land Mammals
Bighorn sheep
. Bighorn rams have large, curved horns which can weigh up to 300lb (14kg). California is home to mountain and desert species, both of which are proficient at climbing steep terrain. The mountain sheep are found in the Eastern Sierra and the desert sheep are found in Southern California in the San Jacinto Mountains and Anza-Borrego desert.
Black bears
. The grizzly bear that strides across the California flag is no longer found in the wild this far south. However, black bears live in the mountains of the North Coast, the High Sierra and the San Bernadino Mountains. They are very smart and have learned how to break into cars, access locked trashcans and make away with food while campers aren't looking. When hiking or camping in areas with black bears you should carry mimimal amounts of food or scented hygiene products and put everything into a bear-proof canister.
Coyotes
. Found in populated and rural areas throughout the state, coyotes can range in size from 20 to 50 pounds (9-23kg). Though widely distrusted, coyotes will usually shy away from humans.
Mountain lions
. California is prime mountain lion territory, with an estimated population of 4,000-6,000. Deer is the mountain lion's main prey, so if you are in the foothills or mountains and you see deer, there's a good chance that a mountain lion will be nearby.
Deer
. There are nine different species of deer in California. Deer can be found throughout the entire state except for the Central Valley and the deserts.
Elk
. Tule elk are unique to California. Although they're the smallest elk species, they're substantial: males weigh 450-550 pounds (204-249kg), about three times the size of a deer. They're found in the southern part of the Eastern Sierras, the grasslands and marshlands of the Central Valley, and the grassy hills of the North Coast.
Wolverines
. These rare animals are difficult to spot, so much so that there are webcams set up to try to observe these elusive creatures. If you're feeling lucky, head for the North Coast and Northern Sierras, which are the best areas for wolverine watching. Foxes Grey foxes and red foxes can be found all along the coast from San Diego to Marin County, and California also has several rare specie and subspecies. Catalina and the Channel Islands are home to the unique island fox. Originally descended from the Grey Fox, the island fox has evolved to become very small, about the size of a domestic cat, but lighter. They're so isolated that each island has a separate sub-species. The deserts are home to kit foxes, an even smaller species.
Wild boars
. Most numerous in the Central Coast, these animals can also be found in the Western Sierras. Wild boars are not native to California, but are believed to be descended from farm animals that turned feral. Boars come in many different colors and are quite large, weighing anywhere from 100 to 150 pounds (45-68kg).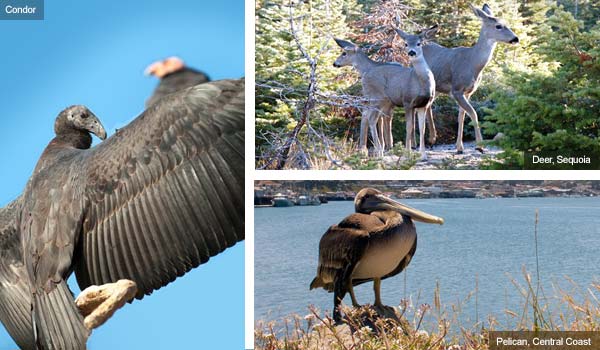 Reptiles
Desert tortoises
. Native to the Mojave Desert, desert tortoises can survive in climates where the ground temperatures can reach as high as 140°F (60°C). They are rarely seen in the wild as they spend about 95 percent of their time sheltering from the sun in burrows which they dig with their clawed feet.
Rattlesnakes
. Rattlesnakes are abundant and widespread in California but thanks to their trademark rattle they are usually easy to spot and avoid. There are seven different species, all of them venomous. They can be found in all types of terrain from the tall grass of the flatlands to the rocky Sierras.
Marine animals
Seals and sea lions
. Harbour seals and California sea lions are easy to spot frolicking in the waves or soaking up the sun on piers, beaches or buoys on the Pacific coast. They're present all year, typically breeding in Southern California from May through to July and spending the winter months further north. On the whole they prefer quiet resting places, away from human interference, but there's a famous colony of sea lions at San Francisco's Pier 39.
Elephant seals
. These massive creatures can be spotted onshore during their breeding season (December to March), notably on the beaches of Ano Nuevo State Reserve, north of Monterey Bay in the Bay Area, and Piedras Blancas Elephant Seal Rookery near San Simeon on the Central Coast, 160 miles south. Males, which can weigh over 8,000 pounds (3630kg), have a distinctive large, crooked nose that looks like it suffered from a case of elephantitis. When the breeding season is at its height, males issue their battle cries, challenging rivals to fight, while protective females and their apprehensive pups dance around the beach in an ungainly attempt to avoid trouble.
PODCAST: Elephant seals
Jim, volunteer with the Friends of the Elephant Seal, talks about when you can see these amazing creatures at Piedras Blancas rookery, near San Simeon. [04:32]
Sea otters
. This endangered species is part of the weasel family and is one of the smallest marine mammals. Otters are cold water lovers and can be found year-round playing in the kelp beds of the ocean off of the central coast. A large group lives off of the coast of Big Sur; you can kayak, snorkel or scuba dive among them in Monterey Bay.
Dolphins
. Eleven different species of dolphins can be found in the Californian Pacific including common, white-sided and Risso's dolphins. It's common to see pods of five to 50 dolphins swimming aside large boats or playing in the wake.
Whales
. Several migratory species of including blue, gray and humpback whales pass the Californian Pacific twice a year, traveling between their winter breeding grounds, Baja California in Mexico, and their summer feeding grounds in the Arctic. As each species and group chooses a slightly different time to travel, you can have a go at whale-watching from a clifftop vantage point or a boat anywhere along the coast, at almost any time of year. Most gray whale sightings occur from December through to March, April through to June is good for humpbacks and blue whales are more commonly seen from July through to September. The Santa Barbara Channel, between Santa Barbara and the Channel Islands, is one of the best whale-watching areas. As whales travel north from Mexico, the islands channel them close to the mainland making sightings common. The first sign of a whale is usually its spout, which can be visible for miles on a clear day. With luck you may also see a whale breaching and slapping its tail.
Sharks
. California's ocean waters are home to many shark species including harmless leopard sharks and the great white, an apex predator. These can be found throughout the region but are most prevalent in the fall when seals, sea lions and elephant seals with young are migrating. From September through to November a large number of great whites lurk in the Gulf of the Farallones National Marine Sanctuary, a few miles offshore from San Francisco. Shark warnings are occasionally issued on the Californian coast but attacks are very rare.
Written by Emma Gregg and Katie Cook
Responsible Travel would like to thank the California Tourist Board for their sponsorship of this guide