Wildlife vacations to Vancouver Island
Vancouver Island is a hyperbole of an island. This oversized platter of temperate rainforest, mountains, salmon rivers, craggy coastlines and beaches leaves people simultaneously breathless and babbling. And wildlife vacations to Vancouver Island are the exclamation mark on top of a triple-underlined adventure.

When the powers that be were giving out landscapes and wildlife in Canada, they weren't messing around when they got to Vancouver Island.

You might be startled out of sleep by the sound of humpbacks snorting off the starboard side; kayak coastlines where bears browse clam-packed beaches and wolves lurk at the treeline; hear an eagle screech through the mossy, misty rainforests of Pacific Rim National Park; witness salmon streaming from the island to the mainland via the orca-packed gauntlet of Johnstone Strait.
But it might just be the enthusiasm of your tour guides that steals the show. Their love for this intertidal landscape and the creatures in it is heart-stealingly honest. Go on an organised tour, and you'll be matched up with the best of the best: biologists, ecologists and conservationists who can teach you about the stupendous recovery of humpbacks since whaling was banned, and the struggle of malnourished orcas.
Read on to find out how you can kayak with orcas, sail whale waters and meet bears on their terms on a Vancouver Island wildlife vacation.
How to see wildlife on
Vancouver Island
There's no two ways about it – you'll need a great guide to see all the wildlife you can on Vancouver Island. Small group tours match you up with a guide and a group of fellow wildlife watchers. You'll usually be among six to 13 people who are just as excited about seeing that fluke of a whale as you are. Meanwhile, tailor made trips are designed just for you; they're great if you'd like more control over the accommodation and itinerary. Either way, transport, lodgings and some meals will all be included.
Hike the Pacific Rim National Park
The Pacific Rim National Park Reserve lazes for 130km along the center-west coastline of Vancouver Island. Centuries-old First Nation trading routes inspire the whale-view West Coast Trail, which strings together wild beaches and a serrated coastline once notorious for its shipwrecks. Other trails dive deep into the bear rainforests, where wooden boardwalks zigzag between giant red cedars and hemlocks strung with moss and lichen.

The remoteness of some communities is astounding. Inaccessible by road, many rely on boats and seaplanes.

Most wildlife vacations to Vancouver Island put you up in a wooden lodge or campsite near surfer town Tofino. From here, your guide will show you the best hiking and kayaking routes for wildlife viewing. They'll also put you in touch with the best whale watching companies – or show you the secret cove where you might spy humpbacks from the beach.
Kayak the island's islands
There's nothing quite like sitting at eye-level with an orca as it cuts past your kayak on its way to its feeding grounds. To the cetaceans, you're as inconsequential as a gull on the wave, so you'll get to see the whales behaving just as they would without your gaze on them. Most kayaking trips head for the calm waters of the Inside Passage, where orcas hunt salmon every summer, or towards the south, where orcas travel between the Canadian Gulf and USA's San Juan Islands.

This is some of the most scenic kayaking country in the world. You'll paddle through island-splattered ocean, and past papercut mountains, rainforest-fringed beaches and rocky coastlines.

But it's not just about the filmstar fins. Black bears wander down to tide pools, supremely unbothered by you watching from your kayak. And a paddle into one of the thousands of coves chipped out of the coast reveals peacock-blue starfish, giant jellyfish and – if you're lucky – flicker-fast wolves. Children are born with skis on their feet and a paddle in their hand in British Columbia, so your guide will effortlessly reveal the most sheltered passages and campsites, depending on the whims of the tides and weather.
Sail the Inside Passage
The Inside Passage has a reputation that precedes it – a historic sheltered trading route that squeezes between Vancouver Island and mainland British Columbia. The Johnstone Strait and Blackfish Sound sit at the north end of Vancouver Island, a bottleneck of ocean that doubles as one of the best places to find orcas and humpbacks in the world.

The current of churning, metre-long Chinook salmon is as impressive as the predators that stalk them.

Here, hundreds of whales and orcas gather to feast and fluke, bubble and breach. It's also the stomping ground of handsome Pacific white-sided dolphins, Dall's porpoises, seals and sea lions, supersized sea otters and bald eagles. Approach the Inside Passage the traditional way – on a classic schooner, for instance – and you'll dock in calm bays where landlubbers like black bears pad along the coast at twilight.
Our top trip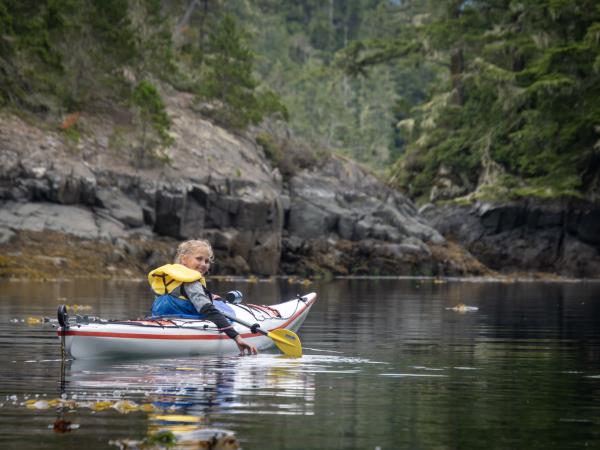 The perfect family adventure in a wilderness paradise
From
CA $

1995
4 days
ex flights
Small group travel:
2024: 21 Jul, 27 Jul, 2 Aug, 8 Aug
If you'd like to chat about Canada wildlife or need help finding a vacation to suit you we're very happy to help.

Some wildlife vacations stick solely to Vancouver Island. You might spend six days sailing the Inside Passage or four days kayaking in orca waters. Other vacations include a few days on Vancouver Island as part of a larger Canadian adventure.
The best time to see wildlife on Vancouver Island is during the summer salmon run – that's July to September. Orcas, bald eagles, wolves and bears follow in their wake, plus it coincides with the humpback and grey whale migration.
Pack binoculars, sun cream that's both reef-safe and biodegradable, and all-weather clothing. You'll soon discover why Vancouver Island wears a rainforest cloak.
Accommodation includes locally owned hotels where possible, wilderness hostels for budget seekers, and eco-friendly base camps with canvas tents overlooking the water. If sailing, you'll probably have a private cabin with a shared bathroom.
Animals make their own schedule, so – as with a Kenyan safari or Antarctic expedition – sightings are never guaranteed. But you'd be in the tiny minority if you didn't see anything; this is one of the most wildlife-heavy areas in the world.
The grub on Vancouver Island is a surprise highlight. Wake up with Quadra Island coffee, discover why salmon tops every BC menu (from salmon burgers and candied salmon snacks to salmon tacos and salmon sushi) and crack into homemade cherry pie.
More Canada wildlife articles