Catalonia highlights
---
Make the most of your time
One of the most relaxing things about Catalonia is that you can leave the car behind and not need to worry about driving on foreign roads or indulging in one too many post-dinner herbal liqueurs. An excellent and affordable network of trains – including shiny, new, high-speed versions – transport you away from your arrival point, leaving your tour operator to organise local transfers only. You can base yourself out of a single town or village, or cycle from place to place – arranging for your bags to be carried separately. Not only are the distances short, but the variety is immense – you can go from beach to mountains, forest to rice paddies in just a couple of hours.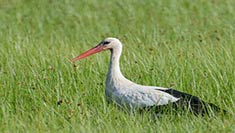 Aiguamolls National Park
This bird sanctuary is filled with hides to help you spot the many species that inhabit this thriving wetland, sitting between the estuaries of two rivers. Look out for ibis, herons, pochards, snipes and tufted ducks. Successful conservation efforts have seen the reintroduction of the white stork and the purple gallinule; visit in spring or autumn to catch sight of the migratory species.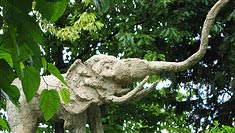 Baix Empordà
With blue flag beaches, rugged coves, ancient villages and quaint castles, central Costa Brava lives up to its name – the Wild Coast. The industrious locals produce cheese and some of the best ceramics in Spain; the cuisine focuses on local, seasonal produce. The castle in Púbol was bought by Dalí for his wife, Gala; his curious elephant sculptures inhabit the gardens.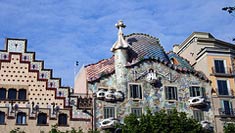 Barcelona
It's one of Europe's – if not the world's – most hyped cities, but we just can't fault Barcelona. The sun-drenched, beachside regional capital boasts vibrant markets, street performers, awesome architecture, world-class restaurants, astonishing art and nightlife to keep you entertained til dawn. It epitomises the Spanish good life, managing to be both packed with excitement yet laid back and Mediterranean.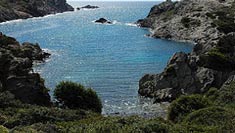 Cap de Creus
Mainland Spain's easternmost point is a picturesque headland of crystalline bays, tumbling towns and eroded rocks that are said to have inspired Dalí's surrealist paintings; visit his house near Cadaqués, a fishing village he described as "perfect and dreamy". The Monastery of Sant Pere de Rodes is an awesome sight, and boat trips around the coast reveal colonies of monk seals.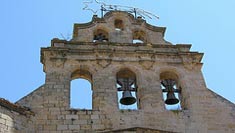 Ebro Delta
The Ebro River flows through the medieval city of Tortosa, past quaint Horta de Sant Joan – which inspired Picasso's earliest Cubist works, and beneath mighty mountains topped with Alpine forest and swooping eagles. It empties into the Mediterranean, filtered through rice paddies. You can cycle, hike, trek up mountains, watch birds and relax on the beach – yet this region remains unknown, even to most Catalans.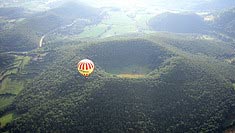 Garrotxa Volcanic National Park
In the foothills of the Pyrenees, the surreal volcanic landscape of Garrotxa is a stunning introduction to the mountains for those traveling up from the coast. The best views are from the air; hot air balloon trips can be booked to see the 40 extinct volcanic cones and lava flows from the air... The rich volcanic soil has allowed forests to flourish. Base yourself in the cultural town of Olot for easy access.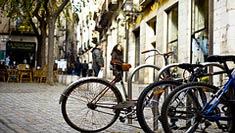 Girona (city)
Glamourous Barcelona leaves a lot for other cities to live up to. But those who penetrate the walls of ancient Girona will find a city with plenty of charm – and none of Barcelona's crowds. The Medieval Quarter is actually a relatively "modern" district – parts of Girona date back to Roman times. The Jewish Quarter is one of the most picturesque; visit the Ramblas, market places and cafes for a true taste of urban Catalonia.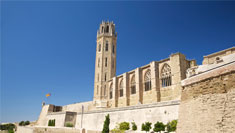 Lleida
This mountainous province may be little known to travelers today - but Romans, Moors and Spanish were wrestling over Lleida's fertile land as long as 2,000 years ago. The ancient architecture - some UNESCO rated - contrasts with the natural splendour of the Aigüestortes – Catalonia's largest national park. Ski, raft, hike and bike through jaw-droppingly gorgeous Pyrenean scenery, including over 150 lakes fed by the mountains' meltwaters. See our guide to
Lleida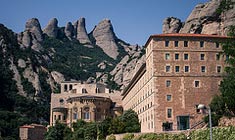 Montserrat
Montserrat Monastery is a site of pilgrimage for Catalans as well as tourists. It sits almost at the top of a 1,236m high mountain, standing guard over the surrounding lowland plains. The cable car ride may seem like the easy option, but it's still stomach-churningly high! If that's not enough, you can hike the surrounding peaks – be sure to take a map. As well as its impressive location, Montserrat is famous for its Black Madonnas.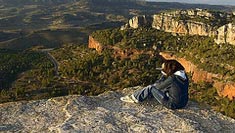 Montsant Natural Park
Just a short drive from the Tarragona coast, the strange form of the Sierra del Montsant feels like another world. The foothills 'Sacred Mountains' conceal the ruins of the 12th century monastery of Scala Dei, where monks cultivated crops on the steep mountainsides for centuries. Guided walks in the mountains reveal a wealth of biodiversity in this well preserves park, or trek to the peaks, which reach up to 1,163m.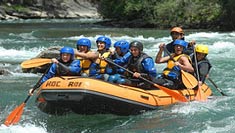 Pallars Sobira region
Outdoor adventurers should head to this sparsely populated region. The Nogueres Pallaresa River is the hub of many activities here, including whitewater rafting, kayaking and swimming – as well as abseiling and canyoning down the canyon walls. There are hiking, mountain biking and horse riding trails for all abilities; the small town of Sort makes an excellent base, especially during its July festival.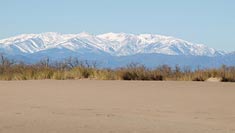 Sant Pere Pescador
In the Costa Brava's northernmost region of Alt Empordà, this picturesque little village is sandwiched between countryside and coast, on the banks of the River Fluvià. Nature trails explore these varied landscapes and the birds that inhabit them, while the flat scenery lends itself to gentle bike rides. Take a detour to St Pere beach, which has 6km of sand dunes; windsurfers sail offshore.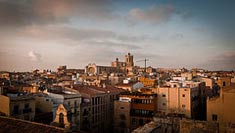 Tarragona
A historical city backing onto a beach, a Roman coliseum alongside tapas-bar filled plazas, Tarragona is a city for unwinding and unravelling, as you stroll through the ancient streets. The many Roman ruins are a UNESCO site; for livelier sights come and see the human castell towers being built, or the firework festival each July.
Travel times in Catalonia
---
The following times give you a rough idea of the driving times between the main attractions in Catalonia.
Barcelona – Girona: 35 mins by high speed train
Barcelona – Tarragona: 35 mins by high speed train
Barcelona – Tarragona: 1hr 20 mins by standard train
Barcelona – Figueres: 2hrs by standard train
Girona – Figueres: 35 mins by standard train
Barcelona – Montserrat: 90 mins by train and funicular