Walking around the Catalan province of Girona is best described as 'rewarding'. It seems like virtually every trail, every disused railway line, each orchid-clad riverbank has a little prize at the end of it – whether that's a stunning view from a mountaintop castle, a glimpse of pink flamingoes feeding in the wetlands, or a Mediterranean cove, hidden from sight. As our walking vacations in Catalonia travel guide explains, most trips here are self guided, meaning you can linger at the points along the trail that interest you most, whether that's a Benedictine monastery, a fantastic local seafood restaurant or the Mediterranean sea – complete with mask and snorkel. Accommodation ranges from boutique hotels in medieval villages and converted farmhouses to 4* beachfront hotels – and your luggage will be transported for you between each one. You'll be given detailed maps, numbers to call, restaurant recommendations, sightseeing tips, tailored routes… all that's left is for you to put one foot in front of the other, and admire the changing scenery, day after blissful day.
Best time to go walking in Catalonia
---
Temperature & rainfall
May, June, September and October are the best time to go walking in Catalonia as temperatures are pleasant and the humidity is low; the dry air results in clearer views from mountain and clifftops, as well as more comfortable walks. The higher you go, the cooler it will be – so the Pyrenees are the place to be in high summer – although you can plan shorter walks along the coast, safe in the knowledge that there will be a secluded cove to take a dip in at the end. The province of Girona is rarely busy with tourists – but those that do come will be here in July and August, leaving the rest of the year for walkers and cyclists.
September is still warm, and the towns and villages burst into life with food, wine and medieval festivals; have a chat with your vacation company to find out what's going on and when.
Best places to go walking in Catalonia
---
Map & highlights
The northeastern province of Girona is our walking vacation hub in Catalonia – and it's not hard to see why. Snow dusted mountains and idyllic bays sit virtually side by side – with natural parks, medieval villages and artsy towns forming convenient start and end points for each day's walk. Most routes are between 12-16km, leaving plenty of time for lunch and to explore each new destination. Most walking vacations will see you walking from point to point each day, while your luggage is transferred for you to each new hotel in time for your arrival. Alternatively, center based walking vacations mean you'll stay in two different places over the course of a week, heading out each day to walk along a different trail. You'll be provided with excellent route maps, numbers to call in case of difficulties, and often a pre-programmed GPS as well.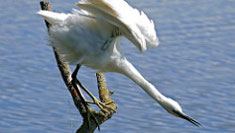 Aiguamolls & ancient ruins
Walk along the Fluvia River to where it empties into the marshes and coastal lagoons of Aiguamolls Natural Park. This wetland is a haven for birds including spoonbills, herons and flamingoes. The nearby Greek and Roman Ruins of Empuries are one of the region's best kept secrets; you can easily spend several hours exploring this impressive archaeological site just metres away from the beach.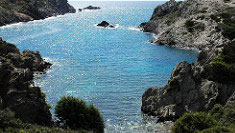 Cap de Creus
Some of Girona's most enticing walks are found on this rugged headland jutting out into the Mediterranean – incorporating dramatic landscapes and ancient and more modern cultures. Routes of around 12-16km take you to Dali's former home near Cadaques, around the coves and cliffs of the Cap de Creus Natural Park, up to hilltop monasteries and ruined castles, and back down to charming fishing villages.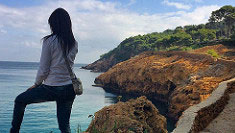 Camins de Ronda
This coastal trail was once a smugglers path; today it takes you to some of the Costa Brava's last undeveloped beaches, as well as castles, botanical gardens and a lighthouse – all while hugging the rugged coastline. You can complete a 25km trail at a leisurely pace over two days, leaving plenty of time to explore the whitewashed fishing villages, enjoy the fresh seafood, and swim off the sandy shore.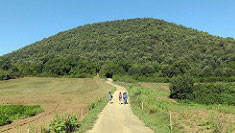 Garrotxa Volcanic Natural Park
These volcanic landscapes provide virtually unlimited wandering possibilities. The park encompasses 20 volcanic cones and 20 lava flows, and several picturesque towns are encircled by the park, including Olot and the precarious-looking clifftop town of Castellfollit de la Roca. Historic footpaths, known as Itinerànnia, include trails followed by shepherds and monks, as well as by villagers on their way to Mass.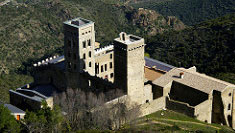 Sant Pere de Rodes Monastery
Constructed in the 10th century, this Romanesque monastery perches high up on Spain's most easterly headland, rewarding those who climb up to it with views across the Mediterranean, tiny islets, rolling countryside and the Pyrenees. The high, vaulted church, bell tower and defensive tower have all been restored, and the mysteries surrounding monastery's origin are all part of its appeal.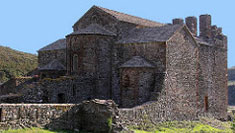 Sant Quirze de Colera
This 9th century Benedictine monastery sits in a protected nature reserve in a wide valley surrounded by the Albera Mountains – the easternmost section of the Pyrenees. It takes around six hours to complete a circuit from here around the reserve, trekking along mountains ridges to take in the stunning views of the valley and as far as the French Pyrenees. Look out for orchids along the riverbanks.


Catalonia walking advice
---
Tips from our friends in Catalonia
Steve Clifford, from our supplier Catalan Adventures, rounds up his top tips for walkers in Catalonia below:
Tips on the best time to go
---
"My favourite months are May and October because they are usually nice and warm, they're not too hot for walking, there's not much humidity in the air so the views are beautiful, they're very clear. If you come in May you've usually got the snow still on top of the high Pyrenees while you're walking in the sunshine. It's 22, 23 degrees and you've got the snow capped mountains in the background, which is quite nice."
Keeping in personal
---
"A lot of our customers comment that the welcome meeting is a very nice thing; actually collected by a guy who will take them to the first accommodation and sit down and go through all the notes. There are a couple of bigger companies where it's just a taxi driver and you get an information pack then you're dropped at a hotel and you're on your own. We can do that because we live here and work here and we've got the local knowledge – and I think the customers really appreciate that. It gives them confidence – because quite often this might be their first or second walking vacation and they're a bit nervous. To have someone who's knowledgeable, to be able to sit there and go through things with them, and be contactable as well which is important. It's nice for us as well – at the end of the vacation we get a big hug sometimes, some of them are almost a little bit tearful!"
Boots or shoes?
---
"A lot of customers come in walking shoes and not walking boots. It's personal choice, but a lot of the walks are rugged and I personally believe you should have boots with ankle support. We have had quite a few people that have gone over on their ankles a little bit over the years and they've all been wearing walking shoes."
Walking poles
---
"You don't need two, one pole is very, very handy when you walk along the rugged coastline, especially when you're coming downhill, just to take a little bit of weight off your knees. Some people go to pack and they realise their poles don't fit in their suitcases so they don't bring them. A lot of people turn up and ask if we have any walking poles for hire. So bring poles, but buy poles that will fit into your suitcase! It sounds like a daft thing, but they are good, walking poles. Especially on the downhill sections – it gives you a bit of balance and takes a bit of pressure off your knees. On the walk to Cadaques, the highest point you get to is 600ft (180m), but you're doing 3,100ft or nearly 1,000m of accumulative ascent throughout the day as it's a rugged coastline of up and down, up and down. It's not straight up a mountain, but it's like climbing a mountain in terms of the height you're going to cover in a day. It adds up to a lot of ascent – maybe people don't realise that."
Catalonia walking advice from our travelers
---
Travel advice from those who have been there
"Bring a Spanish phrase book as English did not seem to be widely understood ( not a problem at the hotel) Not that easy to find veggie options when eating in local restaurants. However the hotel restaurant provided excellent veggie food and the owners can advise on where to eat." – Rachel Grubb

"We added two extra nights at the end of our trip to enjoy Girona at a more leisurely pace and we would recommend doing this. We also appreciated having 2 nights in Cadaques... It's worth noting that the heat in July can be quite challenging so a day's break in between walks might be a good idea!" – Anne Withers

"It was well organised, our bags were always at the next hotel, the instructions for the walks were mostly very clear. You definitely benefit from good walking boots and walking poles, especially for the latter walks... we loved being there in early June when there were few people around!" – Jane Patton

"Do not bother with extensive research each day unfolds so perfectly that you could not possibly match this attention to detail… Besides it would spoil all the delight and surprise of adventure travel." – Karen Balter

"For walking, I would bring sport sandals for the first two days, shoes that slip on/off easily for walking on the beach, bathing suits (or not…nudity not a concern here), good hiking boots and poles for the remainder of the trip. We needed fewer clothes than anticipated as we washed things out as needed." – Jane Cooper

"We did the trek with a 1 year old baby and had no issues. It was an easy trek but that doesn't mean it's flat, read the itinerary, it's detailed and is a good guide to the terrain you are walking and how much up and down there is and how long the days are. You don't need to be supper fit but do need to be aware. Wear good, broken in hiking shoes/boots and take some bandaids etc for blisters as you would for any long hike." – Jamie Sharkey

"Learn a few words of Catalan. Your efforts will be appreciated and you will be made to feel even more welcome. Remember a lot of places are "tancat dilluns" (closed on Mondays!)" – Alasdair Kenwright